How do I use the Smart Manager application to check for malware or viruses?
Please note: if your device is running Android Nougat or higher, your optimisation app will be called Device maintenance, Device care, or Battery and device care. Find out more about Device care.
Samsung released Smart Manager in 2015, which helps users scan and optimise their smart phones in four areas: Battery, Storage, RAM and Security.

The below article will show you how to use the Security function of Smart Manager to keep your device secure.

Smart Manager automatically scans regularly for malicious software and provides an anti-malware solution through a partnership with Intel Security.

You can also run an ad hoc scan at any time by following the below steps:
1
Tap Apps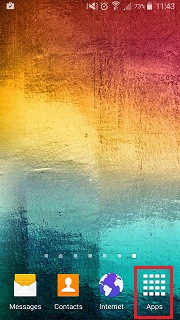 2
Tap Smart Manager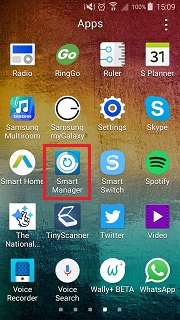 3
Tap Security
4
The last time that your device was scanned will be visible on the top right. Tap SCAN NOW to scan again.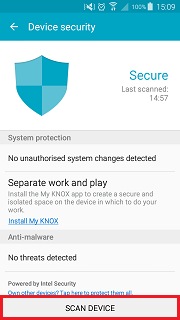 I think my device has a virus
If Samsung Smart Manager detects malware on your device, you will see screens similar to the below.
 
If you have a third-party antivirus app installed on your device, check the app developer's website to familiarise yourself with the expected notification you will see if that app detects a problem.
Fake 'your device is infected' notifications

Be aware that unscrupulous advertisers will often use 'your device is infected' pop-ups to persuade you to click on them. These can be malware or phishing attempts, but they can also be trying to persuade you to download an app or visit their website.


These pop-ups will usually turn up while you are browsing the Internet. Signs that they are not genuine include continual buzzing, bright flashing lights or garish text, and lots of exclamation marks (!!!!).


If you are unsure if a malware notification is genuine, close your Internet browser or the app without clicking further, then run the Smart Manager security scan or your anti-virus app as per the above steps.


I think I have a virus. My device is acting up


If your device is running slowly, it could be down to a troublesome app, or to low storage space. You can try clearing your cache or deleting apps you don't need.


If you think you have a virus, you should restart your device in Safe Mode to see if the problem comes from an app.


Safe Mode runs your device with default settings. It does not reset or delete any information from your device.
2
Press and hold the Power/lock key for a few seconds to turn on the device
3
When the Samsung logo displays, press and hold the Volume down key until the lock screen displays. You should now see Safe Mode shown in the bottom left corner of the screen.
You can exit Safe Mode by restarting your device.
 
If the issues stop while you're running Safe Mode, the problem is likely due to an app. Restart your phone and remove any recently added applications.


If your issues continue, you may wish to consider resetting your device to factory settings to remove the malware. Click here to view steps showing you how to perform a factory reset.

Tips for keeping your device safe
1
Only download applications from reliable sources like the Google Play Store or Galaxy Apps.
2
Switch on the embedded security features on your device. Go to Apps > Settings > Lock Screen and Security > Unknown Sources and switch off Unknown Sources. This way you will get a notification before an app is downloaded from an unknown source, and will need to 'Allow' it before it can be downloaded.
3
Use Google Settings to scan your device for security threats. Switch on: Apps>Google Settings> Security>Verify apps>Scan device for security threats.
4
Keep your Smart Manager enabled as above.
5
Avoid clicking on hyperlinks or messages if you are unsure of their source.
6
Rooting is a common source of viruses. If you root your device, it removes all the official software and firmware that has been verified by Samsung and Android and replaces it with an unverified version that may not have the same inbuilt safety features. This can leave your device vulnerable. Be aware that rooting your device voids the guarantee.

If you're experiencing unusual behaviour on Samsung mobiles, tablets or wearables, you can send us an error report or ask us a question in the Samsung Members app.
 
This allows us to a closer look at what is happening. The data is anonymised and only held for the duration of the investigation. Find out more about sending an error report through the Samsung Members app.
We would love to know your feedback to help us improve. Please click submit to tell us what you think.
Please answer all questions.