How to monitor my health with Galaxy J6+
The Samsung Health app helps you keep fit and healthy. You can use it to track and record a variety of exercises, or simply to record the number of steps you take every day.

By recording your food, caffeine and water intake you can make sure you're getting the right amount of nutrition and calories to support a healthy lifestyle.  
It also tracks sleep and stress patterns and supports functions on your device such as heart rate or blood pressure.

The Samsung Health app comes automatically installed on some devices, but if you don't have it on your device you can still download it from Play store or Galaxy Apps as long as your operating system is at least Android 4.4.
2
If it's the first time using the application, read and agree the terms and conditions and tap "Next".
3
Tap "Start".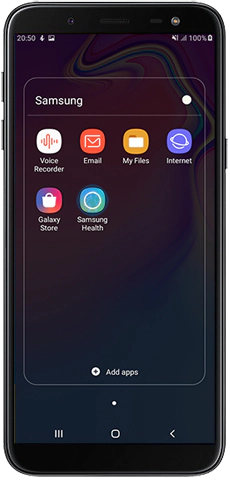 In the Samsung Health home page, you can record and track your daily activity and habits.
Active time: Track how active you are each day. As you move, the device will calculate the activity and the calories you burn. 
Exercise: Tap "Start" to select the exercise you wish to do. Tap "Start" again to start recording the time and calories burnt practicing this exercise. 

Food: Tap "Add" to register what to consume during the day.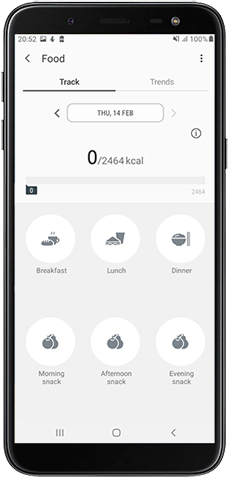 Sleep: Tap "Record" and indicate what time you went to bed and what time you have woken up. Tap "Save" and track you sleeping patterns.
Weight: Tap "Record", indicate your current weight and tap "Save". Enter your gender, age, height and level of activity to calculate your BMI and control your weight.
Water: Tap the plus or minus icon to indicate the number of cups of water you drink. 
Body Glucose: Tap "Record" and indicate the glucose level at different times of the day. 
Control your health by keeping track and recording these parameters daily and maintaining a healthy lifestyle.
Please answer all questions.