How to remove external factors that affect the sound of mobile device
The sound of mobile device can be affected by common external factors that we are less careful about or in certain situation. Here are a few notes to check how to properly make use of protector accessories, hardening liquid and get out of emergency case of exposure underwater for better sound.
Before you try out below recommendations as to your solution, be sure to check if your device's software is updated with latest version. Please check how to update your mobile device's software in following order. 
Step 1. Go to Settings > Software update.
Step 2. Tap on Download and install. 
Step 3. Follow the on-screen instructions. 
Things to consider when using Samsung-unapproved protector accessories
Please keep in mind not to use Samsung-unapproved protector accessories covering Camera or Flash. We recommend using Samsung-approved accessories. 
Some of Samsung-unapproved protector accessories like films, covers, vinyl which attach on device back side may cover Camera or Flash, and this causes to block the Air path inside the device. Due to blocking of Air path, receiving sound is not heard clearly or is broken irregularly, and volume may be also low. 
If the protective vinyl is not properly removed from the product and the microphone hole is blocked, the sound of the transmission sound may be heard, or noise may occur. Check the microphone at the bottom of the product and remove any protective plastics or foreign objects before use.

Note: Make sure remove the protective vinyl completely that is attached together when supplying products.
Caution when using tempered glass protective film
Recently, when using a product of tempered glass (dome glass type) among the protective films sold on the market, there are cases of damage to customers, such as inconveniences in the use of smartphone product functions due to excessive use and misuse of the hardening solution for attachment. Be careful when attaching the protective film.
Guidance
Inconvenient use of smartphone product functions due to overflow of misuse of curing solution used when attaching tempered glass (dome glass) protective film 
A few types of smartphone damage caused by hardening liquid
Type 1. The hardening liquid penetrates the phone receiver (receiver part) of the product and blocks the speaker hole so that the incoming sound is not heard or heard during a call. 
Type 2. Stereo effect is degraded when playing multimedia.
Type 3. The hardening liquid penetrates through the left and right-side button keys, reducing the feeling of clicking the button. 
Prevention method
When using the hardening liquid, be careful not to infiltrate the hardening liquid into the smartphone speaker or button. 
As described above, malfunction of the product due to penetration of the hardening liquid may cause inconvenience to the use of the smartphone, as well as charge for repairing it. When purchasing a tempered glass protective film product, carefully observe the precautions for attachment, and pay special attention to the use of curing liquid even when attaching the product to avoid damage to the smartphone product.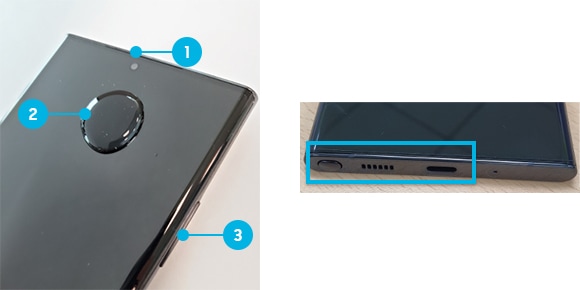 ① Receiver       ② Hardener       ③ Button
Device has been immersed in water or speaker is wet
If the device has been immersed in water or speaker is wet, sound may not be heard clearly during a call because water may get in the speaker hole during exposure underwater. 
Firstly, please wipe device smoothly with a dry, soft cloth and keep putting during certain period to dry it thoroughly before using device. Additionally, for faster drying of water from speaker, it will help that you hold the device while speaker of device is facing down and shake device smoothly a few times to remove remaining water. Despite this, when some moisture remains on Mesh in front speaker, sound may not be still heard clearly. At this time, as this moisture can be also removed by speaker vibration during call, please check the device's sound state while making call for a period. If you are still having trouble with the sound after trying these tips, please visit a Samsung Service Centre with device.
Note: This is for waterproof phones only, so non-waterproof phones cannot expose liquids including water.
Note: Device screenshots and menu may vary depending on the device model and software version.
If you are experiencing unusual behaviour on Samsung mobiles, tablets or wearables, you can send us a question in the Samsung Members app. 
This allows us to take a closer look at what is happening. The data is anonymised and only held for the duration of the investigation. Find out more about sending an error report through the 'How to use the Samsung Members app'.
Please answer all questions.