Take various photos and videos using Galaxy S20 | S20+ | S20 Ultra's Single Take mode
Capture important moments using the Single Take mode camera function in the Galaxy S20 series. With one single shot, AI (artificial intelligence) captures up to 14 types of photos and videos from within 3 ~ 10 seconds of capture time. 
Take the best photos and videos with just one shot
Just tap and the AI of Single Take will easily and simply capture the best moments.
With Single Take you can capture wide-angle shots, close up shots and videos.
Note: The zoom feature is not supported in the Single Take mode.
How to use the Single Take mode
Step 1. Open the Camera app. Tap SINGLE TAKE from the menu options.
Step 2. Tap the shutter button and pan around to take your best shot. The camera will automatically capture the best picture and clips of any scene.
Step 3. When you are finished, tap the preview thumbnail. You will see optimised results for the scene you have taken.
To view other results, simply drag the icon upwards. To individually save the results, tap Select and tick the items you want, and then tap the down arrow icon.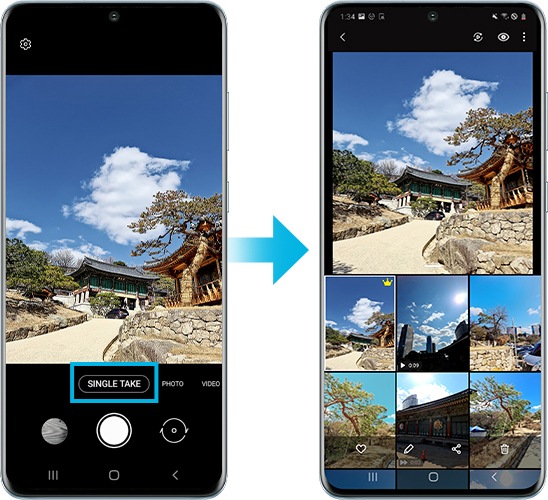 Available modes for photo and video results using Single Take
AI captures up to 14 kinds of photos and videos (10 photos and 4 videos) from 3~10 seconds of capture.
Single Take results are displayed in the Gallery.

galaxy-s20

| Photo | Video |
| --- | --- |
| ① AI Best Moments | ⑤ Original |
| ② Ultra-Wide shot | ⑥ Fast Forward |
| ③ AI Filter | ⑦ Bounce (Boomerang) |
| ④ Smart Crop | |
Note: Taking different shots requires a minimum of 3 seconds to a maximum 10 seconds of shooting. The results will vary based on recording time and object.
Please answer all questions.