What are cookies, and how do I enable or disable them on my Samsung Galaxy device?
Cookies are small amounts of data sent by websites that store information on your computer. This is mostly used to store your usernames and passwords, making it easier and quicker to use your favourite sites. Cookies can also be used to record other information such as your searches, to improve your recommended purchases and the adverts you see.
You can choose to allow or disallow all cookies in your browser's settings. If you only want to disable cookies on certain websites, you will have to change your settings on the website itself. Be aware that if you do disallow all cookies, some websites will require cookies to be allowed in order to save your preferred settings.
Find out how to clear your cookies, cache and browsing history.
Managing cookies for a specific website
1
Open the website that you would like to manage the cookies for
Please note: when you visit a website for the first time you will often be shown a pop up that asks you to agree with the sites use of cookies. If you've visited the website before and accepted their use of cookies you will not be shown this pop up. Try clearing your browsing history and cookies to see this option again
2
Tap the option that lets you MANAGE COOKIES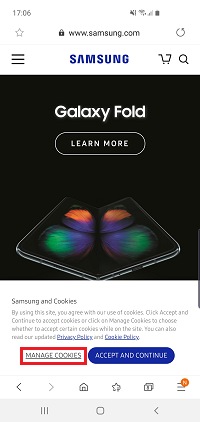 3
The websites use of cookies should be separated into sections. Tap YES or NO to adjust the settings to your preference
Please note: depending on the website you wish to manage the cookies for, the options you have may look different. Some websites require you to accept all cookie use before you view the site
4
Tap AGREE AND PROCEED to save your cookie settings
Managing cookies for all websites
The Samsung Internet app allows you to manage your cookie settings for all websites in one place. This means that you don't have to individually manage your settings for specific websites. 
1
Swipe up on your home screen, to access your apps
2
Tap Settings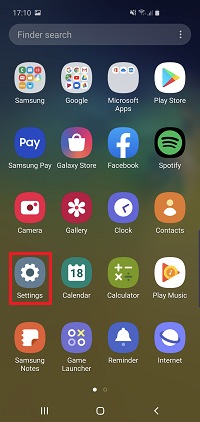 3
Tap Apps
4
Tap the settings cog next to Samsung Internet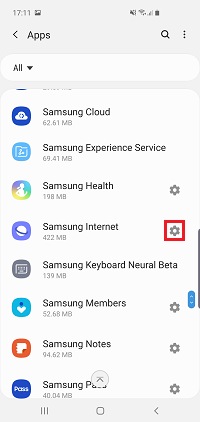 5
Tap Privacy and security
6
Tap Accept cookies
7
Tap the switch next to Allow third-party cookies to prevent third-parties from saving and reading cookies on your phone
8
Tap the On switch to turn all cookies off
Please note: some websites require the use of cookies. This may stop you from being able to access some websites
If you're experiencing unusual behaviour on Samsung mobiles, tablets or wearables, you can send us an error report or ask us a question in the Samsung Members app.
This allows us to take a closer look at what is happening. The data is anonymised and only held for the duration of the investigation. Find out more about sending an error report through the Samsung Members app.
Not finding what you're looking for? We're here to help.
Call
0818 717100Phone Support
Smartphone support | Mon-Sun | 8am to 8pm
All Products support | Mon-Sun | 8am to 8pm

0818 302 016Samsung Shop
For new and existing orders | 9am - 5pm, 5 days a week
0124 75161B2B Support
For business support
8am - 6pm, Mon - Fri
Calls to 0818 numbers are a National Call number.
These are subject to call charges which vary by network and are subject to change.
Calls maybe recorded for training and quality purposes.
For information on how we collect and use your details, please refer to our Privacy policy
* For any printer related enquiries please visit the HP website.
Contact Us