What are cookies, and how do I enable or disable them on my Samsung Galaxy device?
Cookies are small amounts of data sent by websites that are stored on your computer or phone. Cookies are mainly used to store your usernames and passwords, which makes it quicker and easier to use your favourite websites. Cookies are also used to store information such as your searches. This helps to improve suggested content and personalize the ads you see.
You can allow or disallow all cookies in your browser's settings. If you only want to disable cookies for certain websites, you will have to change the settings on the sites themselves. It's important to bear in mind that some websites require you to enable cookies in order to save your preferred settings, and some websites may not run if you do not allow cookies on them.
Find out how to clear your cookies, cache and browsing history.
Managing cookies for all websites
On the Samsung Internet app, you can manage the cookie settings for all websites in one place. This means you won't have to manage the settings for each individual website.
1
Open the Settings app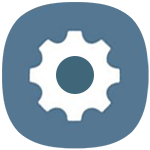 2
Tap Apps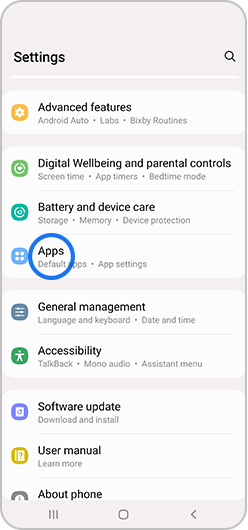 3
Scroll down then tap Samsung Internet
4
Tap Samsung Internet settings
5
Tap Sites and downloads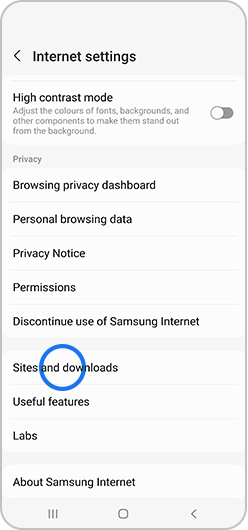 6
Tap Site permissions
7
Tap Cookies
8
Select whether you would like to Allow all cookies, Block third-party cookies, or Block all cookies
Please note: some websites require the use of cookies. This may stop you from being able to access some websites
Managing cookies for a specific website
1
Go to the website you want to manage cookies for
Please note: Whenever you visit a website for the first time, you'll be shown a popup asking you to accept cookies on the website. If you've visited the website before and have already accepted their use of cookies, you won't see this popup. To see this option again, try clearing your browsing history and cookies.
2
Tap the option that lets you Manage cookies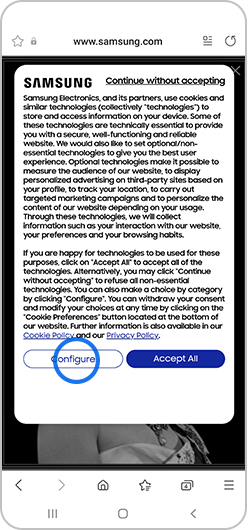 3
The websites use of cookies will be separated into sections. Tap YES or NO to adjust the settings to your preference
Please note: the options for managing cookies may look different, depending on the website you want to manage cookies for. Some websites will only allow you to visit them if you accept all cookie use.
4
Tap Save preferences and close to save your cookie settings
How to clear your cookies, cache, and browser history
1
Tap the menu icon in the bottom right of the screen
2
Tap Settings
3
Tap Personal browsing data
4
Tap Delete browsing data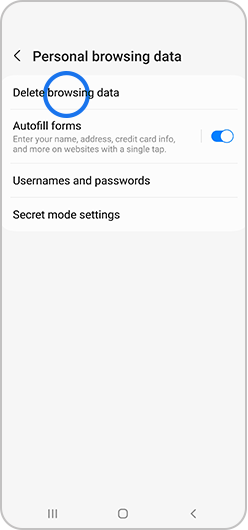 5
Select which parts of your browsing data you wish to delete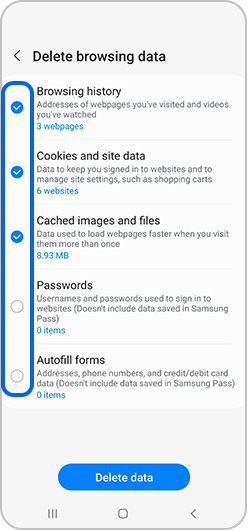 6
Tap Delete data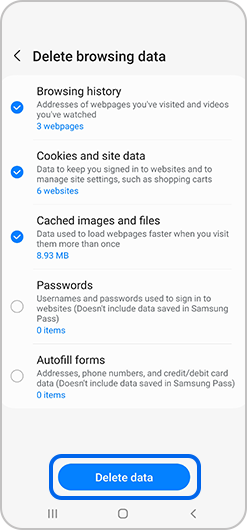 7
Tap Delete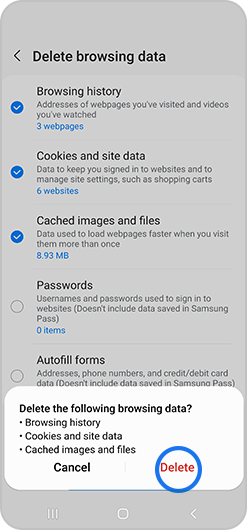 If you're experiencing unusual behaviour on Samsung mobiles, tablets or wearables, you can send us an error report or ask us a question in the Samsung Members app.

This allows us to take a closer look at what is happening. The data is anonymised and only held for the duration of the investigation. Find out more about sending an error report through the Samsung Members app.
Please answer all questions.