What is Bixby and how do I use it?
Bixby is a virtual assistant that makes it easier to use your phone, giving you more time to focus on what matters the most. Bixby learns, evolves and adapts to what you like to do, working alongside your favourite apps and services to help you get more done. Bixby will remember how you interact with it, to give you a more individualised experience. The more you use Bixby, the better it will become at adjusting to your needs.
Bixby is integrated into many of the functions in your phone and can be used in different ways, depending on what you are doing. Choose a Bixby function to learn more about:
Please note: the range of available Bixby features and functions will differ depending on your device and region
Activating Bixby will differ depending on the device you are using and your preferred settings. Bixby can be activated using the side key or Bixby key, which are both located underneath the volume buttons on the left hand side of your device. 
If your device has a Bixby key, pressing it once will open Bixby home, no matter what you are doing with your device at the time. You can also activate Bixby voice by holding down the Bixby key.
If your device has a side key, you can launch Bixby Home by pressing and holding the side key.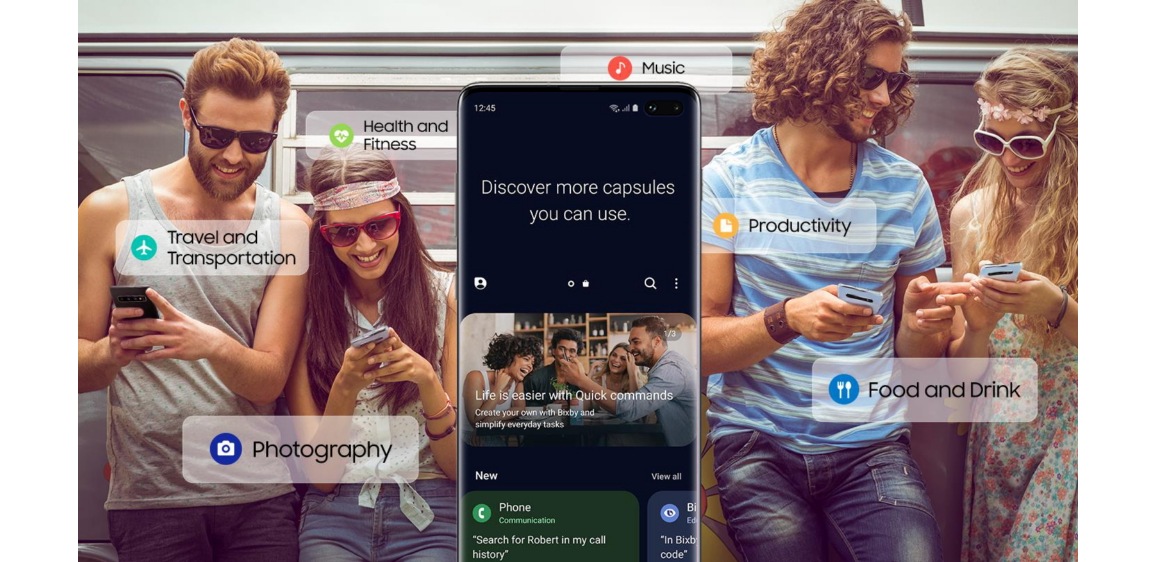 Bixby Home is a constantly updating homepage that displays content from your apps. Using Bixby Home you can quickly see information about the weather, reminders of your upcoming events, news articles and more, all displayed in easy to read cards. You can customise Bixby Home to your preference by adding and removing cards, or turn it off completely.
If you haven't set up Bixby before, make sure you are connected to the internet and have signed into your Samsung Account. Find out more about setting up or signing into a Samsung account.
Enable or disable Bixby Home
1
Touch and hold any blank area of the home screen

2
Swipe right to view Bixby Home

3
Tap the switch to disable Bixby Home. It will turn grey when disabled
Adding cards to Bixby Home
Bixby cards provide small summaries of the most recent and relevant information from your apps. For example, a weather card would show you the weather forecast for the day.
1
From the home screen, swipe right to open Bixby Home
2
Tap the menu icon. It will appear as three dots in the top right corner

3
Tap Cards

4
Tap the app whose card you want to display
5
Tap the switch to turn that apps card on or off. The card is on when the switch moves to the right
Managing cards on Bixby Home
You can personalise your Bixby Home to make sure that the most important cards are always at the top. You can also choose to hide cards temporarily or permanently, giving you control over the content you see.
1
Swipe right from your home screen, to access Bixby Home

2
Tap the menu icon on the card you want to make changes to

3
To pin the card to the top of your cards in Bixby Home, tap Pin to top

4
To hide a card, swipe right on the card you want to make changes to
5
Tap Hide for now, to temporarily hide the card

6
Tap Don't show again to prevent the card from ever appearing in Bixby Home

Bixby Vision is an image search feature. Simply point the camera at an object, image or location and Bixby Vision will tell you more about it. You can use Bixby Vision to identify and shop for items, translate text and identify locations. Bixby Vision can be used in your Camera, Gallery and Samsung Internet apps.
Bixby Voice allows you to control your phone and make commands by speaking aloud. Bixby Voice has access to most of your settings and can access many of your apps, making it quicker and easier to customise and use your phone. You can even create quick commands that can activate a whole range of features with a single word.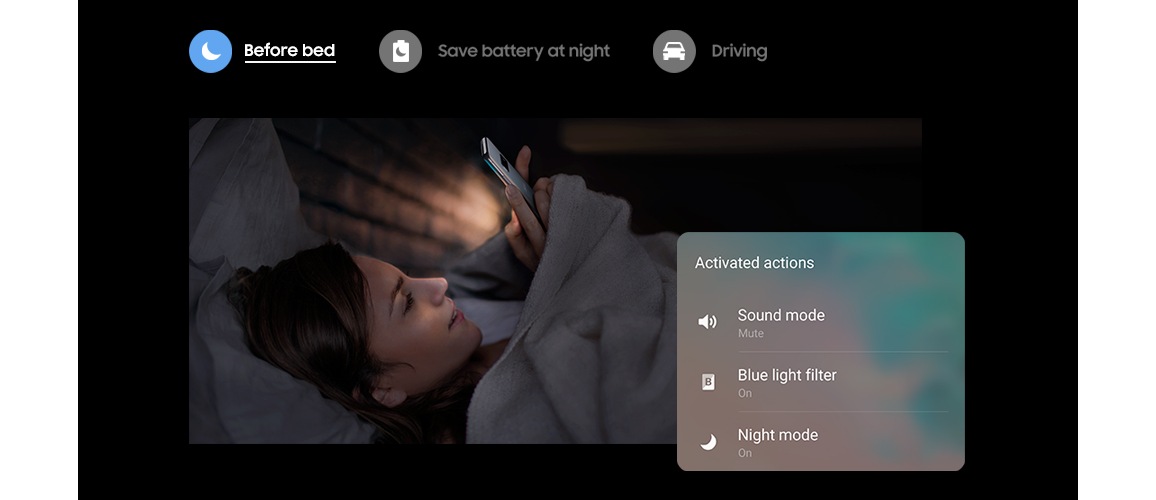 Bixby Routines use machine intelligence to learn your specific usage patterns and preferences. Bixby can then use this to automatically adjust your settings, control apps, optimise the battery, and much more. 
You can also manually set up routines yourself based on where you are and what you're doing. For example, you could create a 'good night' routine so that at a certain time your phone turns on mute, night mode comes on, and your lock screen shortcuts change.
Please note: to use Bixby Routines you will need to log into your Samsung account and have your location settings switched on

If you're experiencing unusual behaviour on Samsung mobiles, tablets or wearables, you can send us an error report or ask us a question in the Samsung Members app.
This allows us to a closer look at what is happening. The data is anonymised and only held for the duration of the investigation. Find out more about sending an error report through the Samsung Members app.