What is the People Edge on my Samsung Galaxy S7 Edge and how to I use it?
With the People Edge feature you can keep your favourite contacts just a tap away.
Add contact to the people edge feature by following these steps:
1. From the front screen, choose your Edge panel.
2. Scroll to People Edge. Choose a button displaying a + icon.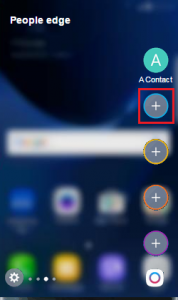 3. Choose the contact you wish to display on People Edge.

4. The contact has been added.
Not finding what you're looking for? We're here to help.
Online


There are a number of different ways of contacting us via Live Chat, Email, Twitter, Facebook Messenger and more.

Need a repair?



Whether your product is in warranty or out of warranty, we're here to help.

Contact Us