Where is the apps button on my Home screen? How do I find all my apps?
The latest Samsung devices come pre-installed with One UI, an operating system that has been specifically designed to make things simpler, clearer and easier to use. One of the design features has been the removal of the apps button, giving you more space for your most used app icons. 

You can access all of your apps by swiping up on your home screen.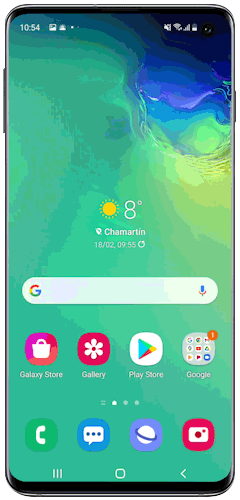 If you would prefer, you can choose to add the apps button back onto your home screen.
Please note: the exact layout of the buttons may vary slightly depending on the model and operating system of your phone.
1
Tap and hold any blank space
2
Tap Settings
3
Tap the switch next to Show Apps screen button on Home screen
4
An apps button will appear on your home screen
If you're experiencing unusual behaviour on Samsung mobiles, tablets or wearables, you can send us an error report or ask us a question in the Samsung Members app.
This allows us to take a closer look at what is happening. The data is anonymised and only held for the duration of the investigation. Find out more about sending an error report through the Samsung Members app.
Please answer all questions.