How to use Device Care on your Samsung Smart TV
If you are having issues with your TV then Samsung Device Care could provide you with a solution. Rather than performing a reset or attempting another fix, Device Care is an in-built self diagnostic that can help troubleshoot many different TV problems. Whether it's an issue with video, picture, sound or something else, Device Care is a highly intuitive way of diagnosing and fixing TV problems without the hassle.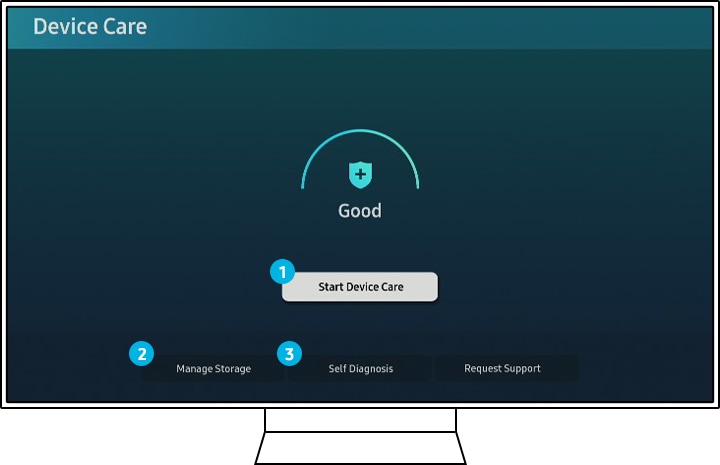 Optimize your TV with Device Care
Device Care is a data driven TV diagnostic software that allows users to easily see their TV's current operation status. When you enter the Start Device Care menu, your TV's Device Care system will diagnose your TV and present a list of any issues with the appliance. It will also notify you of the TV's current status which is presented in two stages and divided into either Good or Moderate. Once TV diagnosis is complete it will free up memory space by automatically clearing the cached memory and closing unused background apps. All of this will help to improve the speed and performance of your TV and may help fix troubleshooting issues.
Notification of TV Status

| Category | Condition |
| --- | --- |
| Moderate | Flash storage available 0% (as displayed in UI), less than 70MB of RW storage available |
| Good | All other cases other than Moderate |
You can also use Device Care to check and clean your TV storage space, to manually diagnose problems on your TV, or you can use it to request technical support.
Please follow the guide below to find out how to run a Device Care scan on your Samsung TV.
Start Device Care
Device Care works by running scans on your TV so that it can diagnose and optimize your TV, attempting to fix issues such as a blurry screen or insufficient storage space. If an issue is found this will be shown to you on a list of diagnostics.
Follow the steps below to find out how to run Device Care on your TV.
1
Press the Home button on your remote, and select Settings.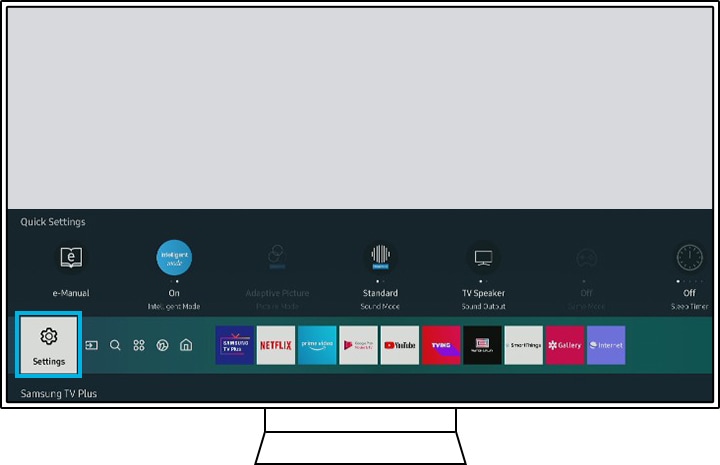 2
On the Settings menu, navigate to Support and then select Device Care.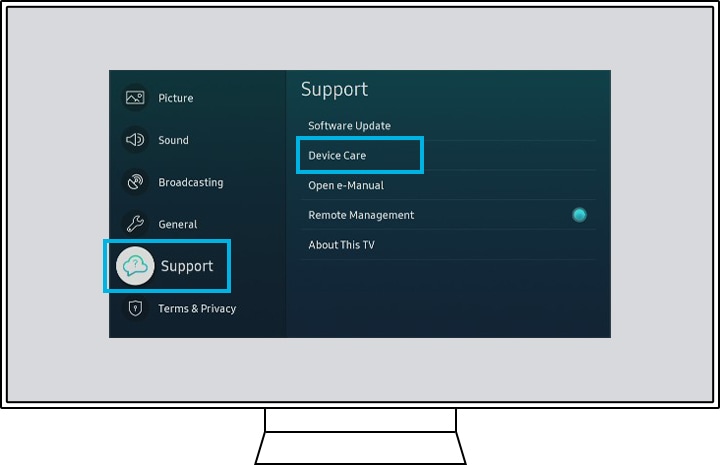 3
Select Start Device Care and the scan will begin.
Manage Storage
Use Manage Storage in the Device Care menu to check and organise the data used on your TV. The Manage Storage menu makes it easy to delete unused apps. Simply select the app you want to remove and use the delete button in the top right corner to delete the app. You can also find app information such as the total capacity of an app, its stored data, and data cache, by using the view detail button. Read on for more details.
Deleting an app
Select the installed app you want to delete and click the Delete button.

View app details
Check current data and cache usage of an app. Select Clear data and Clear cache to clear app data and empty the cache.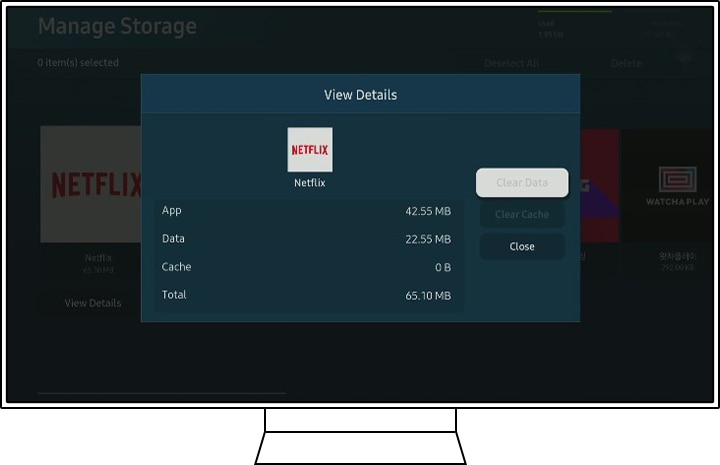 Please note: Default preinstalled apps cannot be selected and deleted. 

Self Diagnosis
In the Self Diagnosis menu, you can test the condition of your TV directly to determine if there is an abnormality. To determine if an issue is being caused by the TV itself you can use the Video Test, Picture Test, and Sound Test allowing you to establish where the issue is. You can also check the HDMI, network signal, and Smart Hub connection using this menu.
Video Test: When you experience a problem with your TV's video quality, use the Video Test. A test video will be played using your TV's highest quality. Examine the screen carefully to check for any flaws.

Picture Test: When you experience a problem with your TV's picture quality, use the Picture Test. A test picture will be shown. Examine the screen carefully for 5 seconds to check for any flaws.
Sound Test: When you experience a problem with your TV's sound quality, use the Sound Test. A test melody will be played using your TV's current sound output device. Listen carefully to check if the sound is normal.
HDMI Troubleshooting: This test can be used to diagnose whether the HDMI cable is properly connected to the TV HDMI port. Select the HDMI port you want to test. Then select the Next button to start the diagnosis.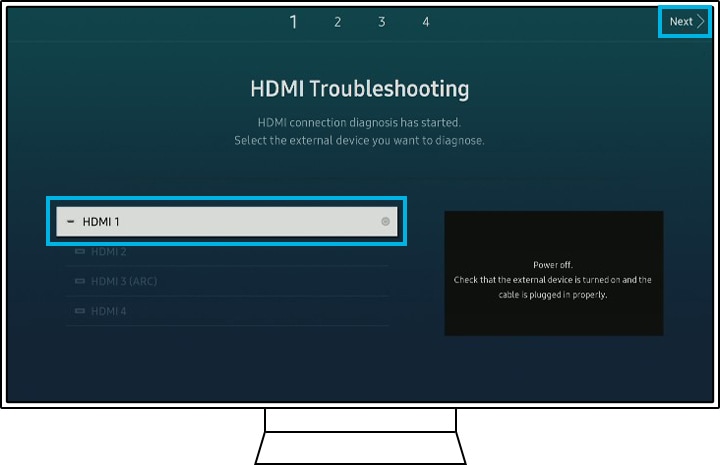 Signal Information: Use to check the signal of a connected external device. You can also use this function to test the HDMI cable and check the signal history.

Smart Hub Connection Test: This test can diagnose a wireless network connection. It may take a few minutes to perform a DNS, ISP Blocking tests, etc.

Reset Smart Hub: This can be used to reset all Smart Hub settings, downloaded apps, and accounts stored on the TV. To do so you will need to input your 4 digit PIN code - the default PIN is 0000.

Please note: The video/picture shown in the test is the best quality your TV can provide, however, the quality may vary depending on which source is used.
If you detect an issue with the test, the TV may have a problem. Contact Samsung Support for assistance.
Please answer all questions.