My TV switches itself off
My TV switches itself off
There are two main reasons for your TV switching itself off:
1
It has switched off due to your settings (e.g. Sleep Timer is on) or,
2
It has switched off because a connected device has switched off (e.g. you are connected to a PC and the PC has gone to sleep)
Please see the below list of possible solutions, but please note that some of the functions below may not apply to all models.
 If you have checked each of the possible solutions and are still having trouble, your TV may need a service. Please click one of the blue buttons at the bottom of the screen to get in touch. 
The Eco Solution function switches the power off if it detects that you are receiving no signal from the current source (e.g. if you have switched your set top box to standby mode) or if no user operation is received after four hours.  
You can change the Eco Solution options by going to:
Menu > System > Eco Solution
Check to see if you have the Sleep Timer set. 
You can change this option by going to:
Menu > System > Time > Sleep Timer

Some older models can turn themselves on and off if the Standby Mode Upgrade option in the menu is enabled. 
If this function is enabled, your TV will partly turn on (there should be no sound or picture) and only the stand-by light will flash. In this mode the TV searches for the latest firmware update via the RF broadcast signal and receives the latest update if one is present. 
The automatic updates can be disabled if required through the MENU on your TV. Using the remote control navigate through the menu using the navigation keys to the following: Settings > Software Upgrade > Standby Mode Upgrade and then set the feature to Off. 
Note: the above instructions and the image below may differ slightly for your specific TV model.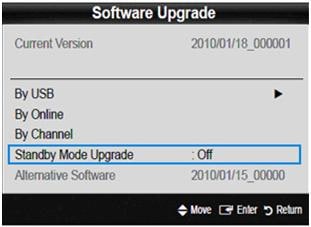 What is your TV connected to?
Your screen may go dark if the source that your TV was connected to turns off. For example, this may happen when you turn off your set top box, or if you have connected your TV to your PC and the PC goes to sleep. 
If you have checked your settings and the TV is still switching off, disconnect your TV from connected devices such as set top boxes, games consoles or PCs. Connect them one at a time to see if you can isolate which device is causing your TV to switch off.  
Check that the firmware on your TV is up to date
Check that your TV firmware is up-to-date.  
Update your firmware through the TV 
You can do this by pressing either the Menu or Settings button on your remote (depending on your model), then going to: 
Support > Software Update > Update now > Yes  
Update your firmware using a USB stick 
If you are having difficulty updating your firmware automatically or over an internet connection, you can also download the latest update from the Samsung site and then use a USB stick to update your TV. 
To find the latest firmware for your TV on the support page for your model:
1
Enter your model number into the search box at the top of the site
2
Tick the Firmware box in the list at the side, then click on the firmware for your model
3
This will bring you to the product support page. Scroll down until you see Downloads and Manuals.
You will see the firmware file to download on the left, and a guide showing you how to download and install the firmware on the right.

Not finding what you're looking for? We're here to help.
Online
Twitter
Tweet us | 9am-9pm, 7 days a week
Smartphone support | 24 hours, 7 days a week
All product support | 8am - 10pm, 7 days a week
SmartThings | 9am - 5:30pm, Mon - Fri
Email
We'll respond within 24 hours of your request.
Call
0818 717100General Support
Smartphone support | 24 hours, 7 days a week
All product support | 8am - 10pm, 7 days a week

0818 302 016Samsung Shop
For new and existing orders | 9am - 5pm, 5 days a week
0124 75161B2B Support
For business support
8am - 6pm, Mon - Fri
Calls to 0818 numbers are a National Call number.
These are subject to call charges which vary by network and are subject to change.
Calls maybe recorded for training and quality purposes.
For information on how we collect and use your details, please refer to our Privacy policy
* For any printer related enquiries please visit the HP website.
Contact Us