Digital iPlus Technology in Air-conditioners
Last Update date :
Oct 12. 2020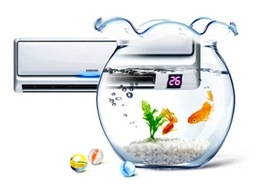 From young to old, checking the temperature is easy for everyone with Samsung's family-friendly display window. Its easy-to-read, oversized numbers beam out in bright, white luminescence for instant temperature recognition. And the simple, eye-catching icons make it a breeze to use.
What is the benefit?
● It is a large circular LED display that lets you keep an eye on the comfort of your room .It not only displays the current temperature but also the power and current operation mode. The production of healthful negative ions as well as the sleep timer mode is also indicated.
● A wavelike symbol informs you of the air conditioning and heating mode at the very top of the Digital iPlus. In addition, the air circulation volume and intensity are shown, allowing the user to make prompt adjustments when necessary.
● Thus, with the Digital iPlus, all of your air conditioner's functions are precisely expressed, helping you monitor the health of your room.