How to clean Samsung Microwave Oven?
Last Update date :
Jul 05. 2022
Attention : If even after following the procedures below, your problem is not resolved, please contact us via  
  WhatsApp so that we can quickly diagnose your device and help you in the best possible way.
Clean the microwave regularly to prevent impurities from building up on or inside the oven. Use a soft cloth in soapy water to clean both inner and outer sides of the oven. Rinse and dry well.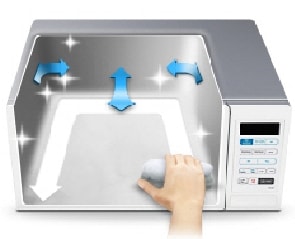 1
Put a cup of diluted lemon juice on the center of turntable.
2
Heat the oven for 10 minutes at max power.
3
When the cycle is complete, wait until oven cools down. Then, open the door and clean cooking chamber.
CAUTION :
Do not spill water into the oven vents. 
Do not use any abrasive or chemical substances for cleaning. 
Please click the submit button below to share your feedback with us. Thank you for your participation.
Please answer all questions.