Using the Grill features in Samsung Microwave Oven(MC28M6055C)
Last Update date :
Oct 29. 2020
The grill enables you to heat and brown food quickly, without using microwaves.

● Always use oven gloves when touching the recipients in the oven, as they will be very hot.
● You can get better cooking and grilling results, if you use the high rack.

1. Open the door and place the food on the rack.

2. Press the Grill button.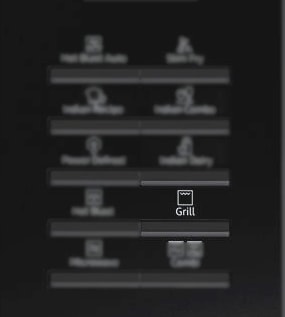 The following indications are displayed: (Grill mode)
● You cannot set the temperature of the grill.

3. Set the grilling time by turning the Multi Function Selector Dial.
● The maximum grilling time is 60 minutes.

4. Press the START/+30s button. Grilling starts. When it has finished.

1) The oven beeps 4 times.
2) The end reminder signal will beep 3 times (once every minute).
3) The current time is displayed again.