How to use Samsung Notes
Last Update date :
Sep 30. 2020
Create notes by entering text from the keyboard or by handwriting or drawing on the screen. You can also insert images or voice recordings into your notes simply pull out your S Pen select create notes within your Air Command menu or launch Samsung Notes within your apps tray.
1
Open up Samsung Notes
2
Tap on
to create a new note.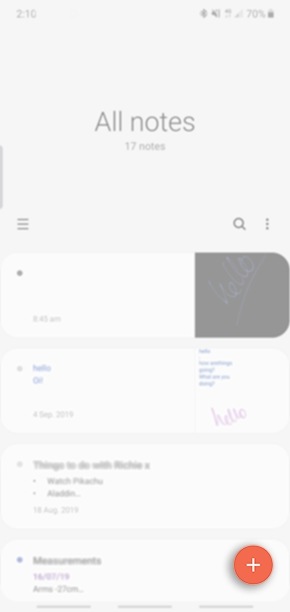 3
Start writing up your new note, then tap on Save once you're finished with your note.
Type up stories or a quick shopping list with your keyboard.
Write up quick To-do lists with your S Pen, you also have a range of pens and colours to choose from.
Draw incredible drawings with the brush option, once complete you can upload the drawing into your notes or share to PENUP.
Using Pen
Changing Pen types and colours
1
Tap on

the change the pen type, line thickness, or pen colour.
Converting handwriting to text (Galaxy Note10 and Note10+)
1
After writing on the screen, tap on

to convert your writing to text.
2
Tap on Convert
If you are unable to convert your handwriting to text ensure you have enabled this setting, simply head into your Samsung Notes Settings > toggle on Tap to convert handwriting.
1
Tap on

>
to add a new favourite pen.
2
Select between 6 different pen types, multiple colours and pen thickness, once complete tap on Add
3
You will then be able to Add, Delete or select a different favourite Pen. To delete a favourite Pen, tap on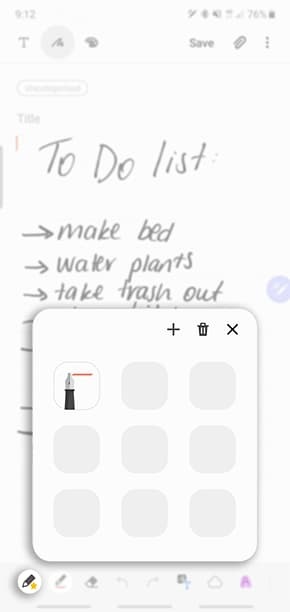 4
Tap on
to remove the pen from your favourites.
Write on an easy writing pad to neatly align your handwriting on the page. To enable this setting head into your Samsung Notes settings > Add-ons > toggle on Easy Writing pad.
1
Tap on
to start using Easy Writing pad.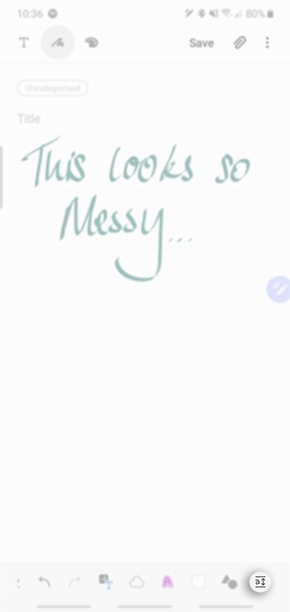 2
Start writing in the Writing pad, as you continue to write you will see that your writing will become smaller and stay within the lines.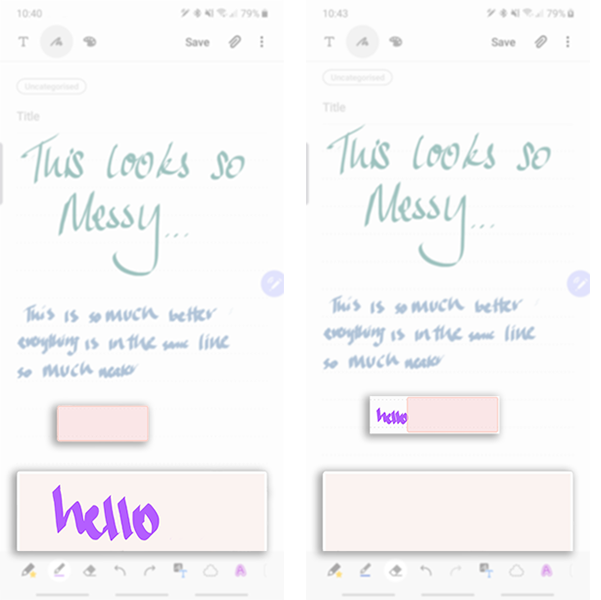 Automatically polish hand drawn shapes when you activiate neat shapes. To enable this setting head into your Samsung Notes settings > Add-ons > toggle on Neat Shapes.
1
Tap on

to start using Neat Shapes. When you start drawing up your shapes it will automatically tidy up your drawings.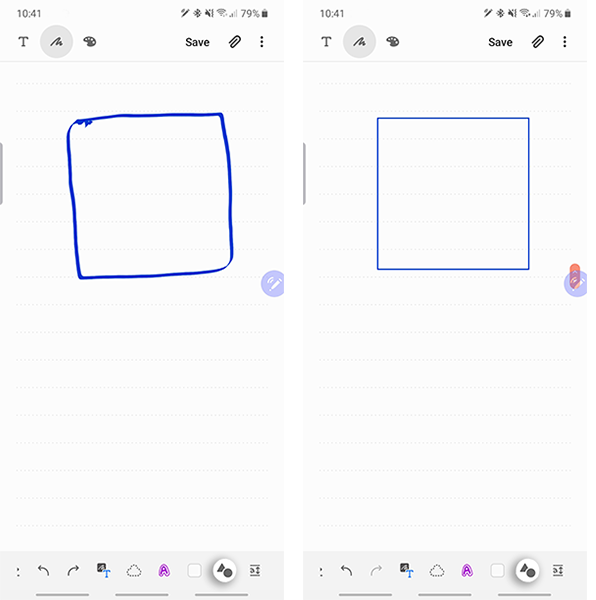 Using Brush
1
Tap on
to start drawing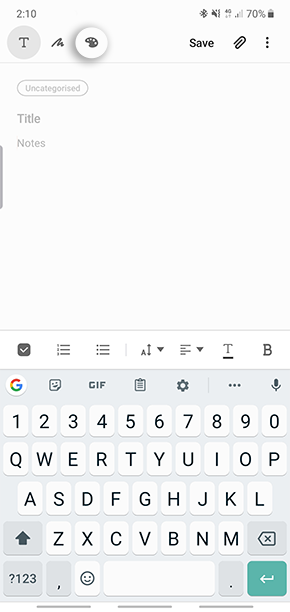 2
Select from a range of pen types and adjust the pen thickness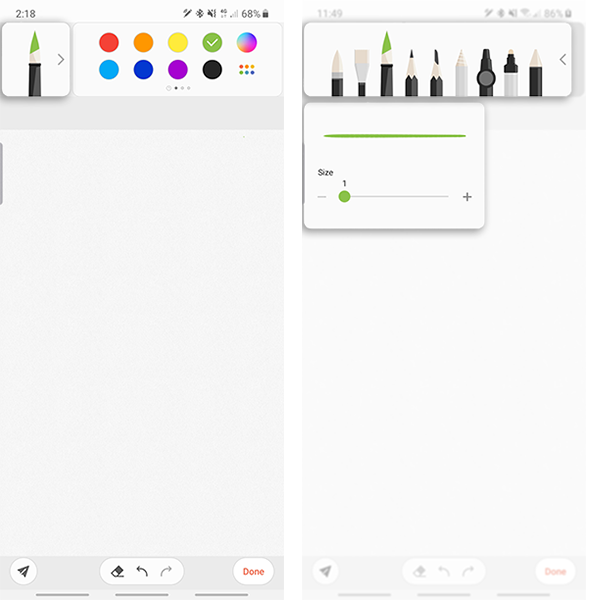 3
Pick a colour from preloaded colours or choose from the colourwheel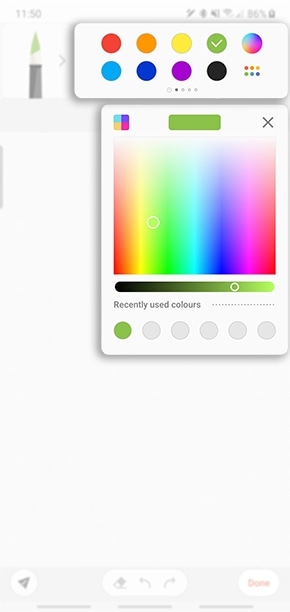 4
Once you have completed your drawing, tap on Done
Share artworrk straight to PENUP
Erase and misakes
Undo your most recent action
Redo an action that was undone
Attaching Files to Notes
1
Once you have created or opened up an existing note tap on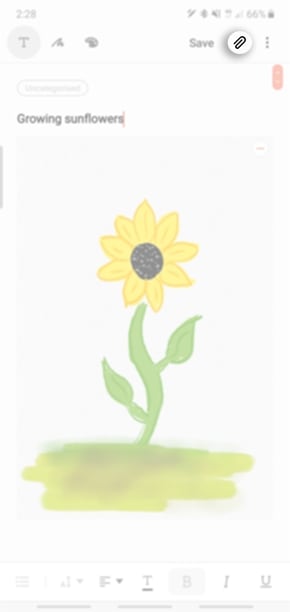 2
Tap on a media file you would like to attach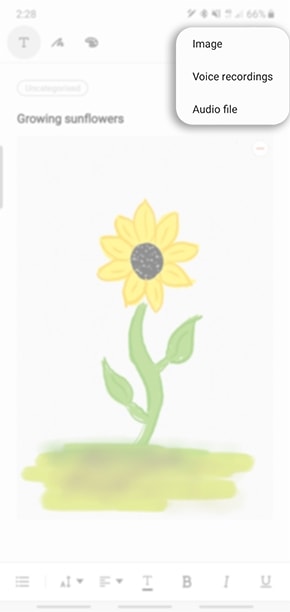 3
Once you have recorded your voice recordings or select your image or audio file, you will be able to view in your notes.
Sharing Notes
1
Long press the Note you would like to share then tap on Share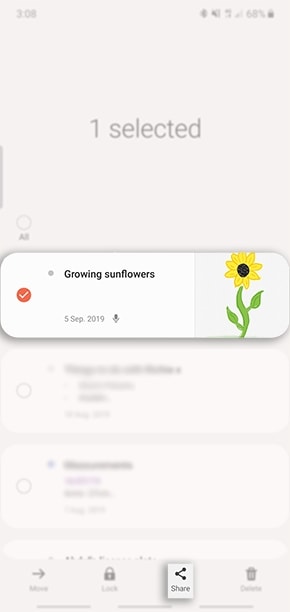 2
Select how you would like to share the file - either as a Samsung Notes file or PDF file.
3
Tap on the application or function you would like to share the file through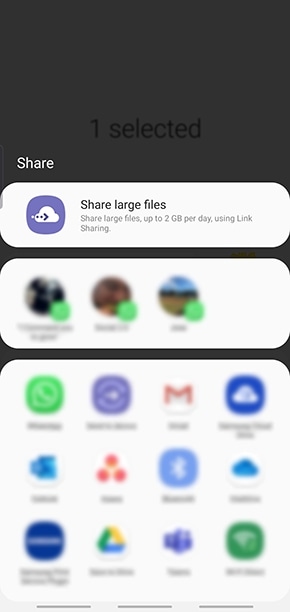 Off-Screen Memo (Galaxy Note9, Note10 and Note10+)
1
Pull out your S Pen to automatically launch Off-Screen memo
2
Select a colour to write with
3
Choose your preferred pen thickness
4
Jot down your quick memos then tap Save once complete.
5
Head into Samsung Notes to view and edit your Off-Screen Memos
Deleting Notes
1
Long press the note you would like to delete
2
Once the note has been selected, tap on
Delete
3
Select Delete
Please answer all questions.