What to do if the battery of my new phone seems to be draining faster?
Last Update date :
Aug 31. 2022
Battery consumption and lifespan varies depending on a number of factors, including the frequency of device use, the number of installed and running apps, operating system errors, and network connectivity. 5G networks may drain the battery faster, but Galaxy phones use advanced AI-based software to efficiently control battery consumption to suit your usage patterns.
Before you try the recommendations below, be sure to check if your device's software and related apps are updated to the latest version. To update your mobile device's software, follow these steps: 
Step 1. Go to Settings > Software update.
Step 2. Tap on Download and install.
Step 3. Follow the on-screen instructions.
Battery can be consumed a little faster right after purchase
You may notice that your new phone's battery seems to be draining faster compared to your previous device even though you are using it under the same conditions after purchase.
During the first few days after purchase, users have usually activated many applications and set various features for initial device setting, and the frequency of background operation is optimized at this period. So, you may feel the battery usage time is shorter compared to when you were using your previous device.
5G service may consume more battery
While connected to a 5G network, your phone may consume more battery than usual. Current 5G services are compliant with the Non-Standalone (NSA)* standard, which uses 4G (LTE) and 5G together. Therefore, 5G and 4G (LTE) circuits are used simultaneously for high-speed processing of large-capacity data.
Since your phone is connected to multiple networks at the same time, the battery may drain faster than you would typically expect, and your phone may get a little warmer than when solely on 3G or LTE. To make up for this, you can use features that will optimize and improve your phone's overall performance.
* NSA(Non-Standalone): The first roll-out of 5G networks and devices will be brought under Non-Standalone (NSA) operation, which is to say that the 5G networks will be supported by existing 4G infrastructure. Thus, 5G-enabled devices will connect to 5G frequencies for data throughout but will still use 4G for non-data features such as connecting to the base stations and servers.
Note: If you feel the device overheats, do not use it for a while and wait while the device cools.
How to optimize your phone battery
If you want to extend the battery lifespan of your phone or if you feel that the battery is draining fast, you can optimize your phone overall, manage app power as well as optimize individual apps. You can reduce battery consumption in the following ways.
Optimize the overall usage of your phone
You can optimize your phone using the Device care feature to reduce battery consumption by closing unused apps and controlling abnormal battery usage. Follow the steps below.
Step 1. Open Settings, and then select Battery and device care.
Step 2. Tap Optimize now. Device care automatically optimizes your phone.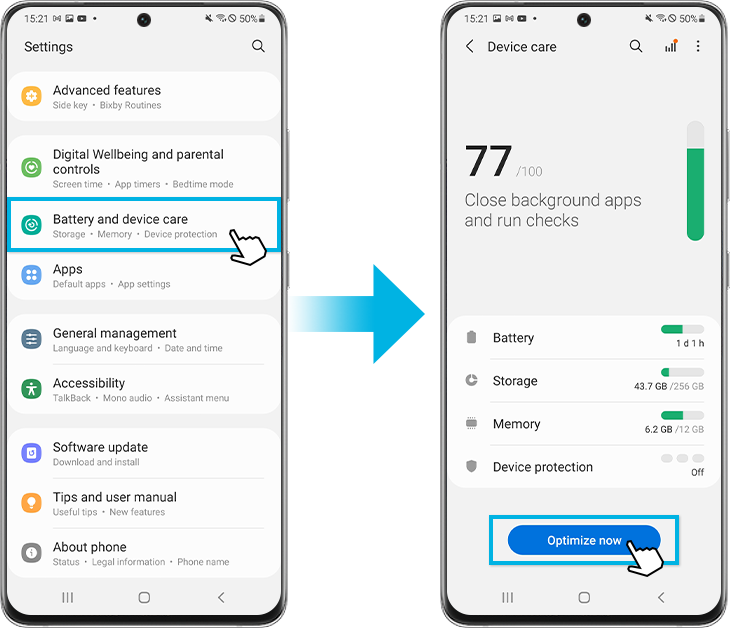 The quick optimization feature improves device performance through the following actions.
Closes apps running in the background.
Manages abnormal battery usage.
Scans for crashed apps and malware.
Using the auto optimization feature
You can set the device to perform auto optimization when your device is not in use. Tap More options > Automation > Auto optimize daily and tap the switch to activate it.
Adjust Background usage limits
The more unused apps there are running in the background, the more power your battery will use. Background usage limits can be set to reduce battery consumption. Follow the steps below.
You can choose from the following settings:

Put unused apps to sleep which will automatically put apps to sleep if they have not been used for a while.
Sleeping apps allows you to choose the apps that won't run in the background. You can view your current sleeping apps as well.
Deep sleeping apps will never run in the background and will only work when you open them.
Never sleeping apps allows you to choose which apps will not automatically be set to sleeping mode.
Optimize individual apps
You can optimize individual apps to use less battery. Follow the steps below.
Note:
Optimized apps will use less battery, but some background functions will be restricted.
Note: 
Actual battery lifespan varies by network environment, features and apps used, frequency of calls and messages, number of times charged, and many other factors.
Device screenshots and menus may vary depending on the device model and software version.
Please answer all questions.