How to connect your TV(LCD, LED, Plasma) to a Laptop?
Last Update date :
Oct 21. 2020
Note: This help content is only applicable to the product purchased from Indian retailers. If you require help for the products purchased from US, Kindly visit Samsung US support section and for other countries, kindly contact your local Samsung Subsidiary.

Wired Connection
STEP 1. Identify the available ports on TV
1
You would require a VGA Cable or HDMI cable to connect the laptop to the LED / LCD / Plasma Tv's.
2
Check the available connections common on both the TV & Laptop.
3
Below listed are some commonly available ports on most of LED / LCD / Plasma TV's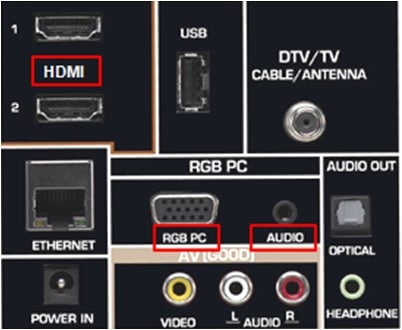 STEP 2. Identification of cables

1
Listed below are some commonly available cables :
2
VGA cable will support only the display of laptop contents on the TV. For sharing the sound you will also require AUX in cable.
3
HDMI cable is highly recommended as it transmits both the audio and video signals to the TV
STEP 3. Connecting the TV

1
Switch off both TV and the laptop.
2
Connect the HDMI or VGA cable to the respective slot on the TV which are mostly found on the back / side panel of the TV.
3
Once connected, power on the TV first & then the Laptop.
STEP 4. Settings on Laptop

1
Press the source button on the TV remote and choose HDMI if HDMI cable is connected or PC if the VGA cable is connected.
2
By default, when you connect an TV to a PC, the same image (mirror image) of your desktop appears on the TV.
3
Locate the extend video function key on the keyboard ( will be different on all laptops) and press that while holding the function (Fn) key on the keyaboard.
4
Below listed are commonly avaialable options on most of the laptops :
1. Laptop Only
2. External Display Only
3. Clone Display ( Laptop + External Dispaly)
4. Extend Display ( Display will be extended to the TV)
5
Select the desired output method you would like to use.
Wireless Connection
1
Connect your mobile/PC and TV to the same network.
2
Download Samsung Smart Viewfrom the App Store, Google Play, or Samsung Galaxy Apps.
3
Launch the app and follow the steps to set up Smart View.
Please click the submit button below to share your feedback with us. Thank you for your participation.
Please answer all questions.