How to setup the Smart Control Remote to Control Your Set-Top Box in 2015 4K SUHD TV
Last Update date :
Oct 29. 2020
Connect the external device to control with the universal remote control to an HDMI port on the One Connect, and then turn on the external device.
Note: If the external device does not respond after being registered, register it again using its model number.
Universal Setup for a Set-Top Box
Note: Desired external device setup and connected to the TV. Model Number of the external device. Cable / Satellite provider information.
1
To start setup of the Universal Remote press the SOURCE button.
2
Use the navigational pad to select Universal Remote Setup in the top right of the source menu.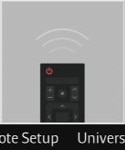 3
The On-screen setup will appear. Ok will be highlighted, click to begin the setup.
4
Confirm that there is nothing blocking the Set Top Box's IR receiver. Select Ok.
5
Use the navigation pad to select the Set-top box.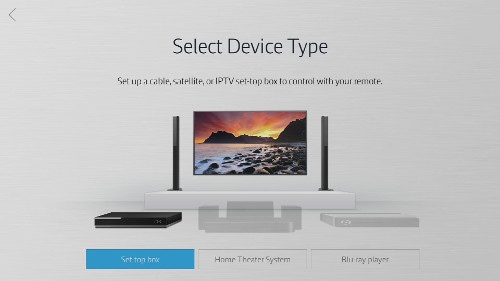 6
A screen displays asking how you have the STB connected. Select TV if the STB is connected directly to the TV. Select Home Theater System if the STB is connected through a Home Theater System.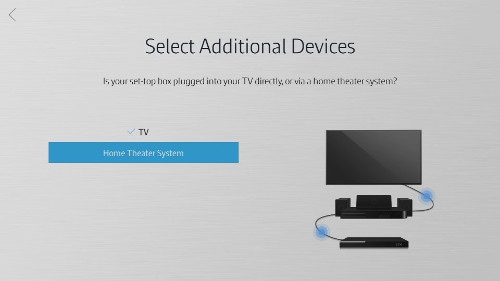 7
Enter your zip code.
8
Click in the text box to open the on-screen virtual keyboard. Enter your Zip code, and then select Done and click to continue.
9
The providers that are available in your area will be displayed. Use the touchpad to select your provider, and then click to continue.
Note: Providers are based on the zip code entered, if your provider is not listed select My service provider is not listed.
10
Select the input your STB is connected to. Samsung recommends using HDMI 1.
Note: The coax source is not available to be selected as a source for STB.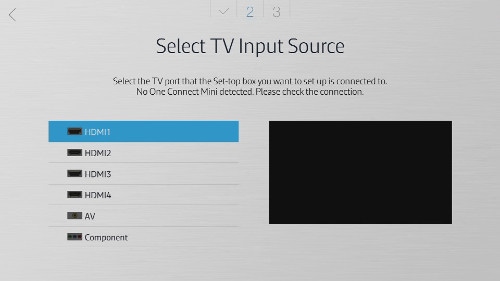 11
Test the codes available for your Set-Top Box. Test the channel buttons up and down on your Samsung remote.
    • If the channel changes select Yes and continue to the next step.
    • If the channel does not change select No to test the next code.
12
Your setup is now complete. You will have a few options to finish your setup.
    • Exit: Exits the Universal Remote Setup.
    • New Setup: Begins from the beginning to add another device to the universal control.