What is Contrast under Picture settings in Samsung H series TV?
Last Update date :
Oct 27. 2020
Contrast adjusts the lumens of the picture or the white brightness level and consequently changes the brightness of all the colors.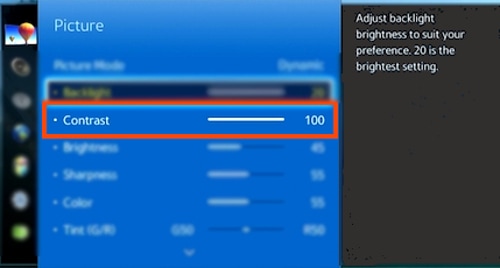 IMPORTANT :
● Setting this adjustment too low will cause the picture to become to dark to make out details.
● Setting this adjustment to high will cause all the colors to become very light and washed out.
NOTE : Adjusted values are saved by the TV for the current source and picture mode, and remain in effect each time the source and picture mode are selected. Consequently, the TV can have different picture settings for each external source.