For nearly a decade, we've worked tirelessly to bring 5G from the lab to real life. Let's explore how we got here.
The start of fast
3G was the first step to mobile broadband, transforming the way we lived, worked, and played on our phones.
A decade ago, 3G opened the doors to data speeds that allowed us to access media wirelessly. It even blazed a trail for apps — something no mobile user can live without now.

But 3G was still limited in bandwidth, taking up to 10 minutes to download even a short video. We had to do better.

The speed of innovation
We've always been early adopters of mobile technology — Samsung was one of the first to introduce 4G devices to the mobile market.
A leap forward in speed compared to 3G, 4G still left something to be desired. Occasional lagging and bandwidth issues don't fully meet the demands of the always-on population.
The next step in speed
4G LTE-A brought us closer to real-time connections, supporting gaming, mobile HD TV, and video conferencing.
Although it ramped up the data speeds from 4G, remaining lag and even the potential for dropped calls kept this connection from satisfying the masses.


The HyperFast generation
This is the fastest available mobile data connection — and Samsung's already got a lineup of 5G-capable devices to take full advantage.
Now is the time of seamless connectivity and way less waiting. It's time to experience the real-time, always-connected speeds of 5G. It connects all your devices at speeds 3x faster than 4G, and we're committed to pushing the 5G innovation further to give you an even better, HyperFast experience.
*Requires optimal 5G connection. Actual speed may vary depending on country, carrier, and user environment.

*Requires optimal 5G connection. Actual speed may vary depending on country, carrier, and user environment.
The expanding universe of Samsung 5G
Discover Samsung's 5G-enabled devices.
Galaxy S22 Ultra

Setting an epic standard with the incredible download and upload speeds of 5G, bolstered by our fastest chip ever and beyond all-day battery.
*Image of Galaxy S22 Ultra and included S Pen simulated for illustrative purposes.
**The S Pen is included with and only supported by Galaxy S22 Ultra.
***Battery life estimated against the usage profile of an average/typical user. Independently assessed by Strategy Analytics between 2021.12.08–12.20 in USA and UK with pre-release versions of SM-S901, SM-S906, SM-S908 under default setting using 5G Sub6 networks (NOT tested under 5G mmWave network). Actual battery life varies by network environment, features and apps used, frequency of calls and messages, number of times charged, and many other factors.

Galaxy Z Fold3
This is everything you'd want in a premium, durable, 5G smartphone. We made it unfold — revealing a massive screen so you can watch, work and play like never before.
*Image of two Galaxy Z Fold3 5G phones and S Pen Fold Edition simulated for illustration purposes.
*The S Pen Fold Edition sold separately and is only compatible with Galaxy Z Fold3 5G.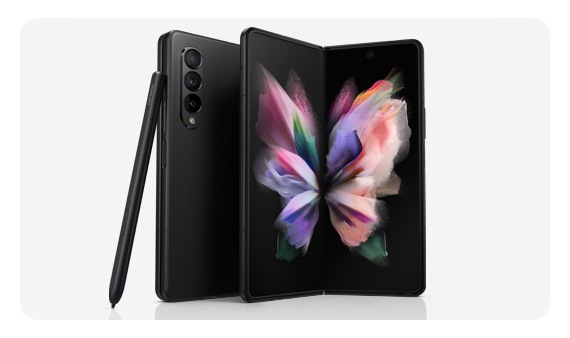 Galaxy Z Flip3
Folds into your pocket. Tucks into your purse. Slips into your skinniest jeans. You can take it out and it flips open into a full-screened 5G smartphone and flexes to your favorite angles.
*Image of three Galaxy Z Flip3 5G phones simulated for illustration purposes.
*Availability may vary by country and carrier. Requires optimal 5G connection. 5G services are only supported in 5G network enabled locations in 5G-ready countries. Actual speed may vary depending on country, carrier, and user environment.