How do I start my Samsung Galaxy Note 3 in safe mode?
Last Update date :
Oct 27. 2020
You can boot up your device in Safe mode if you wish to troubleshoot whether added applications are causing problems with the device. Safe mode will load only basic system software.
2
Press and hold the Power key for one or two seconds to turn on the device.
3
When the Samsung logo displays press and hold the Volume down key until the lock screen displays.
When the Lock screen is displayed Safe mode is displayed in the lower-left corner of the screen.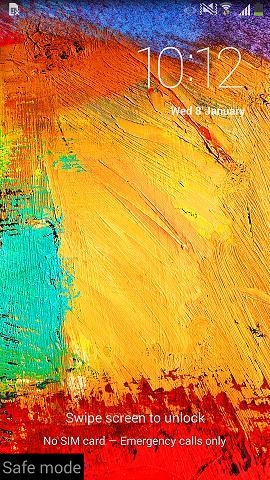 To exit Safe mode restart your device
If your device is working properly in Safe mode uninstall third-party applications or app updates using the Application manager.
To access the app, from the Home screen touch Menu   > Settings  > General  > Application manager 
If necessary touch the DOWNLOADED tab. Touch an application in the list. Touch Uninstall > OK. Applications preloaded on your device cannot be uninstalled, but you can uninstall any updates you have applied by touching Uninstall updates > OK.
Please click the submit button below to apply your feedback. If above content is not helping you to solve your issues, you can write down your comment and feedback to us to improve the content. Thank you for your participation.
Please answer all questions.