Compare Samsung Galaxy S9/S9 Plus and S8/S8 Plus Specs
Last Update date :
Sep 19. 2022
The new Samsung Galaxy S9 differs from the S8 in so many ways. The S9 and S9 Plus have a much-improved camera, bigger storage options and faster processors, among other improvements from the Samsung Galaxy S8.

In this FAQ:

• Difference between Samsung Galaxy S9 / S9 Plus and S8 / S8+ camera
• Difference between Samsung Galaxy S9 / S9 Plus and S8 / S8+ design
• Difference between Samsung Galaxy S9 / S9 Plus and S8 / S8+ performance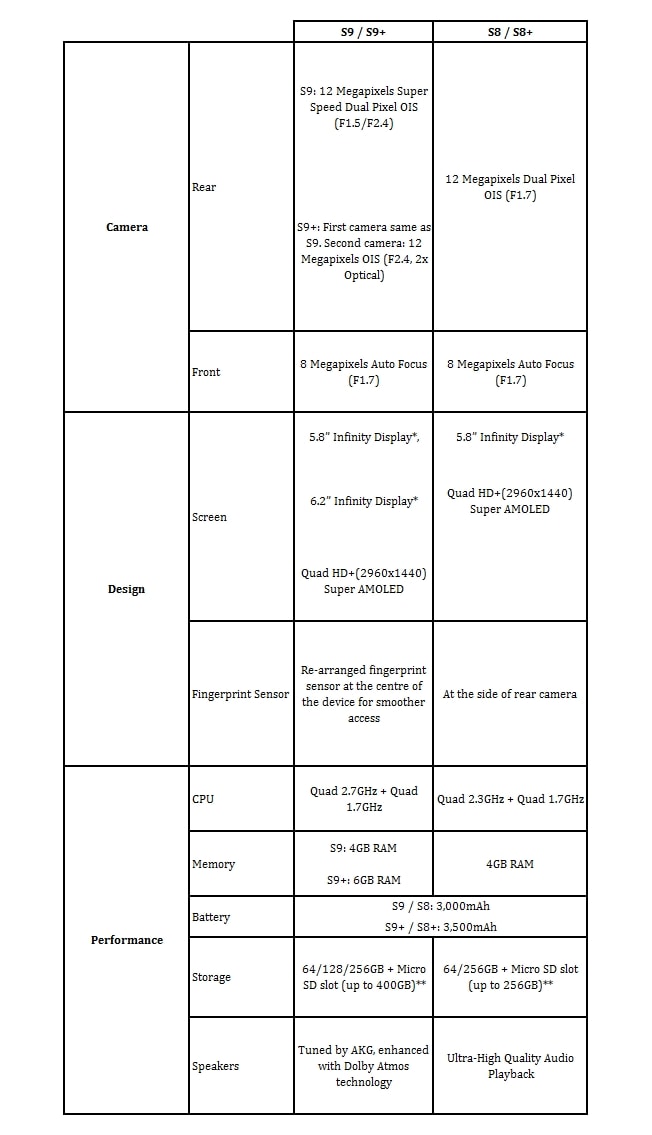 *Screen measured diagonally as a full rectangle without accounting for the rounded corners
**May differ by country and carrier

Camera
Both Samsung S9 and S8 have the same single lens camera with Dual Pixel 12 Megapixels Auto Focus sensor that offers optical image stabilisation and 2x optical zoom. Despite that, you will start to see bigger changes in their functions and performances.   
• The S9 has the new Super Speed ability, allowing you to capture the smoothest slow-mo HD video at 960 frames per second. The Samsung Galaxy S8 can shoot slow-mo HD videos at 240 frames per second only

Please note that Samsung S9's super slow-mo only supports HD (720p) resolution and is limited to 20 shots per video with approximately 0.2 seconds of recording and 6 seconds of playback for each shot     
• S9's rear camera has Dual Aperture at F1.5 and F2.4 that you can toggle. It also adapts to extreme light conditions automatically, like the human eye. The F1.5 aperture is a massive upgrade from Samsung Galaxy S8's F1.7 as it allows more light to come through the camera sensor and produce clear, sharp images under low light conditions      
• With the Augmented Reality (AR) Emoji, you can use your selfie to create an emoji of yourself and customise it with different looks.
Design
The Samsung S9 Plus display is 6.2 inches whereas the Samsung S9  still has the same 5.8 inches Quad HD+ Super AMOLED (2960x1440) display as well as the Infinity Display for that bezel-less, full frontal, edge-to-edge screen. There are slight changes in the dimensions and weight of the new phone.   

• The S9 is 0.6 mm wider, 0.5 mm thicker, 1.2 mm taller and 8 g heavier than the Samsung Galaxy S8

• Samsung S9's fingerprint sensor has been moved below the rear camera for easy reach, instead of sitting beside it. The iris scanner is tucked away within the upper bezel to accentuate the Infinity Display
Performance
Samsung S9 variants use the brand new and more powerful Snapdragon 845 and Exynos 9810 processors, while Samsung Galaxy S8 variants use older Snapdragon 835 and Exynos 8895  

• Both processors are 10nm 64-bit octa-core but with a slight improvement in the clock speed from S8's 2.35GHz now up to 2.8GHz in S9      

• The S9 will give you a similar 4GB RAM and 64GB internal memory. Unlike the S8, S9 offers bigger internal storage options at 128GB and 256GB. Additionally, Samsung S9 supports microSD cards for memory expansion of up to 400GB while S8 can only carry up to 256GB     

• The pair of stereo speakers of S9 are tuned by AKG and are 1.4x more powerful than older Galaxy phones, delivering a crisper and louder sound. And thanks to Dolby Atmos, the speakers surround you a three-dimensional sound for that cinematic experience     

• The same 3,000mAh battery powers up both devices, but S9 has been optimised to last a couple of hours more in music playback and talk time
• The S9 runs on Android 8.0 Oreo out of the box, while the Samsung Galaxy S8 is upgradableto Oreo
Please click the submit button below to apply your feedback. If above content is not helping you to solve your issues, you can write down your comment and feedback to us to improve the content. Thank you for your participation.
Please answer all questions.