What you need to know when you're mounting a TV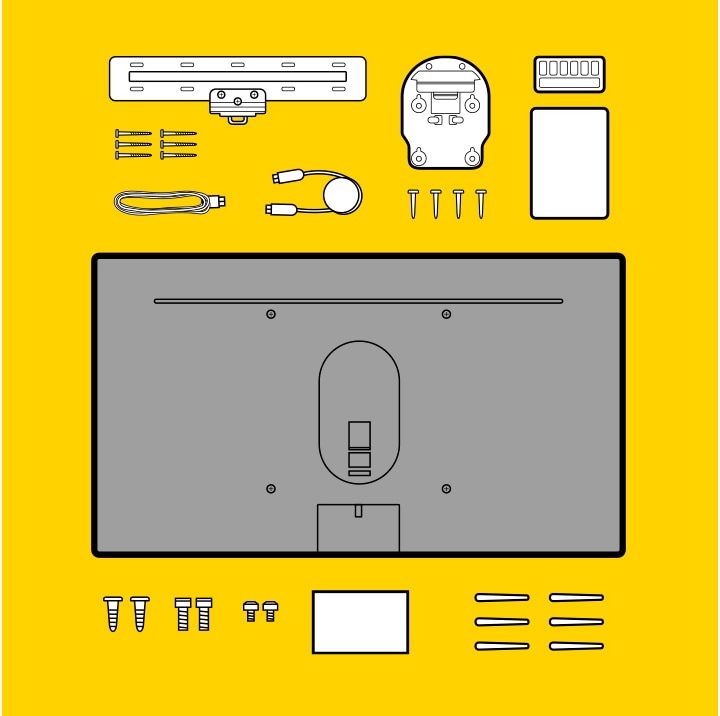 Figuring out how to mount a TV can seem intimidating. We get it. Some TVs are bulky, some mounts even bulkier, and the instructions can be really complex for a—let's be real—somewhat lackluster presentation at the end. Samsung QLED TV and the No-Gap Wall Mount are here to put an end to that.* Not only is QLED TV sleek and beautiful all around, the No-Gap Wall Mount makes TV installation simple and holds the TV so close to the wall, the result is impressive.† Here's what you need to know when you're mounting a TV.



There are three main factors to think about when preparing to mount your TV: location, eye level, and viewing distance. Taking these measurements and ideas into consideration is very important for an optimal TV experience. You know the old saying, measure twice, cut once? Here it's measure twice, drill once!
For location, it's not just room. You likely have an idea of which room to put it in, but which wall is important too. Determine which area would best suit your décor and keep the room comfortable. A wall not directly facing the window is also good too, to reduce potential glare (although QLED TVs have Ultra Black technology built in to help reflect glare too!)And regarding eye level height, you'll need to get the measuring tape ready! Depending on your height and whether you're on the couch or in bed, the eye level measurement is going to be different.
Finally, viewing distance. If you read ourTV buying guide, you're already a pro on viewing distance and you know that the viewing distance is also important to ensure that you get the highest-quality images on-screen. The recommended distance is 1.5–2.5x the diagonal screen measurement for UHD (1080p) TVs, and 1–1.5x that measurement for QLED (4K) TVs. Once you know where you're mounting the TV, you may need to move some furniture slightly for the ideal view. Luckily, 2017 Samsung TVs provides colorful, crisp, and detailed picture quality at many angles, so everyone in the house can enjoy it. Plus, the No-Gap Wall Mount allows you to make some adjustments after mounting for comfort, too.
Consider the best use of space for your TV

The most immediate benefit of mounting the TV is freeing up floor space! So if you've been looking for a way to open up the room a bit, a wall-mounted TV is great. With the No-Gap Wall Mount, your Samsung QLED TV will sit nearly flush against the wall, making it a seamless, clean-looking addition to any interior—especially since there's no clunky mount arm behind the screen! Plus, the minimal gap Samsung's wall mount offers has hygienic purposes, too! While many TVs are a gathering place for dust (ew!), No-Gap Wall Mount holding the QLED TV so close to the wall means fewer surfaces for dust to settle. No more straining your arm to reach behind the TV with your duster. Not to mention that the Invisible Connection answers any questions you've had about how to hide TV cables by hiding away your devices. It's an ultrathin optical cable with the One Connect at the end, allowing you to plug in your game consoles and media players with ease and tuck them out of sight.‡ Meaning, even fewer surfaces to dust around the TV.
Discover QLED TV's simple mounting method
Most people have horror stories about mounting a TV. Don't fret, though, because the No-Gap Wall Mount makes mounting easy. In fact, there are only four steps, and even a video that shows you how simple it is!
1. Install the wall mount kit on the back of the QLED TV.
2. Connect the Invisible Connection and power cable to the back of the TV before you mount. It gets tricky if you don't do this first.
3. Install hanger kit on the wall using the included guide, based on the measurements you determined in step two.
4. Place TV on the hanger, and adjust the angle to make the TV level and tilted the way you prefer.


Now, to enjoy your mounted TV
You're done! Your QLED TV's mounted and here's what you'll get: great image quality whether you're sitting right in front or moving around the room, a tiny gap between the TV and the wall, and the clean view that the Invisible Connection creates by allowing you to place any game consoles out of the way. Imagine your home with your new Samsung TV mounted and ready… doesn't the room feel more spacious already? Now it's time to make that dream a reality by setting it up so you can get the best out of your QLED TV. Keep checking back to learn more about how to setup Samsung TVs!
Topics : QLED TV, 2017 samsung tv, How to mount a tv, how to mount a flat screen tv, how to decorate around TV, TV interior design, how to hide TV cables, TV installation, how to setup Samsung tv
* Samsung QLED TV is a Quantum dot-based TV.
† Gap may differ based on the installation, QLED model, and wall type. Wall mount sold separately and Q9 generates 6mm gap.
‡ The 'Invisible Connection' refers to a single, transparent optical cable connected to the One Connect Box integrating external device cables, but it does not refer to the power cable of the TV or cables connected to other devices such as sound bar.