Bring YouTube
to your Smart TV
Get your family and friends together to enjoy YouTube on your TV.
Amplify your YouTube experience by watching on the big screen with a Samsung Smart TV.


Enhance your
YouTube experience
Get immersed in YouTube videos
Dive into all your favorite high quality YouTube videos on the big screen with a Samsung Smart TV. From extreme sports to the latest popular music videos, experience the excitement.
The best way to watch together
Share that can't-miss-viral video with the whole family, or enjoy learning something new together from the comfort of your couch.



Easy to use on your Smart TV
Dive right in
YouTube channels are just a click away from the Smart Hub. Connect with ease, get recommendations and dive straight into your favorite channel or content.

Search by voice
Find the videos you're looking for using the voice command function on the One Remote Control. Just ask to open the YouTube App and for the video you want to see.




YouTube activation
Sign in to YouTube for a personalized experience.1
Follow these steps to sign in to YouTube on your Samsung Smart TV: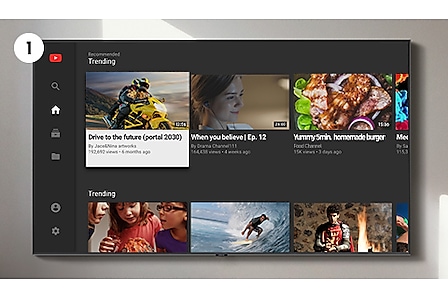 Step 1: Open the YouTube app on your TV.
Step 2: Use your remote to select the "Sign In" icon. Select "Sign In"
Step 3. On your mobile or PC, go to youtube.com/activate, and enter the activation code when prompted.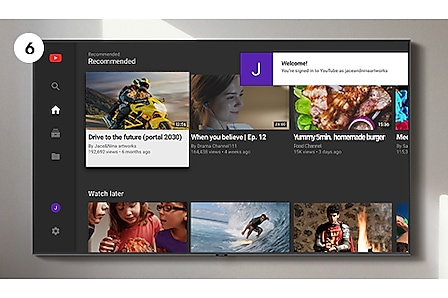 Step 4: Click "Allow" to accept YouTube's terms and conditions. *
Step 5: When you complete the sign-in process, you'll see the confirmation screen in the app.
Step 6: Enjoy your favorite videos on the big screen.
*If you have multiple accounts, you'll need to select one.
There is so much you can do besides binging on YouTube on your Samsung Smart TV. Go to the Smart TV Malaysia page to learn more about other features and benefits.
* The content within the screen are simulated images and are for demonstration purposes only.
* Available services and features on the Smart TV and the Graphic User Interface (GUI) may vary based on region and/or model.
* Users must agree to Smart Hub Terms and Conditions and Privacy Policy before use.
* Compatible Operating System (OS) or app required.
* Shape of TV and remote may differ based on model and/or region.
* Graphic User Interface (GUI), design, features and specifications are subject to change without notice.
* Users must agree to YouTube's terms and conditions.
* This service is provided by YouTube and can be terminated at any time.
1 Google account may be necessary for some features.