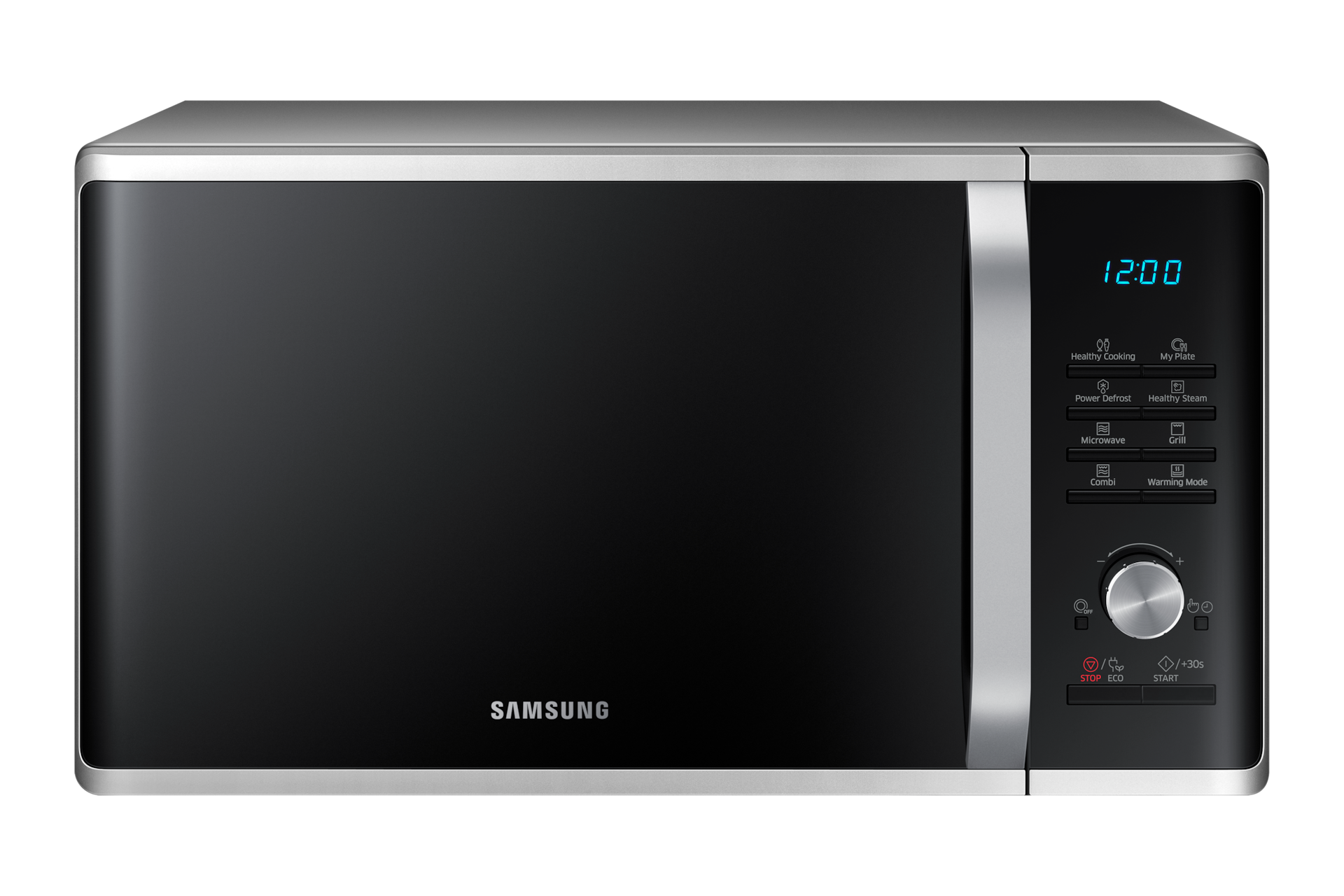 Healthy Steam, 28L, Grill Microwave Oven
MG28J5255US/SP
Sorry! This product is no longer available
CERAMIC INSIDE™
Healthy Cooking
Grill
Healthy Steam
With the Healthy Steam function and Glass Steamer you can quickly and easily prepare nutritious and succulent steam cooked food. Simply choose the food and size and it automatically selects the optimal cooking time.
Wide Range Of Steam Cooking Program
Create deliciously healthy steam cooked food and prepare a wide range of local recipes in minutes automatically.
Food Warming
The Food Warming function keeps food warm and at the proper temperature without over-cooking in order to enjoy the original warm flavor just before it is served. It has two operating modes to keep food hot and mild depending on the serving dishes.
Plate Warming
The Plate Warming function is to keep dishes perfectly warm until you're ready to serve. You can choose two kinds of warming modes (Hot, Mild) depending on the type of food. This function is able to warm your plates and maintain the quality of food during meal times.
CERAMIC INSIDE™
With a ceramic enamel interior, the Oven offers a durable smooth surface that is easy to clean and protect against scratches and discolouration.
Healthy Cooking
Up to 17 steam cook recipes are preprogrammed for your convenience. Easily cook everything-from green beans to brown rice, boneless chicken breast to Grilled salmon steaks - confident that the results will be moist and flavorful food.
Eco Mode
The ECO Mode setting offers a low standby power consumption by turning the display off when not in use. This mode is more convenient than unplugging the microwave when not in use .
Power Defrost
Power Defrost lets you defrost frozen foods quickly and evenly. Food won†t get soggy. Defrost frozen to their freshest state, so you and your famliy can enjoy delicious food whenever you want.
Turntable On/Off
Turntable On/Off offers the option to disable the turntable, so you can utilize the entire interior space to accommodate larger, square-shaped dishes.
28L

Oven Capacity

1400 W

Power Consumption (Microwave)

Grill

Product Type

2900 W

Power Consumption (Max)
How It Stacks Up
CERAMIC INSIDE™

Healthy Cooking

Grill

Oven Capacity

28L
Home Dessert

Full Glass Control Panel

Product Type

Solo

Oven Capacity

30L (1.0 Cu.ft)
* Key feature may different from Key Spec
All images shown are for illustration purposes only and may not be an exact representation of the product. Please check in-stores for more details.