Performance
TBW
SATA 6 Gb/s Interface, compatible with SATA 3 Gb/s & SATA 1.5 Gb/s interface
Interface
The SSD to trust
Get industry-leading reliability with the 860 PRO. Powered by the latest V-NAND technology and a robust algorithm-based controller, it readily handles heavy workloads of high-end PCs, workstations and NAS (Network Attached Systems) to give lasting assurance to gamers, IT and creative professionals.
Enhanced performance
Speeds are more consistent and sustained, even with heavy workloads and multiple tasks. The 860 PRO performs at sequential write speeds up to 530 MB/s1 with the best combination of the latest V-NAND and a refined controller, delivering sequential read speeds up to 560 MB/s1.
1PerformancemayvarybasedonSSD'sfirmwareversionandsystemhardware&configuration.SequentialperformancemeasurementsbasedonCrystalDiskMarkv.5.0.2andIOmeter1.1.0.Testsystemconfiguration:IntelCorei5-3550CPU@3.3GHz,DDR31333MHz4GB,OS–Windows7Ultimatex64,Chipset:ASUSP8H77-V.AllperformancedatawasmeasuredwiththeSSDasasecondarydrive.
Fierce endurance
Under heavy workloads, endurance is everything. Safely store and render 4K videos and 3D data used by the latest applications, up to 8x higher TBW (Total Bytes Written)1 than the previous 850 PRO. The latest V-NAND technology gives you industry-leading endurance backed by a 5-year or up to 4,800 TBW limited warranty2.
1WarrantiedTBWfor860PRO:300TBWfor256GBmodel,600TBWfor512GBmodel,1,200TBWfor1TBmodel,2,400TBWfor2TBmodeland4,800TBWfor4TBmodel.
25-yearsorTBW,whichevercomesfirst.Formoreinformationonthewarranty,pleasefindtheenclosedwarrantystatementinthepackage.
Smart compatibility
Benefit from faster, more fluid communication with your host system. The refined ECC1 algorithm and a new MJX controller generate higher speeds2, and the improved queued trim enhances Linux compatibility. Our advanced engineering makes the 860 PRO more compatible with your computing system.
1ErrorCorrectionCode
2ComparedwithSSD850,MGXandMEXcontroller
Samsung Magician
Management software
Samsung Magician software is designed to help you manage your SSD with a simple and intuitive user interface.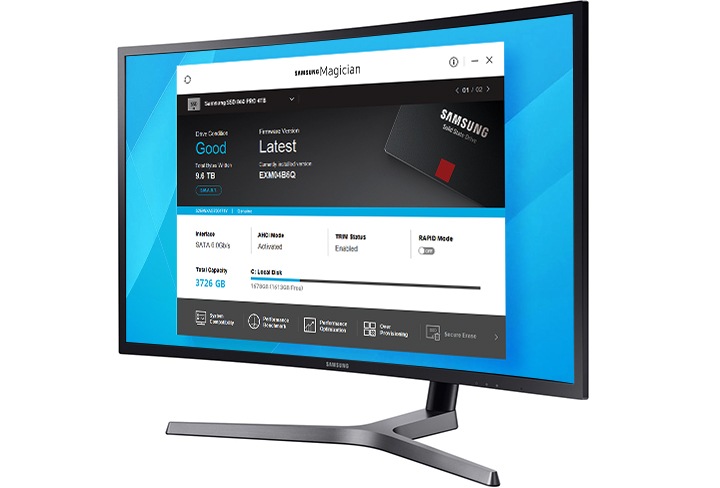 Firmware update
Get notifications when new firmware is released, and easily install updates for enhanced performance, stability, and compatibility.
Perf. benchmark
Check your SSD's sequential and random read/write speeds, so you can maintain superb performance.
Data security
Protect data by selecting security options. The 860 PRO supports AES 256-bit hardware-based encryption and is compliant with TCG Opal and IEEE 1667.
Client PCs

Application

SATA 6 Gb/s Interface, compatible with SATA 3 Gb/s & SATA 1.5 Gb/s interface

Interface

100 X 69.85 X 6.8 (mm)

Dimension (WxHxD)

Max 62.0g Weight

Weight

Up to 560 MB/s Sequential Read * Performance may vary based on system hardware & configuration

Sequential Read

Up to 530 MB/s Sequential Write * Performance may vary based on system hardware & configuration

Sequential Write
* Key feature may different from Key Spec