Samsung Introduces the New Galaxy Tab Active2 – the Business-Rugged Tablet Optimised for Mobility in the Workplace
Dec 21. 2017
Packed with the latest innovative features, the Samsung Galaxy Tab Active2 offers a business-rugged design with improved business functionality and built-in durability for industrial environments
Singapore – 21 December 2017 – Samsung Electronics Singapore today introduced the new Samsung Galaxy Tab Active2, a tablet built specially for business environments. Packed with the latest innovations from Samsung, the Galaxy Tab Active2 is a business-rugged tablet focused on providing users with the digitized tools they need in the workplace, towards improving work productivity and flexibility. With its wide range of features, from biometrics integration and multi-window screens to S Pen capabilities which all function in extreme working conditions, the Galaxy Tab Active2 helps accelerate the digital transformation of industries among key verticals such as logistics, transportation, public safety and manufacturing, in line with their ever-changing business needs.

"The Samsung Galaxy Tab Active2 was designed and developed for business environments, and represents a new category within our tablet range that caters to the workforce," said Sarah Chua, Vice President, IT & Mobile, Samsung Electronics Singapore. "We are delighted to bring such a robust and reliable device to our line-up of offerings, where we believe its intuitive, friendly interface and its enhanced features, will transform work processes to achieve cost efficiency and higher productivity."
High Durability for Businesses
The Galaxy Tab Active2 is MIL-STD-8101-certified, where it is assured with high durability to survive excessive pressure, temperatures, environments, vibration and drops. The tablet is equipped with business-rugged features, such as a 1.2m anti-shock inbox protective cover, IP682 water and dust resistance, and a better touch display mode for gloved and wet touch, providing greater durability in extreme work environments.

Latest Innovations for Field Workers
Thin and light, the Galaxy Tab Active2 is designed specifically for worker ergonomics, showcasing a simple design and interface for one-handed input and holding. The Galaxy Tab Active2 is also equipped with features for expanded productivity while on the job. Its advanced S Pen provides users with precise input options, and integrated Air Command functions. The S Pen is also IP682-certified, making it suitable for use in outdoor environments, even during wet and rainy conditions. With an improved 5MP camera with 8MP Auto Focus, business users of the Galaxy Tab Active2 are able to take better quality photos for work purposes, such as ID card and passport scanning for identification checks. The Galaxy Tab Active2 also offers a wide range of augmented reality (AR) capabilities, benefitting businesses and employees, where businesses can use AR on the tablet to train their staff in a realistic environment, or for customer support experiences.

Additionally, the Galaxy Tab Active2 comes built-in with LTE connectivity, easy and convenient power charging with efficient battery control, and data signal pins for optional keyboard connections.
Enhanced Security for Businesses
Supported by the defence-grade Samsung Knox platform, the Galaxy Tab Active2 provides businesses with enhanced options for security. The tablet offers convenient biometric authentication, including a new fingerprint scanner and facial recognition for unlocking the device using just one hand, providing improved and enhanced security authentication.

Local Pricing and Availability
The Samsung Galaxy Tab Active2 will be available in Black for both Wi-Fi® and LTE options from 22 December 2017 for enterprise purchase3 at S$648 and S$748 respectively.

For more information about the Galaxy Tab Active2, visit http://www.samsung.com/sg/business/tablets/galaxy-tab-active/
**
About Samsung Electronics Co., Ltd.
Samsung inspires the world and shapes the future with transformative ideas and technologies. The company is redefining the worlds of TVs, smartphones, wearable devices, tablets, digital appliances, network systems, and memory, system LSI, foundry and LED solutions. For the latest news, please visit the Samsung Newsroom at http://news.samsung.com.
Galaxy Tab Active2 Product Specifications: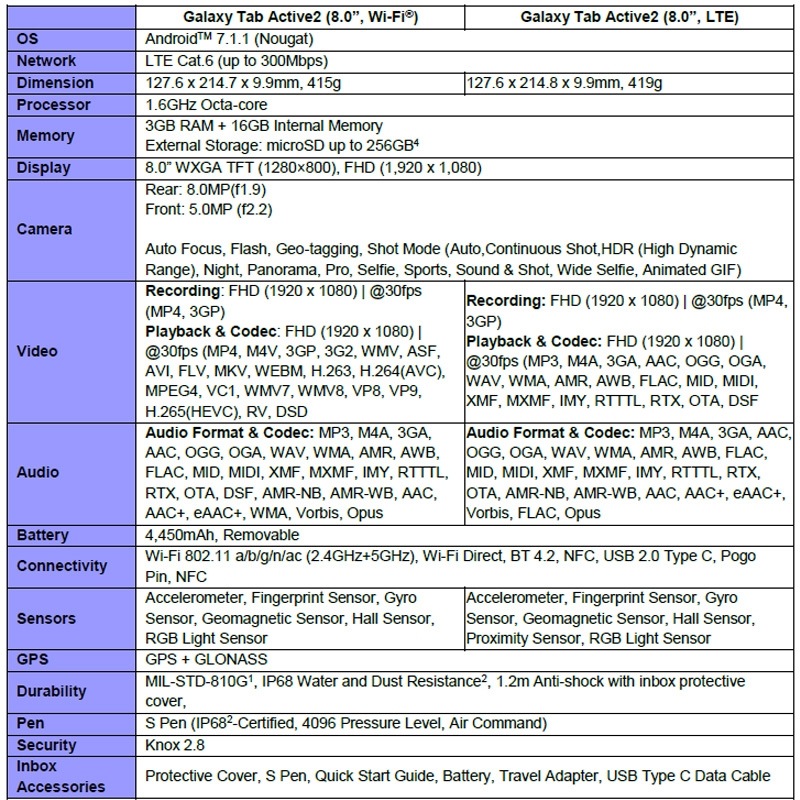 1 Galaxy Tab Active2 is MIL-STD-810G certified. According to accredited test results, individual results may vary.
2 Dust and Water Resistant (IP68 rating) means that the device is protected against entry of solid foreign objects, and harmful ingress of static fresh water at up to 1.5 metres, for up to 30 minutes, under certain defined test conditions. According to accredited test results; individual results may vary. Note: IP68 rating does not mean that the device is waterproof.
3 Please email to enterprise.sales@samsung.com to enquire about purchase details.
4 MicroSD card sold separately.

*All functionality, features, specifications and other product information provided in this document including, but not limited to, the benefits, design, pricing, components, performance, availability, and capabilities of the product are subject to change without notice or obligation. Wi-Fi® and Wi-Fi Direct® are registered trademarks of Wi-Fi Alliance. All other company, product and service names mentioned herein are marks, trademarks, registered trademarks or service marks of the respective owners.