Samsung Launches the New Cordless Vacuum POWERstick PRO in Singapore
Jun 07. 2018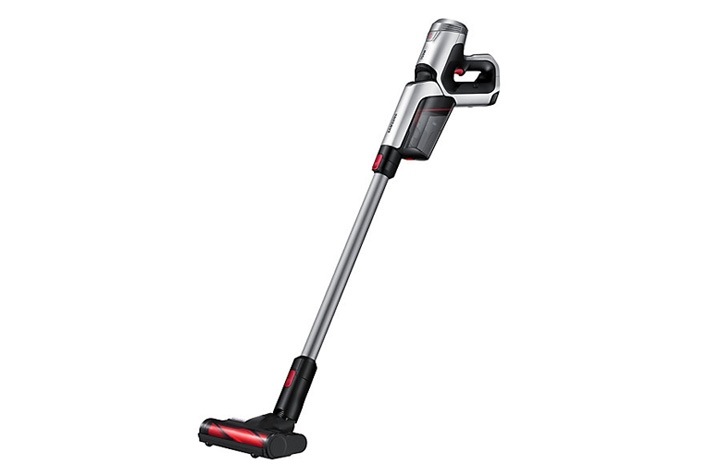 Combining powerful performance, flexible ergonomics and easy maintenance, the new POWERstick PROTM delivers the ultimate solution for complete cleaning
Singapore – 7 June 2018 – Samsung Electronics Singapore today announced the availability of its all-new cordless vacuum cleaner, the POWERstick PROTM, in Singapore. Boasting powerful suction power, the new POWERstick PROTM is the ultimate cleaning companion for consumers, resolving the cleaning challenges they experience as they vacuum their homes.
"At Samsung, we are committed to introducing innovations that can simplify and resolve everyday challenges consumers face in their lives at home," said Joan Ng, Head of Digital Appliances, Samsung Electronics Singapore. "With the POWERstick PROTM, we are excited to bring to consumers an ultimate cleaning solution that can provide more help and efficiency for their cleaning chores, towards improving the quality of their lives."
Ergonomic design for ease of use
The POWERstick PROTM takes users' cleaning experience to the next level by maximising aesthetic appeal and providing higher convenience for them. Its patented ergonomic Flex Handle folds up to 50° with a simple click of a button, allowing users to reach under low furniture and vacuum with ease. Lightweight and easy to use, the ergonomics of the POWERstick PROTM's Flex Handle have also been cleverly aligned for more comfortable use, minimising strain on wrists, muscles and back.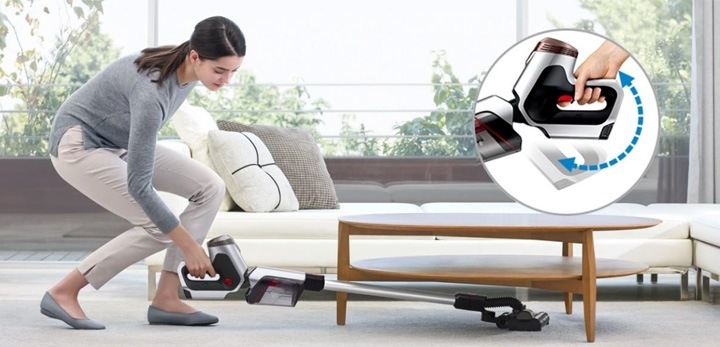 Convenient power on function
With the POWERstick PROTM, users can enjoy continuous, powerful cleaning without having to hold down the power button throughout. They would simply need to press the power button once to switch the POWERstick PROTM on in Normal Mode and again to switch it off. In addition, users can also press and hold the vacuum cleaner's Turbo Mode button for more power-packed cleaning.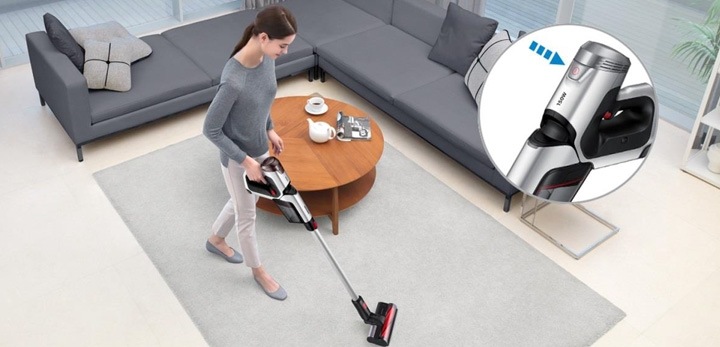 Lasting power with removable battery
The POWERstick PROTM also boasts a powerful battery life, running on a battery pack that offers up to 40 minutes of battery life on a single charge1. The battery pack can also be quickly swapped for a replacement2 when needed, extending cleaning time to a total of 80 minutes1. Users can also be assured that there will be no significant decrease in the POWERstick PROTM's battery power, as the battery pack is designed to retain 80 percent of its original capacity for up to 500 full charge and discharge cycles3.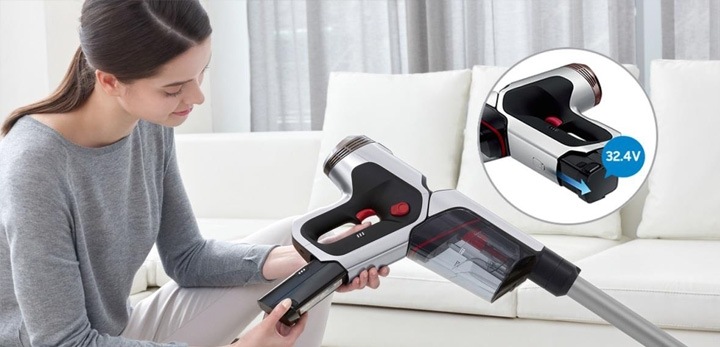 EZClean technology for effortless cleaning
Equipped with strong hygienic features, the POWERstick PROTM is hassle-free in maintenance and effortless to clean, further amplifying user convenience. Users can empty its EZClean Dustbin with one quick pull of the lever, and dispose of its contents with minimal effort. The entire dustbin structure of the cordless vacuum cleaner can be easily detached and washed with water. The EZClean Brush4 is also detachable from the main unit and uses friction to dislodge dust and even hair tangles in the process, and users need not worry about getting their hands dirty.
Hygienic HEPA filtration for cleaner air
The POWERstick PROTM also boasts Hygienic HEPA Filtration to ensure that up to 99.9 percent5 of the dust collected stays in the canister, ensuring cleaner air. Its advanced filtration system received the highest level of certification from SLG, an independent testing institute, as well as from the British Allergy Foundation, for its ability to trap fine dust and other harmful particles such as household mites, pollen, and mold spores.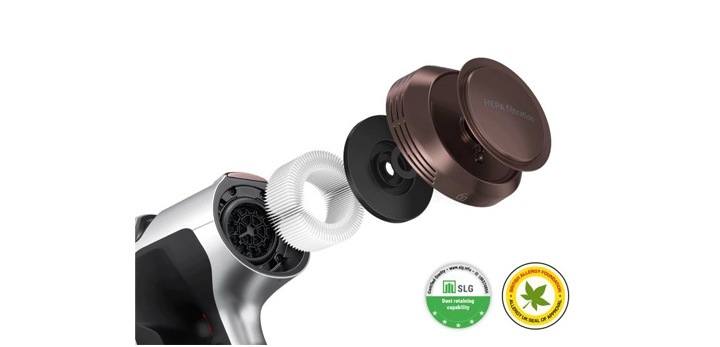 Strong suction power for powerful performance
Powered by Samsung's Digital Inverter Motor, the POWERstick PROTM is built for high performance. As one of the leads in the industry, the cordless vacuum cleaner is packed with strong suction power of up to 150W6, providing users with thorough cleaning efficiency on all floor types. The POWERstick PROTM is also equipped with the Turbo Action Brush, which provides exceptional versatility in efficiently cleaning dust up from various floor types. The rotating brush bar drives bristles deep into the carpet, enabling it to powerfully pick up pet hairs and dust.
Additional tools for the ultimate cleaning solution
The POWERstick PROTM is complemented with four additional tools, enhancing it as the ultimate cleaning solution.
The Mini Motoroised Tool allows users to clean the dust and allergens on their bed sheets, mattresses and fabric furniture effectively and hygienically.
The Extension Crevice Tool helps users remove dirt from deep crevices in sofas and high areas like ceiling corners with ease.
The Combination Tool enables users to pick up dirt on a wide range of surfaces, from table tops to window frames.
The Soft Action Brush effectively swipes up even the finest dust from hard floors.
Local Pricing and Availability
The Samsung POWERstick PRO™ will be available from 13 June 2018 at a special launch price of price of $888, at all major consumer electronics stores.
Samsung will also be holding a launch promotion for the POWERstick PRO™. Consumers who purchase the POWERstick PRO™ are entitled to purchase an additional battery pack at a discounted price of $59 (U.P. $159), available only at major consumer electronics stores, while stocks last7.
For more information about the Samsung POWERstick PRO™, visit www.samsung.com/sg/powerstickpro-vs8000.
***
About Samsung Electronics Co., Ltd.
Samsung inspires the world and shapes the future with transformative ideas and technologies. The company is redefining the worlds of TVs, smartphones, wearable devices, tablets, digital appliances, network systems, and memory, system LSI and LED solutions. For the latest news, please visit the Samsung Newsroom at http://news.samsung.com.
*All functionality, features, specifications and other product information provided in this document including, but not limited to, the benefits, design, pricing, components, performance, availability, and capabilities of the product are subject to change without notice.
1 Based on internal testing in Normal Mode. Results may vary depending on floor types and usage.
2 Additional batteries will be made available for purchase only at Samsung Service Centre (Plaza Singapura) after the end of the launch promotion.
3 Based on internal testing. Battery capacity maintains up to 80% after 500 charge cycles (charge cycle means total use of full charge). Results may vary depending on usage.
4 Works only for Turbo Action Brush and Soft Action Brush.
5 Based on testing by SLG Prüf-und Zertifizierungs GmbH which awarded the 'Excellent' five star dust retaining grade based on IEC 60312-1:2020 (ed.1) + A1:2011 clause 5.11 Filtration efficiency
6 Based on internal testing on Samsung VS8000NL in accordance with the EC 60312-1 testing method.
7 Limited to 100 units available only.
Information is accurate at time of publication.
List
No Prev Page
No Next Page