International News
Samsung partners Great Eastern to empower and reward healthier and better living
Jul 30. 2018

Singapore – 30 July 2018 – Samsung Electronics Singapore (Samsung) and Great Eastern have announced a strategic partnership to empower and reward the community to live healthier and better. 
Both parties recently entered into a Memorandum of Understanding (MOU) . The partnership leverages the strengths of both Samsung and Great Eastern to change the way mobile and wearable technology influence consumers' management of their health and wellness.
"Samsung is always exploring opportunities to elevate the lifestyles of our consumers, and Great Eastern's desire to encourage Singaporeans to live well makes them the ideal partner for us," said Lee Jui Siang, President, Samsung Electronics Singapore. "We are excited to collaborate with Great Eastern to showcase how technology can transform the traditional role of insurance services."
"Samsung is a market leader in mobile and wearable technology. We are delighted to partner Samsung to deliver a strong digital proposition in health and wellness to our customers. This is an integral part of our digital transformation to bring access and benefits around to the everyday lives of our customers, said Khor Hock Seng, Group Chief Executive Officer, Great Eastern.
Under this MOU, Samsung and Great Eastern aim to tap onto their respective capabilities to roll out various initiatives across health and wellness, home and internet of things (IoT) as well as the respective reward and benefit programs by Samsung and Great Eastern. 
One of the early elements of the partnership included the integration of Great Eastern's first-of-its-kind wellness platform, GETGREAT with the Samsung Health App. GETGREAT was launched as part of Great Eastern's Live Great Programme, and features an artificial intelligence-powered coach, GERI – which offers all-day personalized coaching to help users achieve their personal wellness goals.
Following the success of the app, Samsung and Great Eastern will be taking it to the next level with an island-wide step challenge launching in August to motivate and reward the community.
GearedtoGetGreat 1,000,000 Step Challenge
Rallying the community to take the first step in staying fit, the GearedtoGetGreat step challenge will kick off on 1 August 2018. The challenge is open to all consumers aged 18 and above with the GETGREAT app, and consists of two phases: 1 August – 31 August 2018 and 1 September – 30 September 2018. Participants can take part in either phase, and must form teams of two to five individuals.
In conjunction with the challenge and to keep participants motivated, on-ground circuit training will be organised throughout the duration of the challenge. This will include sessions with fitness influencers, such as soccer training with Singaporean professional footballer, Irfan Fandi on 18 August, and a boxing class with fitness enthusiast Victoria Cheng on 15 September.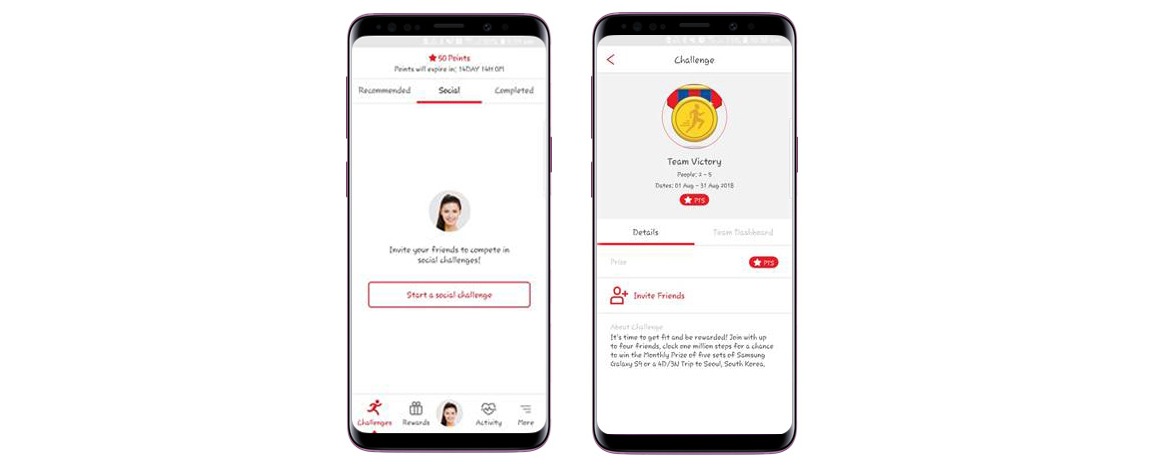 Participation criteria includes:
 Complete 1,000,000 steps as a team within a month (during the stipulated time frame).
 Submit a team photo, along with a short write-up (of no more than 20 words) on how the GETGREAT app has helped the team lead a healthier lifestyle. Submissions will be evaluated based on creativity.
One lucky team of the GearedtoGetGreat 1,000,000 Step Challenge will stand a chance to win the grand prize of a 4D3N trip to Seoul, South Korea. Two lucky teams can also stand a chance to win the monthly draw of a Samsung Galaxy S91!
For more information, please visit https://www.greateasternlife.com/sg/en/mobile-apps/geared-to-getgreat.html.
Beyond the GETGREAT app integration with Samsung Health and the GearedtoGetGreat 1,000,000 Step Challenge, Samsung and Great Eastern will continue to explore other areas of collaboration such as a potential initiative involving Samsung Pay that will take place in Q4 2018.
1Contest terms and conditions apply
About Samsung Health 
Samsung Health is an all-in-one companion for your healthy lifestyle. With Samsung Health, you can track your everyday activities, get coaching to reach your daily goals, and improve your fitness with various training programs. For more information, please visit: https://www.samsung.com/sg/apps/samsung-health/
About Samsung Electronics Co., Ltd. 
Samsung inspires the world and shapes the future with transformative ideas and technologies. The company is redefining the worlds of TVs, smartphones, wearable devices, tablets, digital appliances, network systems, and memory, system LSI and LED solutions. For the latest news, please visit the Samsung Newsroom at http://news.samsung.com.
About Great Eastern 
A market leader and a well-established trusted brand in Singapore and Malaysia, Great Eastern was founded in 1908 and celebrates its 110th anniversary this year. With S$82.5 billion in assets and over 4 million policyholders, it has three successful distribution channels – a tied agency force, bancassurance, and a financial advisory firm, Great Eastern Financial Advisers. The Group also operates in Indonesia and Brunei and has a presence in China as well as a representative office in Myanmar.
It was named Life Insurance Company of the Year at the Asia Insurance Industry Awards in 2011 and 2013 by Asia Insurance Review. The Great Eastern Life Assurance Company Limited and Great Eastern General Limited have been assigned the financial strength and counterparty credit ratings of "AA-" by Standard and Poor's since 2010, one of the highest among Asian life insurance companies. Great Eastern's asset management subsidiary, Lion Global Investors Limited, is one of the largest private sector asset management companies in Southeast Asia.
Great Eastern is a subsidiary of OCBC Bank, the longest established Singapore bank, formed in 1932 from the merger of three local banks, the oldest of which was founded in 1912. It is now the second largest financial services group in Southeast Asia by assets and one of the world's most highly-rated banks, with an Aa1 rating from Moody's. Recognised for its financial strength and stability, OCBC Bank is consistently ranked among the World's Top 50 Safest Banks by Global Finance and has been named Best Managed Bank in Singapore and the Asia Pacific by The Asian Banker.
OCBC Bank's key markets are Singapore, Malaysia, Indonesia and Greater China. It has more than 600 branches and representative offices in 18 countries and regions. These include over 330 branches and offices in Indonesia under subsidiary Bank OCBC NISP, and more than 100 branches and offices in Hong Kong, China and Macao under OCBC Wing Hang.