Samsung Revolutionises the Home Entertainment Experience with 2018 QLED TV, Premium UHD and UHD line-up and AV Products
May 10. 2018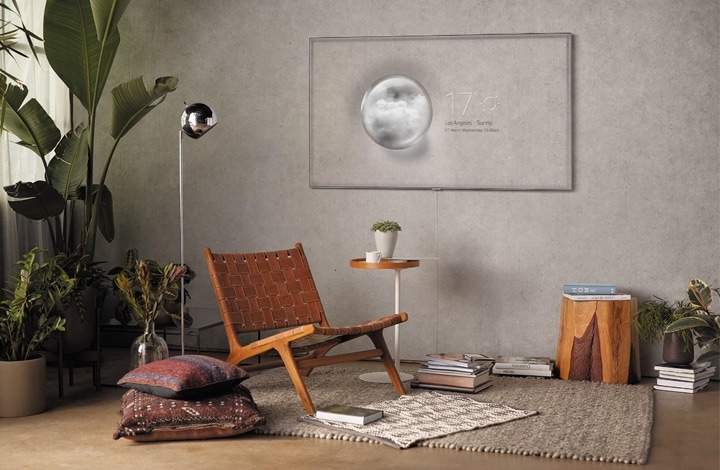 The 2018 TV line-up featuring unparalleled design and smart display features provide consumers with an impeccable viewing experience, further enhanced by immersive sounds produced by the AV products

Singapore – 10 May 2018 – Samsung Electronics Singapore today announced the launch of its flagship line of 2018 QLED TVs, Premium UHD TVs, UHD TVs and AV products, the next generation of home entertainment products that enhances the TV-viewing experience like never before. The 2018 QLED TV line-up features Direct Full Array backlighting technology and a stylish Magic Screen1 for spectacular picture quality and seamless design. The 2018 Premium UHD and UHD TV line-up also comes with impressive features that are sure to enhance the quality of consumer lifestyles. The clear and immersive sound systems from the latest AV products also elevate home entertainment to a whole new level.
"The new 2018 TV and AV line-up is designed to provide total immersion, enhancing the quality of life for consumers while ensuring ease of use," said Steven Koh, Director, Consumer Electronics Business, Samsung Electronics Singapore. "As Samsung is always committed to bringing the latest and most innovative technology to consumers, the new line-up of televisions and audio products certainly leverages on new technologies to provide consumers with a breath-taking viewing experience."
Stunning Picture Quality
There is a hidden director behind all 2018 Samsung QLED TVs, giving breath to QLED's proprietary features and allowing them to come alive in delivering extraordinary picture performance. The Q Engine – the powerful processor behind QLED's spectacular picture quality, with its brilliant data analysis and tuning processes, creates the most life-like images in impressive colour, clarity, contrast and HDR on the Samsung QLED TVs.
This year, Samsung continues to champion technology advancements by further enhancing the use of Quantum Dot technology, the tool that drives 100% colour volume2 that reproduces pure and natural images on QLED TVs. The proprietary metal alloy shell not only enables greater colour accuracy and higher peak brightness, but also protects the screen from burn-in. This confidence in product quality has led Samsung to offer a 10-year burn-in free warranty3 for all QLED TV purchases.
The 2018 flagship Q9F series creates impeccable picture quality with the Direct Full Array backlighting technology, allowing consumers to view stunning images with pristine contrast. The technology uses a panel with zones of smartly controlled backlighting that adjusts automatically to deliver deeper blacks and purer whites, reducing blooming and halo effects while enabling dramatic contrast. This ensures that the screen is illuminated accurately, providing consumers with the perfect viewing experience.
This year's QLED TVs also use Ultra Black, a sophisticated anti-reflection technology, together with HDR Elite powered by HDR10+4 to ensure that every intricate detail can be enjoyed from almost any angle, under all lighting conditions. The screens have the ability to go up to 2,000 nits5 of brightness level, allowing consumers to view even the tiniest details in striking contrast comfortably in a brightly-lit room.
With such astounding picture quality, the QLED TVs promises to deliver high level of performance no matter where the viewer is sitting, offering consistent colour and quality from any viewing angle.
The TV That Blends In
One Invisible Connection 2.06
Consumers no longer have to worry about cable clutter with Samsung's simple solution. The new One Invisible Connection 2.0 is a slim cable that integrates power cable and data lines that were previously separated, connecting it to the One Connect box and harmonizing the TV with the surrounding's aesthetics. Available for up to 15 metres7, the One Invisible Connection 2.0 enhances consumer lifestyle by providing flexibility for TV placement in homes instead of having to place their TV near data or power outlets. By plugging devices into the One Connect box instead of the back of the TV, wire clutter will be reduced, providing consumers with a world of opportunities to finally design their space the way they want it.
Magic Screen1
In addition to delivering the ultimate viewing experience, the Samsung QLED TVs are also thoughtfully designed to seamlessly blend in with consumer homes and living spaces. For wall-mounted TVs, the Magic Screen can mimic the pattern on the wall behind the TV to create an astonishing visual effect in which the TV blends seamlessly into the wall. In addition to the seamless integration with living room spaces, the Magic Screen also provides useful information throughout the day – from playing music to weather updates.
Spend Time Watching, Not Searching
With the intuitive Samsung Smart Hub, consumers can experience entertainment through a faster, easier and more intelligent way. They can now dive straight into their favourite content through a simple navigation with recommendations from their favourite Apps. With the One Remote control8, consumers can easily manage their different devices, which will be automatically recognised and labelled through the Auto Detection function, and need not fumble around to connect to the correct connection port
Easy Set Up9
The new SmartThings mobile app offer consumers an effortless set-up when setting up a new TV, saving significant amount of time for them to jump right into their favourite shows.
Premium UHD and UHD
Samsung is offering new models in the 2018 Premium UHD TV line-up, which includes the NU8500 and NU8000. The line-up features realistic and vibrant images reproduced in over a billion colours, allowing consumers to elevate their viewing experience. The TVs also come with Smart TV enhancements and the clean cable solution, providing consumers with a connected lifestyle through a clutter-free living space.
Samsung is also offering new models in the 2018 UHD TV line-up which includes features such as 4K UHD and HDR picture capabilities powered by HDR10+4, clean cable solutions, slim design and Smart TV functions. The line-up is designed to give consumers not only an enhanced picture quality, but also provide consumers with beautiful aesthetics that will seamlessly blend in with living spaces.
Samsung 2018 Audio Line-up and Soundbars
Samsung is also launching four new audio products that offer clear and immersive sound tailored to the different ways individual consumers set up and use their home theatre systems.
HW-N950: The HW-N950 Dolby Atmos soundbar comes with all-rounded speakers including front-firing, up-firing and new side-firing speakers. Consumers will be rest assured to experience an extraordinary cinematic experience that delivers 7.1.4 surround sound.
HW-N650: Designed for movie lovers and gamers in mind, the skilfully-designed HW-N650 soundbar, tuned in the Samsung Audio Lab in California, features the Samsung Acoustic Beam Technology that produces panoramic sound which puts consumers at the center of the action. Consumers can now experience their favourite content in immersive 5.1 surround sound.
HW-NW700: The HW-NW700 soundbar's slim and sleek design makes it the perfect fit to complement any wall-mounted TVs. Consumers who place emphasis on aesthetics will be pleased that both products will blend beautifully into any home environment.
VL5: Available in Black and White, the VL5, tuned and certified by AKG allows consumers to listen to every detail. It includes a unique metal dial, enabling consumers to attach it to any metallic surface and use it to control music with the sound of their voice.
Local Pricing and Availability
Samsung's 2018 QLED TV, Premium UHD and UHD line-up and AV Products will be available at all major consumer electronics stores. For the full pricing list, please refer to the table appended below: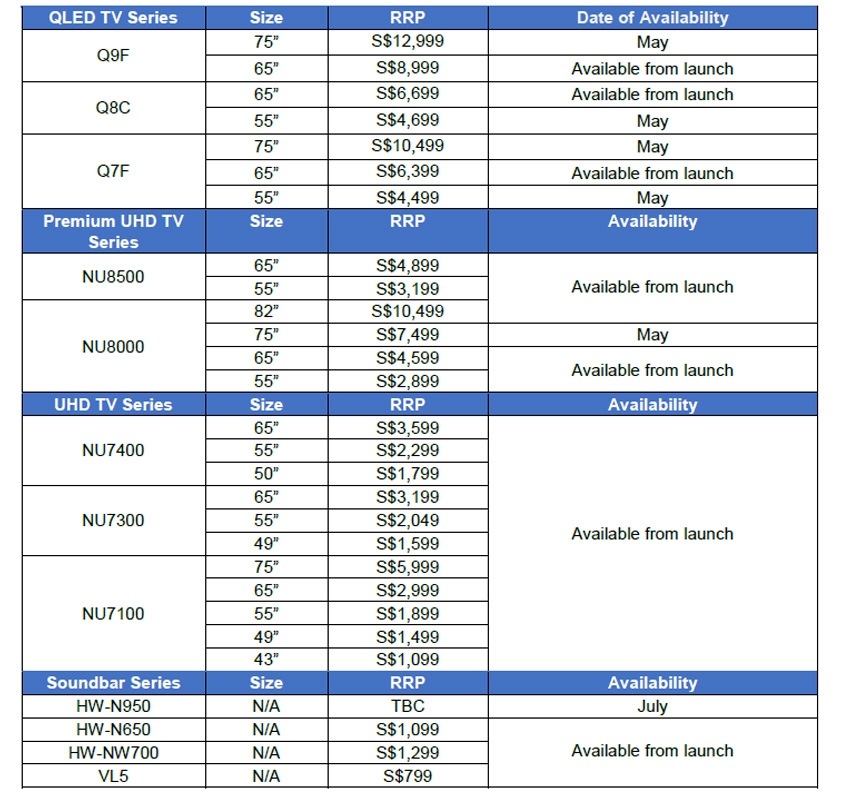 Launch Promotion
In celebration of the launch of Samsung's 2018 TV and AV line-up, consumers who purchase a TV from the 2018 line-up will be able to enjoy a special promotional price10 for Samsung's Soundbar.
***
About Samsung Electronics Co., Ltd.
Samsung Electronics Co., Ltd. inspires the world and shapes the future with transformative ideas and technologies. The company is redefining the worlds of TVs, smartphones, wearable devices, tablets, cameras, digital appliances, medical equipment, network systems, and semiconductor and LED solutions. For the latest news, please visit Samsung Newsroom at http://news.samsung.com.
*QLED TV: Samsung QLED is Quantum dot based TV.
1 Magic Screen background setting feature may vary depending on the environment where the TV is installed including, but not limited to, wall designs, patterns, and/or colours.
2 QLED TVs have received verification from world-class testing and certification association, Verband Deutscher Elektrotechniker (VDE), for its ability to produce 100% colour volume. 100% colour volume measured to DCI-P3 Standard.
3 No screen burn guarantee is applicable for conventional TV viewing conditions and not applicable for commercial use.
4 The HDR10+ certification may vary by model and only available on HDR10+ content.
5 The peak brightness may vary depending on the model and size of the TV.
6 The 'One Invisible Connection' refers to a single, transparent optical cable connected to the One Connect Box including the TV power integrating external device cables, but it does not refer cables connected to other devices such as sound bar.
7 15 metres One Invisible Connection 2.0 sold separately.
8 Subject to device compatibility. Design of One Remote Control vary by models.
9 Auto recognition between mobile phone and TV may vary depending on the mobile device. For mobile devices that do not support auto recognition, open the SmartThings app on your mobile to begin set-up. A Samsung Account is required to set up TV via mobile. Set-up process is also available via remote control.
10 Terms and conditions apply. Check in-store for more details.
Information is accurate at time of print and images are for illustration purposes only.
List
No Prev Page
No Next Page