International News
Samsung Service Introduces Visual Support Feature for More Effective Diagnosis and Troubleshooting
Sep 02. 2019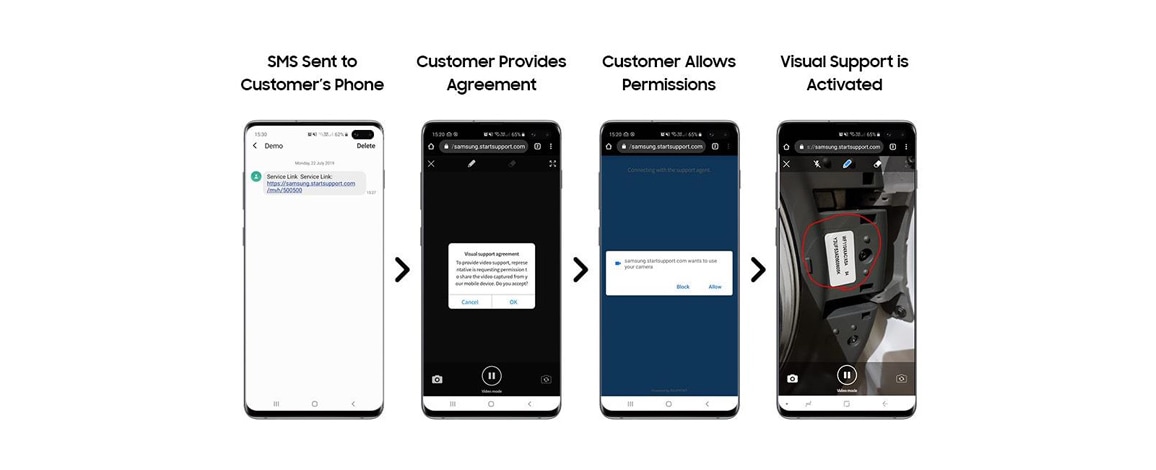 The Samsung Electronics Singapore Contact Centre's Visual Support service provides a personalised form of customer support, offering consumers more convenience and satisfaction
SINGAPORE – September 2, 2019 – Samsung Electronics Singapore today announced a Visual Support service as part of its Contact Centre offering, an innovative service to enhance customer support. The Visual Support service optimises customer convenience when issues or complex situations arise in products that Samsung offers, such as smart home products. Customers no longer need to worry about providing an accurate verbal description to detail the problem or the efficacy of a Customer Service Consultant's advice, thanks to the new service that is easy and intuitive to use.
Just One Click for Comprehensive Visual Support
A more personalised form of customer support, the Samsung Contact Centre's Visual Support service offers users advice from a consultant based on actual visuals of the affected product provided. Users no longer need to download a separate mobile application for help and support.
Customers can simply request for support from Samsung Contact Centre, and a URL link that launches straight into the Visual Support permissions process will be sent to the customer via SMS. Once permission has been granted, the consultant is able to analyse a product as seen directly through the customer's camera. This allows the consultant to more accurately assess the situation, request more information from the customer and guide the customer forward with specific measures.
Useful Functionalities for Effective Customer Care
Samsung's Visual Support service includes several useful functions for efficient and effective consultation:
To indicate a specific area of the product, both the consultant and the customer can annotate on the screen, creating a simpler and more convenient process for all.
Conveying the product's model name and serial number is an easy and automatic process now with the scan function of the service. Customers no longer need to manually share these complex information with the consultants.
The Visual Support service allows customers and consultants to simultaneously speak on the telephone while streaming and capturing images during consultation. These images captured can also come in useful further down the product repair process.
Should the product be placed in a low-light environment, Samsung consultants can remotely turn on the customer's phone flashlight during the phone call in order to better assess the situation.
With enhanced troubleshooting offered by the Visual Support service, customers can easily and accurately receive diagnosis from Samsung's consultants without having to struggle with technical product details themselves. The in-depth analysis allows consultants to make more informed determinations on whether a product repair service is necessary, saving time and effort for the customer.
Convenient, Accurate and Efficient Customer Service
Samsung's Visual Support service now allows consultants to directly assess a product's environment as well as its appearance, significantly improving the accuracy of diagnoses as compared to general telephone consultation, especially on home appliances that often experience non-defect-related issues.
Many customers have expressed their satisfaction with this innovative service. In a customer satisfaction survey conducted in countries where Visual Support service is available1, the average score was 93.4, up from the call-only service satisfaction score of 88.7.
"The Visual Support service is very fast and convenient. I no longer need to wait for a consultant to travel to my home to assess the issue," said Mr. Lim, a satisfied customer who used the service.
Consultants and repair engineers have also noted their satisfaction with the service. They have found themselves conducting home visits only when necessary and can enter repair situations with a much more detailed understanding of the product and issue.
The Visual Support service is now available from Samsung Singapore Contact Centre via 1800-SAMSUNG.
About Samsung Electronics Co., Ltd.
Samsung inspires the world and shapes the future with transformative ideas and technologies. The company is redefining the worlds of TVs, smartphones, wearable devices, tablets, digital appliances, network systems, and memory, system LSI and LED solutions. For the latest news, please visit the Samsung Newsroom at http://news.samsung.com.
1 Visual Support is currently operating in 12 countries including Australia, India, Indonesia, Korea, Malaysia, New Zealand, Thailand, the Philippines, the UK, the USA, Singapore and Vietnam.