Light up new possibilities this new year
Experience the fastest 0.1ms OLED gaming monitor
Valid from Jan 01. 2023 ~ Feb 28. 2023
0% instalment up to 36 months1

Free delivery
(Samsung Online Store & Selected retailers)2
Odyssey Monitors

Next-level gaming experience

24" Gaming Monitor
With 144Hz Refresh Rate

$288 (U.P. $548)

Save $260 

27" Gaming Monitor
With 144Hz Refresh Rate
$368 (U.P. $698)

Save $330 
24" Gaming Monitor
With 165Hz Refresh Rate

27" Gaming Monitor
With 165Hz Refresh Rate

32" Gaming Monitor
With 165Hz Refresh Rate
$628 (U.P. $728)

Save $100 
34" Ultra-WQHD Gaming Monitor
With 165hz refresh rate
$998 (U.P. $1,398)

Save $400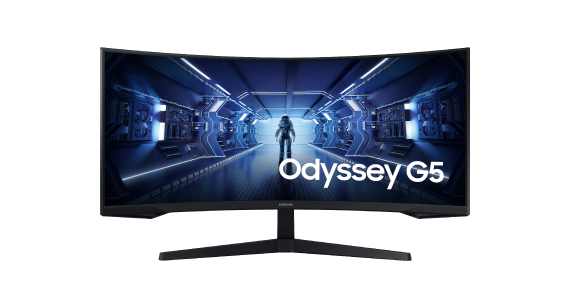 28" UHD Gaming Monitor
With 144hz refresh rate
$988 (U.P. $1,288)

Save $300 
32" UHD Gaming Monitor
With Quantum Mini-LED
$2,288 (U.P. $2,699)

Save $411 

49" DQHD Gaming Monitor
With Quantum Mini-LED
$2,888 (U.P. $3,399)

Save $511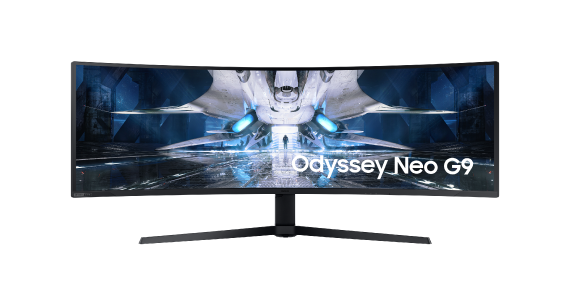 49" DQHD Gaming Monitor
With 1000R Curvature
$2,088 (U.P. $2,899)

Save $811 

55" UHD Gaming Screen
With 1000R Curvature
$4,999
Smart Monitors

Watch, play and live in style
27" Flat Monitor
With Smart TV Experience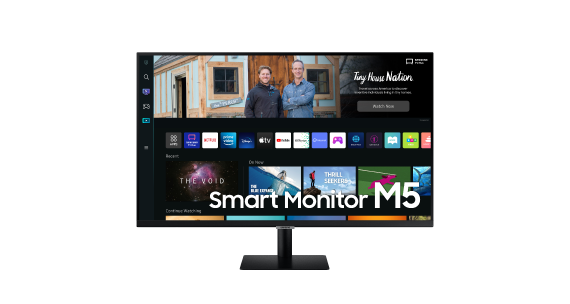 27" Flat Monitor
With Smart TV Experience
32" Flat Monitor
With Smart TV Experience
$528 (U.P. $628)

Save $100 
32" Flat Monitor
With Smart TV Experience
$528 (U.P. $628)

Save $100 

32" UHD Monitor
With Smart TV Experience
$798 (U.P. $898)

Save $100 

32" UHD Monitor
With Smart TV Experience
$798 (U.P. $898)

Save $100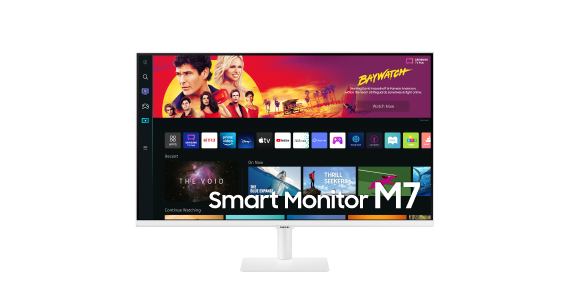 43" UHD Monitor
With Smart TV Experience
$968 (U.P. $1,088)
Save $120 
32" UHD Monitor
With Smart TV Experience
$1088 (U.P. $1,288)

Save $200 
27" Flat Monitor
With Mobile Connectivity
$368 (U.P. $548)

Save $180 

27" Flat Monitor
With Smart TV Apps
$368 (U.P. $548)

Save $180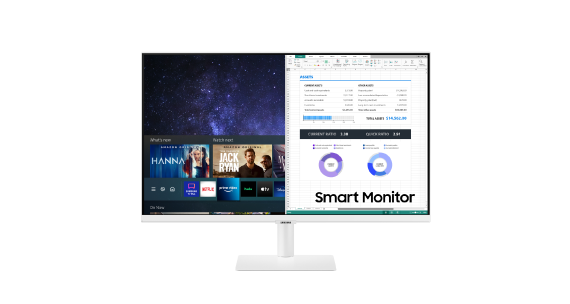 32" Flat Monitor
With Mobile Connectivity
$498 (U.P. $628)

Save $130 

32" UHD Monitor
With Mobile Connectivity
$698 (U.P. $898)

Save $200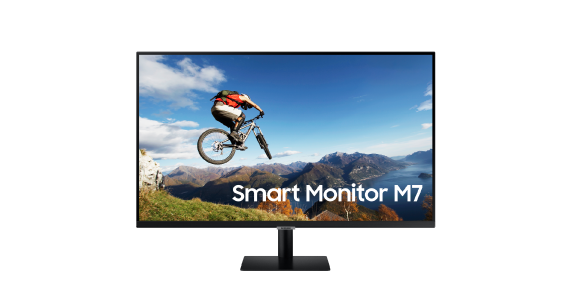 43" UHD Monitor
With Smart TV Apps
$798 (U.P. $1,088)

Save $290 

ViewFinity Monitors

A new benchmark for high resolution

27" UHD Monitor
With DCI-P3 98%, HDR & USB type-C
$1,0288 (U.P. $1,188)

Save $160 

27" UHD Monitor
With IPS panel & USB type-C
$798 (U.P. $998)

Save $200 

34" Ultra WQHD Monitor
With 1000R curvature,
USB type-C & LAN port
$988 (U.P. $1,398)

Save $410 

24" QHD Monitor
With IPS panel & USB type-C
$428 (U.P. $568)

Save $140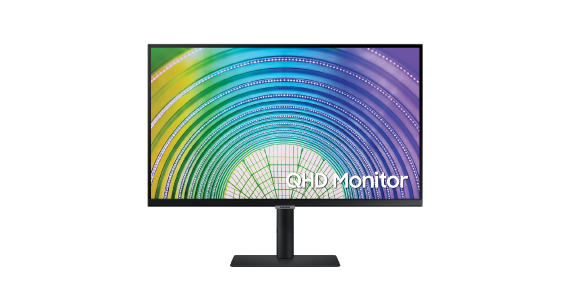 27" QHD Monitor
With IPS panel & USB type-C
$568 (U.P. $788)

Save $220 
32" QHD Monitor
With USB type-C & LAN port
$628 (U.P. $828)

Save $200 

Curved Monitors

Truly immersive and comfortable viewing experience

27" Essential Monitor
With immersive viewing experience

$228 (U.P. $428)

Save $200 

32" UHD Monitor
With 1 Billion colours

$598 (U.P. $698)

Save $100 
34" Premium Monitor
With Perfect Multi-tasking &
Viewing Comfort

$848 (U.P. $948)

Save $100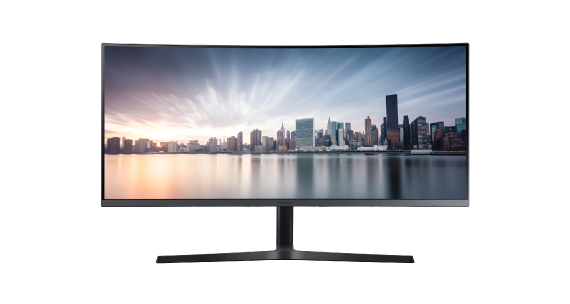 49" Super ultra-wide Monitor
With Perfect Multi-tasking &
Viewing Comfort
$1,468 (U.P. $1,628)

Save $160 

Flat Monitors

Less bezel, full focus
24" FHD Monitor
With bezel-less design

$168 (U.P. $328)

Save $160 

27" FHD Monitor
With bezel-less design

$198 (U.P. $398)

Save $200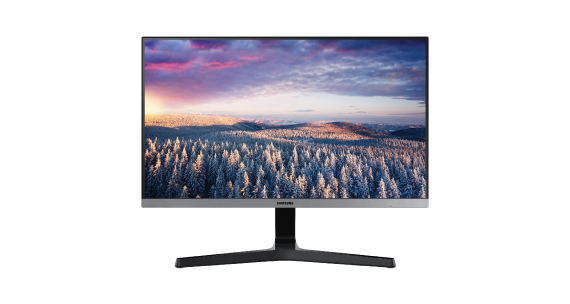 24" Professional Monitor
With bezel-less design

$298 (U.P. $488)

Save $190 
27" Professional Monitor
With bezel-less design
$348 (U.P. $598)

Save $250 
28" UHD Monitor
With bezel-less design
24" Flat Monitor
With Built-in Webcam
$368 (U.P. $528)

Save $160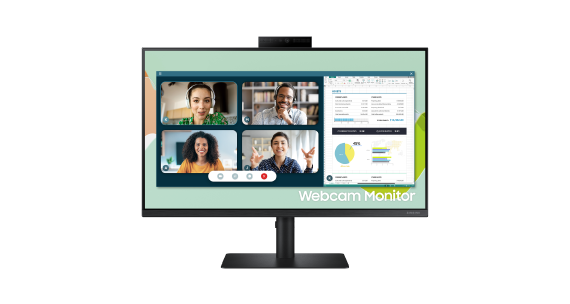 1) Based on interest-free monthly instalment payment plans on OCBC or UOB credit cards with 6, 12, 24 or 36 months' tenure for purchases above $500 from the Samsung Online Store, please check https://shop.samsung.com/sg↗ for more details. Please check with participating stores for their available instalment options. Instalment terms and conditions apply.

2) Free delivery available at Samsung Online Store. Please check with other retailers on whether they offer free delivery.



Terms and Conditions:

Promotion is only applicable during the respective applicable promotion periods from Samsung Experience Stores, Samsung Online Store and selected retailers, subject to stock availability and are not valid with other discounts or promotions.
Promotion is applicable to end-customers only; not trade, corporate or bulk purchases.
Samsung reserves the right to amend these Terms and Conditions at any time without prior notice and without assigning any reason.
Images are for illustrative purposes only.