What to do when Samsung Digital Camera cannot power-on?
Last Update date :
Oct 20. 2020
1
Check the battery power level. Charge the Camera if the battery is running low

2
Check your Setting option: Auto Power Off
Please note: Auto Power Off: The camera will shuts off if you do not use it for the time you set (you can choose: Off, 1 min, 3 min, 5 min, 10min, 30min)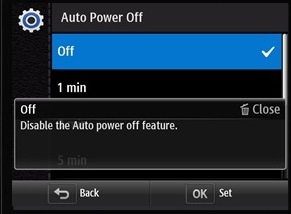 3
The camera may turn off if impacted from the outside. This is to protect the memory card. Turn on the camera to use it again.
If you cannot solve your issue, please visit the Samsung Service Centre with your camera, battery, charger, USB cable and Adapter.
Please click the submit button below to share your feedback with us. Thank you!
Please answer all questions.