How do I use My Jet Bot With SmartThings?
Last Update date :
Jul 13. 2022
Control your Samsung appliances with an innovative smart-compatible platform that simplifies your day-to-day life. Connect your Jet Bot to the SmartThings app and manage it with a simple touch for more free time while reducing your chores at the same time.
Experience various Jet Bot features with SmartThings
To use a variety and convenient Jet Bot functions, connect your Jet Bot with the SmartThings app on your smartphone. SmartThings app is a simple, easy remote controller for your appliance. 
Basic requirements for using Jet Bot with SmartThings app:
Download and install the SmartThings app on your mobile device from the markets (Google Play Store, Apple App Store, or Samsung Galaxy Apps). Search for the keyword "SmartThings".
Make sure both your Jet Bot and smartphone are connected to a Wi-Fi network before starting. All functions are available with a Wi-Fi connection.
Also, sync your Samsung account and SmartThings app with your Jet Bot.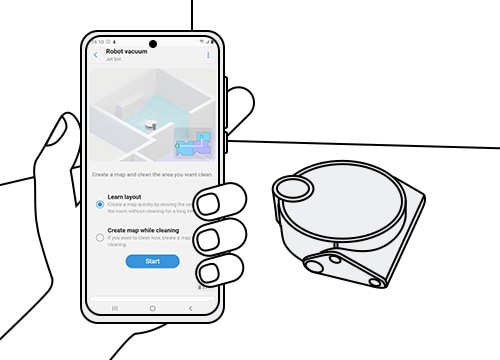 After connecting Jet Bot to SmartThings for the first time
When you finish connecting Jet Bot with SmartThings, you'll see the installed Robot (vacuum cleaner) card on the home screen of the SmartThings app. Click Robot card to start and select your country. Keep following SmartThings so that Jet Bot can set a language and start learning about your home space. 
Note: Around Furniture function is only available in the Jet Bot AI + model.
Basic Settings
After creating maps, tap the three dots on the top of the right side to access the category of 'Settings'.
Sound mode: You can set the device with 3 types of sounds. (Voice / Effect / Silence)
Language: 14 Languages are available.
Volume:  You can set the device sound volume to 4 levels. (Silent / Level 1 / Level 2 / Level 3)
Prohibited time: When you set the Prohibited time, Jet Bot will not clean during this time.
Find Robot Vacuum: You can see where the device is.
Avoidance obstacle size: You can set the robot to avoid obstacle with 3 levels of sensitivity. (Small / Medium / Large)
Obstacle detection: You can set the types of obstacles in your room/location.
Wall Cleaning Option Settings: You can set the Jet Bot to clean around walls. (On / Off)
Note: Wall Cleaning Option Settings is only available in the Jet Bot AI + model.
Navigate SmartThings vacuum cleaner home
You can use SmartThings as a remote control for your Jet Bot. Tap the Robot card on the vacuum cleaner of the SmartThings app home screen to start managing your Jet Bot. You'll see the basic categories as below.
Simply tap the categories and manage settings. The SmartThings home screen categories may vary depending on the local circumstances or the Jet Bot model you have.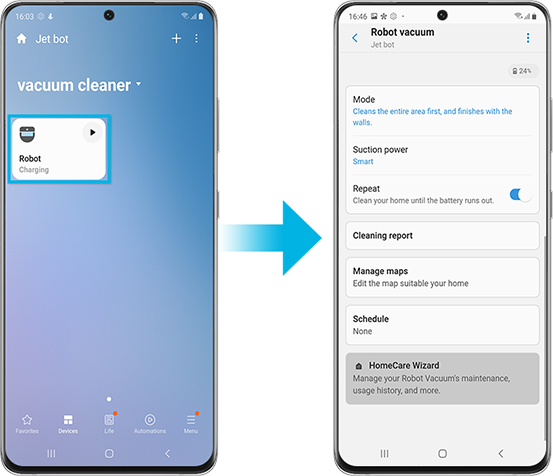 Note: 
Available technologies and functions may vary depending on the country, service provider, network environment, or product.
Before you try out the app connection, be sure to check if your device's software and related apps are updated to the latest version.
Mobile screen images on this content may vary depending on the device model you have.
Please answer all questions.