How to maintain your Samsung Active DualWash?
Last Update Date :
Jul 13. 2018
Keep the Washing Machine clean to prevent deteriorated performance and to preserve its lifecycle.

To learn more about how to maintain your Samsung Active DualWash, follow these steps:
Cleaning
Cleaning
Exterior

Clean the control panel with a soft, damp cloth. Do not use abrasive powders or cleaning pads or even spraying cleaners directly on the panels.

Eco Tub Clean

Regularly run this cycle to clean the tub and to remove bacteria from it.
• Makes sure the tub is completely empty
• Press POWER to turn on the Washing Machine
• Press Cycle 3 to select ECO TUB CLEAN. You can also use Delay End with Eco Tub Clean
• Press and hold START/PAUSE

Please note: Only run Eco Tub Clean when the tub is completely empty. This may cause damage to the laundry or a problem with the washing machine
Built-in sink

• Open the door, and use a cloth or sponge to clean the Built-in sink
• Press Water Jet to supply water to the board. Use this water to rinse the board

Lint filter
1
Press down the upper area of the filter case to remove
2
Unlock the cover, and clean the filter with running water and a brush
3
When cleaning is completed, close the cover and reinsert the filter case to the original position. You will hear a clicking sound when the filter case fits in
Pump filter (applicable models only)

1
Put a floor-cloth or towel under the Pump filter. Turn the filter knob anticlockwise to remove
2
Clean the filter with running water and a soft brush
3
Reinsert the filter, and turn clockwise until it locks into position
Mesh filter

Clean the mesh filter of the water hose once or twice a year
1
Use pliers to pull out the mesh filter from the water inlet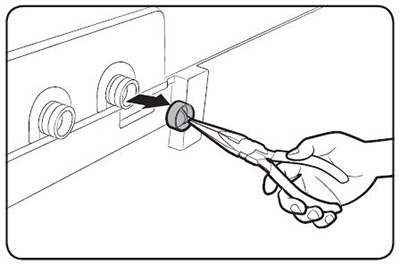 2
Use a soft brush to clean the mesh filter with running water
3
Reinsert the filter. Make sure it is tightened against water leaks
1
Open the door and then the Built-in sink to reveal the detergent drawer
2
Slightly lift up the front edge of the drawer, and then slide it open
3
Remove the wing distributor (A) and rinse cap (B) from the drawer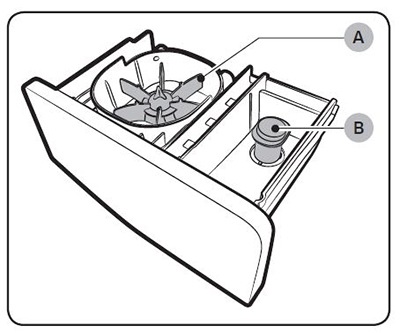 4
Clean the drawer as well as the distributor and rinse cap with running water and a soft brush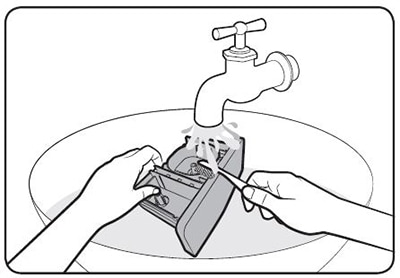 5
When completed, close the rinse cap and reinsert the distributor. Then, reinsert the detergent drawer
Need more help? Contact Us.
Online
Live Chat
Monday to Friday (Excluding Public Holidays)
9:00am - 7:00pm
Email
We'll respond within 24 hours of your request.
Call
Monday to Sunday (Including Public Holidays)
8:00am - 8:00pm
* For any printer related enquiries, please visit HP website .
Contact Us