How to charge the battery of Samsung Gear IconX?
Last Update date :
Nov 19. 2020
Make sure to fully charge the battery before using the earbuds for the first time or when they have been unused for extended periods. When the battery is completely discharged, it needs at least 10 minutes to turn on.

Charging the battery
Charging your Gear IconX earbuds is a cinch. Follow these steps:
1
Push the cover open button to open the charging case cover
2
Check the direction of each earbud and insert them into their corresponding slots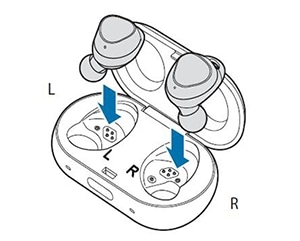 3
Close the charging case
4
Connect the USB cable to the USB power adaptor, and then plug the USB cable into themultipurpose jack of the charging case
5
Plug the USB power adaptor into an electric socket. The batteries of the earbuds and the charging case are charged simultaneously
6
After fully charging, disconnect the charging case from the charger. First unplug thecharger from the charging case, and then unplug it from the electric socket
Please note:

• If the earbuds indicator lights flash red, take them out and insert them again or connect the charging cable

• If you do not use the earbuds for an extended period, turn off the earbuds.

• To save energy, unplug the charger when not in use. The charger does not have a power switch, so you must unplug the charger from the electric socket when not in use to avoid wasting power
Reducing the battery consumption
Samsung Gear IconX's earbuds have 47mAh rechargeable battery. Usually, the device supports up to 3.8 hours for standalone music play; up to 3.4 hours for standalone music play with workout, and audio streaming for 1.6 hours when connected via BT with device. 
 
The battery lifetime may vary depending on the environment and your usage pattern.

1
When you are not using the earbuds, store them in the charging case. The touch-sensitivesensor will continue to work while wearing the earbuds and reduce the usage time
2
After connecting the earbuds to your mobile device, launch the Samsung Gear app andtap SETTINGS → Notifications, and then tap the switch to deactivate it. You can reducethe battery consumption by disabling voice notifications
Battery Charging Tips
• If there is sweat or liquid on the charging contacts, corrosion may occur on the contacts. Clean them before charging the battery

• Using a power source other than the charger, such as a computer, may result in a slower charging speed due to a lower electric current

• While charging, the earbuds and the charging case may heat up. This is normal and should not affect the earbuds' lifespan or performance. If the battery gets hotter than usual, the charger may stop charging

• If the earbuds and charging case are not charging properly, take them with the charger to a Samsung Service Centre

• Avoid bending the charger. Doing so may damage or reduce the lifespan of the charger. Never use a damaged charger