New Android Pie features on a Samsung mobile device
Last Update date :
Aug 02. 2022
In this FAQ, find out the new Android Pie 9.0 updates: 

- What are the new features
- Find out how to update software
- Find out when Android Pie 9.0 will be available to your devices
What are the new features
The major changes of One UI and Android Pie are as follows:

Please note: Depending on model and country or network operator, supported functions may change

One UI
- Content, settings, and other information have been reorganised to keep you focused on the task at hand
- Interactive elements have been moved to the bottom of the screen so they're always within reach
- New designs and features such as Night mode help keep your eyes comfortable

Notifications
- You can reply to messages directly in the notification panel
- Image thumbnails are included in message notifications
- In an App's notification settings, tap the switch once to turn on or off all the notifications in a category
 
Samsung Keyboard
- New Unicode 11.0 emojis are available
- New adaptive theme changes your keyboard look based on the colours of the surrounding App
- The floating keyboard is available in all Apps and has a new size and transparency settings
- You can set a custom touch and hold delay

Device care (formerly Device maintenance)
- Performance modes are streamlined and integrated into power saving modes
- The Edge panel for device maintenance is discontinued

Always On Display
- New clock styles have been added, including the option to show a calendar with your schedule
- Charging information has been added to let you know how much time is remaining until fully charged
- You can show Always On Display whenever the screen is off, or you can set it to show for 30 seconds when you tap the screen

Settings
- Menus have been reorganized to make settings easier to find
 
Samsung DeX 
- Continue using your phone while DeX is being displayed on a monitor or TV
- Use Samsung DeX with supported HDMI adapters. No need for a DeX Station

Bixby
- Bixby is all new, with a range of improvements and new features
- Swipe left from the main Bixby screen to explore the latest features and supported Apps
- You can control the Bixby key in settings to decide what happens when you press or double press

Phone
- You can now sort your call history by incoming and outgoing calls
- Your call history can include up to 2000 entries (increased from 500 entries)

Contacts
- The new drawer menu makes it easier to manage contacts from various accounts

Camera
- The new Scene optimizer automatically enhances the camera's colour settings to fit the scene.
Gallery
- Photo Editor Pro's editing tools have been added to Gallery, so you can make all your edits and touchups without leaving the App

My Files
- The new storage analysis tool has been added to help you monitor your storage usage and save space
- You can now show or hide items on the My Files Home screen
 
Samsung Health
- Your daily step count will be shown in the notification panel. To hide it, press and hold the notification, then turn off Current steps
 
Other improvements and changes
- Turn on the screen automatically whenever you pick up your phone using the Lift to Wake feature
- Access Kids Home on the quick panel
- Call stickers have been discontinued
- HEIF images are now supported

How to update software
1
To check for a software update navigate to and select Settings
2
Search for and select Download updates manually
3
If a software update is available, follow the prompts to install the update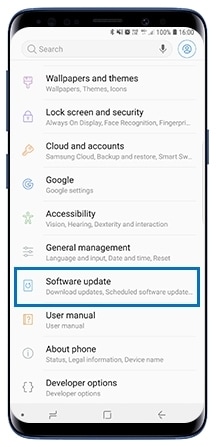 When will Android Pie 9.0 update be available
Please note: This schedule is only for reference and subjected to changes. If the model of your device is not listed here, it means that there are no firm plans to make the update available to your device

Eligible Models
- Galaxy A7 2018 (August 2019)
- Galaxy J7 Duo (September 2019)
- Galaxy Xcover4 (September 2019)
- Galaxy J3 2017 (September 2019)
- Galaxy Tab S3 9.7 (September 2019)
- Galaxy Tab A 2017 (September 2019)
Updated Completed:
- Galaxy S9 (January 2019)
- Galaxy S9+ (January 2019)
- Galaxy Note9 (February 2019)
- Galaxy Note8 (March 2019)
- Galaxy S8 (March 2019)
- Galaxy S8+ (March 2019)
- Galaxy J6 (April 2019)
- Galaxy Tab S4 10.5 (May 2019)
- Galaxy A8 2018 (May 2019)
- Galaxy A8+ 2018 (May 2019)
- Galaxy A9 2018 (July 2019)
- Galaxy J4 (July 2019)
- Galaxy J4+ (July 2019)
- Galaxy J6+ (July 2019)
- Galaxy A8 Star (July 2019)
- Galaxy J7 Pro (July 2019)
- Galaxy Tab A 10.5 (July 2019)
- Galaxy Tab Active2 (July 2019)

Please answer all questions.