How to switch between external devices connected to TV?
Last Update date :
Aug 03. 2022
You can switch between TV programmes and the content of external devices.
Changing the input signal
Home > Source

When you select a connected external device on the Source screen, the output of the selected device is displayed on the TV's screen.

On the standard remote control, press the SOURCE button.
Please note:

• To control a device (Blu-ray player, game console, etc.) that supports universal remote control with the TV's remote control, connect the device to an HDMI port on the TV, and then turn on the device. It allow you to switch to the output of the device automatically or lets you configure universal remote control for the device automatically

To configure the device for universal remote control automatically, point the TV's remote control at the device

• When a USB device is connected to the USB port, a pop-up message appears that lets you switch easily to the media content listed on the device
• This function may not be supported depending on the device and geographical area
Editing the name and icon of an external device
Home > Source

You can change the port name for a connected external device or add it to Home Screen.

• Move the focus to a connected external device
• Press the Up directional button. The following functions become available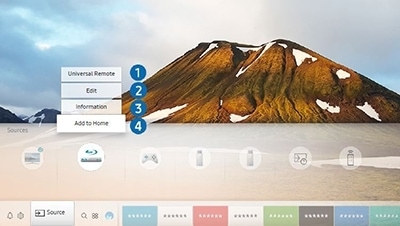 Please note:

• The image on your TV may differ from the image above depending on the model and geographical area
• Available functions may differ depending on the port type

1
Universal Remote
You can control external devices connected to the TV using the remote control. To control external devices, register them by following the instructions on the screen.
2
Edit
You can rename each port with the name of an input device or the desired name in order to make it easier to change the input mode.

3
Information
You can view the detailed information about the external devices connected to the TV.

4
Add to Home
You can add the port of an external device to the Home Screen for quick switching.

Please click the submit button below to share your feedback with us. Thank you!
Please answer all questions.