How to Use the HDMI-ARC port on a Samsung TV
Last Update date :
Oct 12. 2020
What is HDMI-ARC?
Most Samsung TVs support this HDMI feature called Audio Return Channel. HDMI-ARC is designed to reduce the amount of cables between your TV and an external Home Theatre System or Soundbar. The audio signal is capable of travelling both ways to and from the speakers, which will improve the sound quality and latency of the signal.
In other words you don't need a second optical/audio cable connected to a HDMI-ARC compatible speaker. To connect your TV with an ARC enabled speaker, make sure you're using a HDMI cable 1.4 or higher. The HDMI-ARC functionality is only available through the specific port on the TV or One Connect Box, and the external speakers need to be compatible. You may also need to adjust the settings of the external speakers to turn on HDMI-ARC controls.
To ensure HDMI-ARC settings on your TV are correct, HDMI-CEC protocols need to be enabled. The protocol is called HDMI-CEC protocol Anynet+ 
To access this protocol:
 
Press the Home Button on your TV remote control > Settings
On the  Settings screen, tap on Menu > External Device Manager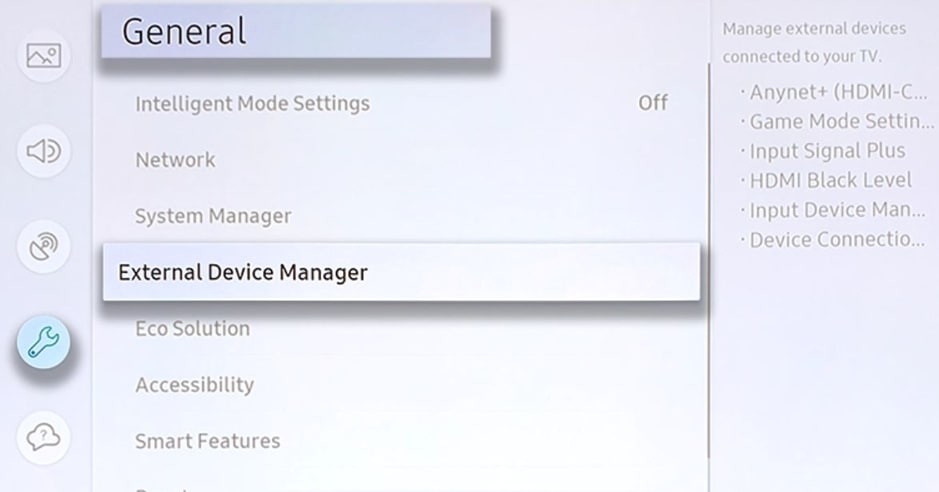 After selecting External Device Manager > Anynet+ (HDMI-CEC) . Highlight it and press enter on your remote control to turn Anynet+ on/off.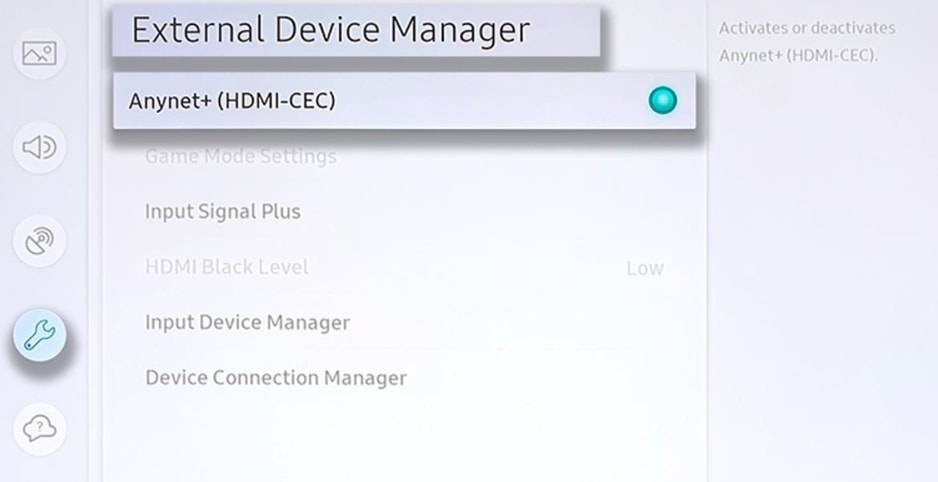 The audio formats that are available with HDMI-ARC:
PCM (2 channel)
Dolby Digital (up to 5.1 channel)
DTS Digital Surround (up to 5.1 channel)
To find out if your Samsung TV has an HDMI-ARC port, it's pretty simple - the HDMI port will be labelled 'ARC' on the back of the TV or One Connect Box.
Connecting Speakers to the HDMI-ARC Port
1 With the TV and external speakers turned off, connect the HDMI cable to both the HDMI-OUT/HDMI-ARC of the speakers, and the HDMI-ARC port in the TV or One Connect Box. Turn both devices ON after connecting by HDMI cable.
2 You'll need to adjust the settings on the Soundbar, Speakers or Home Theatre System to the HDMI-ARC input. It can sometimes be called Digital Input or TV input, depending on the external device. Please see the User Manual for your speakers for information on how to adjust the speaker settings.For Samsung Soundbars - make sure to change the Source to D.IN. If it is left on BT Mode, the TV may have issues identifying the Soundbar and it may not appear in the speaker output list.
3 Open the TV Settings to select the connected speakers as audio output. Make sure Anynet+ is enabled before proceeding.
2017/2018 TVs -

 

Settings > Sound > Sound Output
2016 TVs -

 

Settings > Sound > Select Speaker
2015 TVs -

 

MENU > Sound > Speaker Settings > Speaker Select 
2014 TVs -

 

Settings > Sound > Speaker Settings > TV Sound Output