Projecting your Samsung device on your Samsung TV
Last Update Date :
Mar 12. 2020
With Samsung TV, you can easily project the media from your Samsung devices. With the big screen, you will be able to share the pictures and videos you took for any occasions. Using Smart View, you can wirelessly connect a compatible Samsung device to the Samsung Smart TV to beam even presentations and games.
Connect to your TV with Smart View
Access the Smart View function from the Quick Setting panel of your Samsung phone. Swipe down from the top of the screen to find the Smart View icon.
From the list of available devices shown on your Samsung phone, select the TV you wish to project on. You may need to enter a PIN or allow access to complete the connection. Both device will need to be connected to the same Wifi Network so that the devices can be visible to each other.
Once both devices have been connected, your Samsung Device's screen will now appear on the TV. If you wish to project from your TV to your phone, from the Smart View app, select Other Device → Phone.
To disconnect both devices, tap on the Smart View icon on your phone and click Disconnect.
Project your Windows 10 PC to a TV
You can also mirror your Windows 10 PC's screen to a TV even if you don't have the Smart View app installed on it.
On your PC, press Windows + K simultaneously to open the screen mirroring menu. Or you can click the Action Center icon on the far right of the task bar. It looks like a chat bubble. Then, click Connect to open the screen mirror menu.
Select your TV from the list of available devices, and then follow the on-screen instructions. Once connected, your PC's screen will appear on the TV.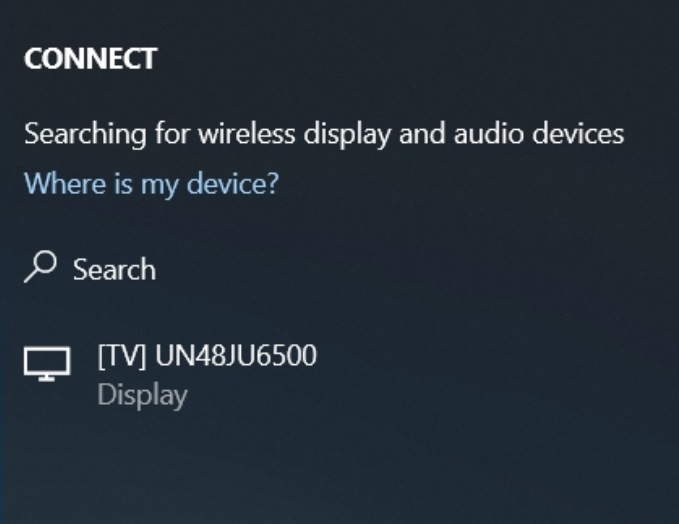 Access Smart View with SmartThings
Using the SmartThings app, you will be able to project your phone or tablet display to the Samsung TV.
1.     Using your phone or tablet, open the SmartThings app and select the TV you would like to mirror to.
2.     You need to ensure that your TV is switched on and connected to your SmartThings account.
3.     In the TV's setting page, tap More options (the three vertical dots), and then tap Mirror screen (Smart View). If needed, give your TV permission to access your device. Once that's done, your device's screen will appear on the TV.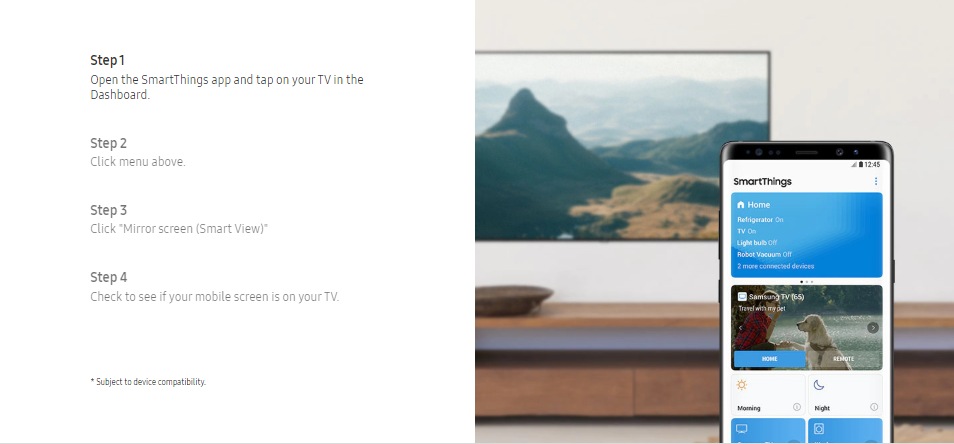 Screen mirror using a DeX cable or HDMI cable
If you can't connect your phone or tablet to a TV wirelessly, you can still screen mirror using a DeX cable or a USB-C to HDMI cable.
Just connect the cable to your TV. On some models, it may start screen mirroring automatically. Other times, you may need to swipe down from the top of your device's screen to open the Notification panel. Then, tap on the Samsung DeX notification that says "Tap here to switch to screen mirroring." Now select the correct source on your TV and whatever is displayed on your phone will appear on the TV.
Cast your device's media
Another option that is similar to screen mirroring is casting, although there are some key differences. Casting usually only works with videos or movies, and does not display exactly what's on your screen the way screen mirroring does.
With casting, you can control the video on your phone or tablet, but you can also close the app and do other things without interrupting the video. Certain apps like Netflix or YouTube let you cast videos from your device directly to a big screen - there's usually a casting icon you can tap. Even if you don't have a smart TV, you can use third-party casting devices like Chromecast to cast videos, photos, and other media.
Use the Smart View app
Besides the Smart View feature that's integrated into Galaxy phones and tablets, there's also a Smart View app. However, the app has a different purpose.
It's basically a hub for your entertainment. It lets you cast different apps and streaming services, such as Netflix, onto a TV using your phone or tablet. You can also search for movies or shows to cast on the TV.
To use this app, first download SmartView from the Play Store. Power on your TV, and then open the Smart View app on your phone or tablet. Select your desired TV from the list of available devices. The App menu will appear. Select an app, such as Netflix or YouTube, to launch it on the TV. Remember, you can also search for movies and shows.
Tips for Mirroring with Smart View
Here are some tips if you're having trouble mirroring your phone:

1) If your phone or tablet will not display, it may need permission from the TV. Restart your device and TV, and then try connecting again. Make sure you select Allow when it displays on the TV.

2) On a Samsung TV, you can bypass allowing permission for your device to access your TV. From Settings, on your TV, navigate to General, and then External Device Manager. Navigate to Device Connect Manager, and then select Access Notification. Set this to Off to automatically connect with the device when using Smart View. From the Device Connect Manager screen, you can also select Device List to manage the devices connected to your TV.

3) If your screen keeps turning off, change the screen timeout settings. From Settings, search for and select Screen timeout. From there, adjust the settings so your phone or tablet stays on for longer.

4) If the Smart View menu is minimized, tap the Smart View icon on your phone or tablet. The Smart View Control menu is only displayed on your connected device.

5) If the device's image looks small on your screen, you can make it a little bigger by changing the aspect ratio. On your phone or tablet, tap the Smart View icon, and then tap More options (the three vertical dots). Tap Settings, and then tap Phone aspect ratio.
From there you can choose your desired aspect ratio. Most TVs will look best with a 16:9 aspect ratio.
Need more help? Contact Us.
Call
For Mobile Device and Samsung Apps Enquiries
1800-4252997
(1800 GALAXY S)
From other Product Enquiries
1800-7267864
(1800 SAMSUNG)
From Overseas
For Mobile Device and Samsung App Enquiries
+65 69161260

For other Products Enquires
+65 69161261
Monday to Sunday (Including Public Holidays)
Open 24 hours
* For any printer related enquiries, please visit HP website .
Face-to-face support
Samsung Service Centres
Please take note on the revised operating hours for all our Service Centres during this period:

1) Causeway Point
2) Plaza Singapura
3) Vivocity
4) Westgate

Monday to Saturday - 11:00am to 07:00pm
Sunday and Public Holiday - 11:00am to 05:00pm

Contact Us