VR7000 POWERbot with Cyclone Force, 10W
VR10M7010UG/SP
Sorry! This product is no longer available
CycloneForce™
Full View™
Point Cleaning
80 W
Max Consumption Power
The Samsung POWERbot VR7010 robot vacuum
Powerful suction. Slim design
Powerfully cleans even the most hard-to-reach
Slim design with Powerful Suction
This Samsung POWERbot robot vacuum cleaner has been designed with a slimmer body without compromising its powerful suction. It is only 97mm high which is 28% slimmer in size ‡compared to a conventional robot, so it can easily get into areas that are difficult to reach using normal vacuum cleaners, like underneath your furniture and beds, to ensure that your house is cleaned thoroughly.
A button that opens a page where you can view videos.
EXTRA SLIM,
EXTRA POWERFUL.

The "Extra slim design, Extra powerful" video, showing a user scenario of a POWERbot VR7010 device being used at home, cleaning a dirty sofa effectively with its powerful performance and thin design.

MULTI SURFACE CLEANING

The "Multi-surface cleaning" video, comparing a POWERbot VR7010 device with a conventional vacuum cleaner, and showing the device operating on tiles, hardwood and carpet, as well as its big brush and its powerful suction power.

CREVICE
CLEANING

The Crevice cleaning video comparing the performance of a POWERbot VR7010 device and a conventional vacuum cleaner on a clear, perforated floor, and showcasing the POWERbot VR7010's powerful performance.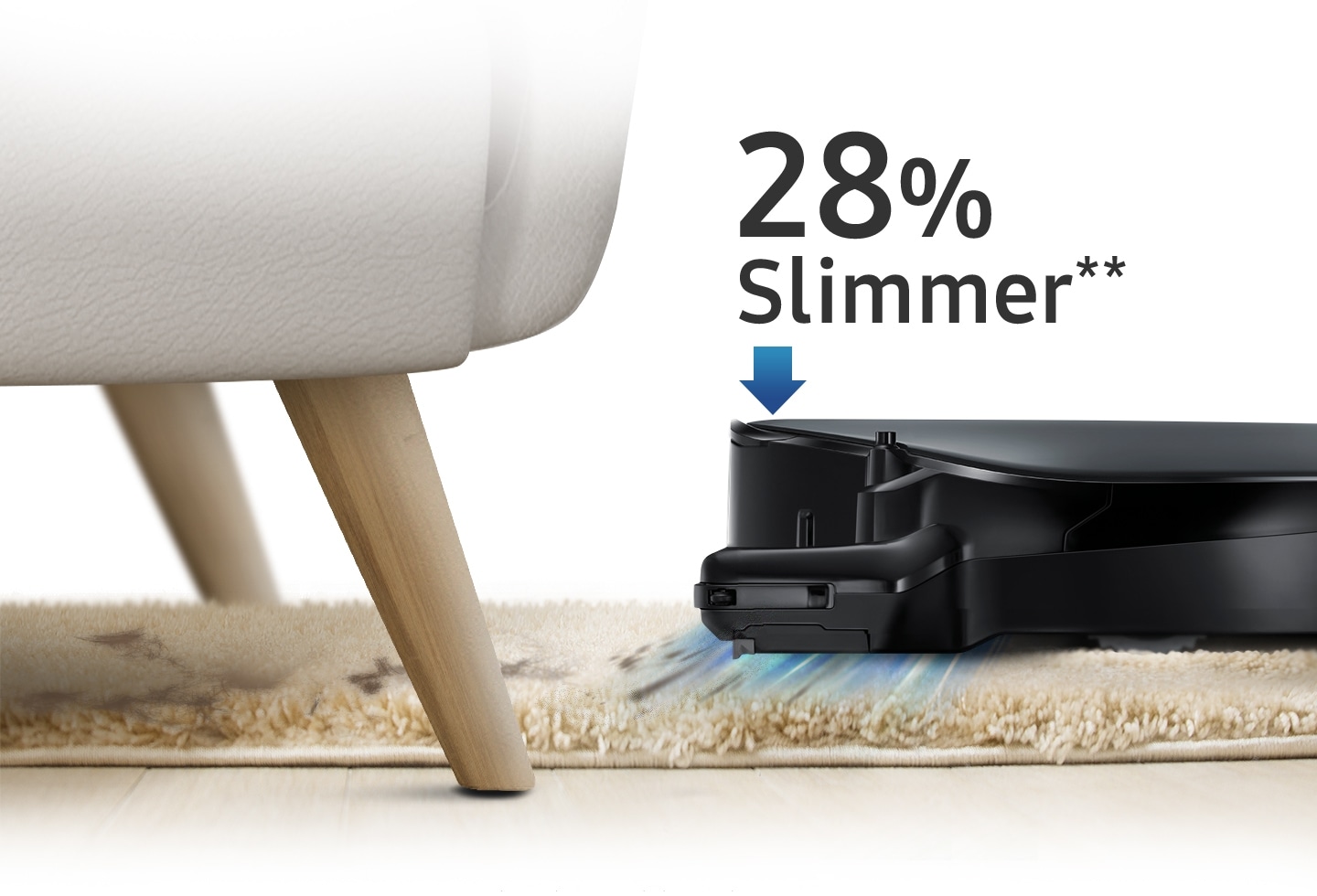 ‡ Compared with Samsung POWERbot VR9000.
Scans the space, cleans every corner
FullView Sensor™ 2.0
This Samsung POWERbot robot vacuum cleaner's upgraded, high-performance FullView Sensor™ 2.0 precisely scans and avoids even very narrow or small obstacles across a wide area including areas that it can get stuck in, like the gap between chair legs. In addition, you don't need to worry about cleaning in corners. It senses room corners and cleans them three times, repeatedly going back and forth with 10% more suction power*, so they are cleaned more thoroughly.

* Generates 10% more suction than Max, Normal and Quite Mode respectively.
Cleans well even along wall edges
Edge Clean Master
Most robot vacuums usually miss out cleaning the edges of a room. However, this Samsung POWERbot's Edge Clean Master is designed to clean those areas more thoroughly, so you don't have to waste time and effort doing it yourself. Its bristle brush is placed very close to the front of the cleaner, with just a tiny 15mm gap, so when it gets to the walls or corners it can sweep up dust and hair on the edge of the room. In addition, the Auto Shutter automatically activates and drops down to create a barrier that helps the vacuum cleaner collect more dust close to the edges.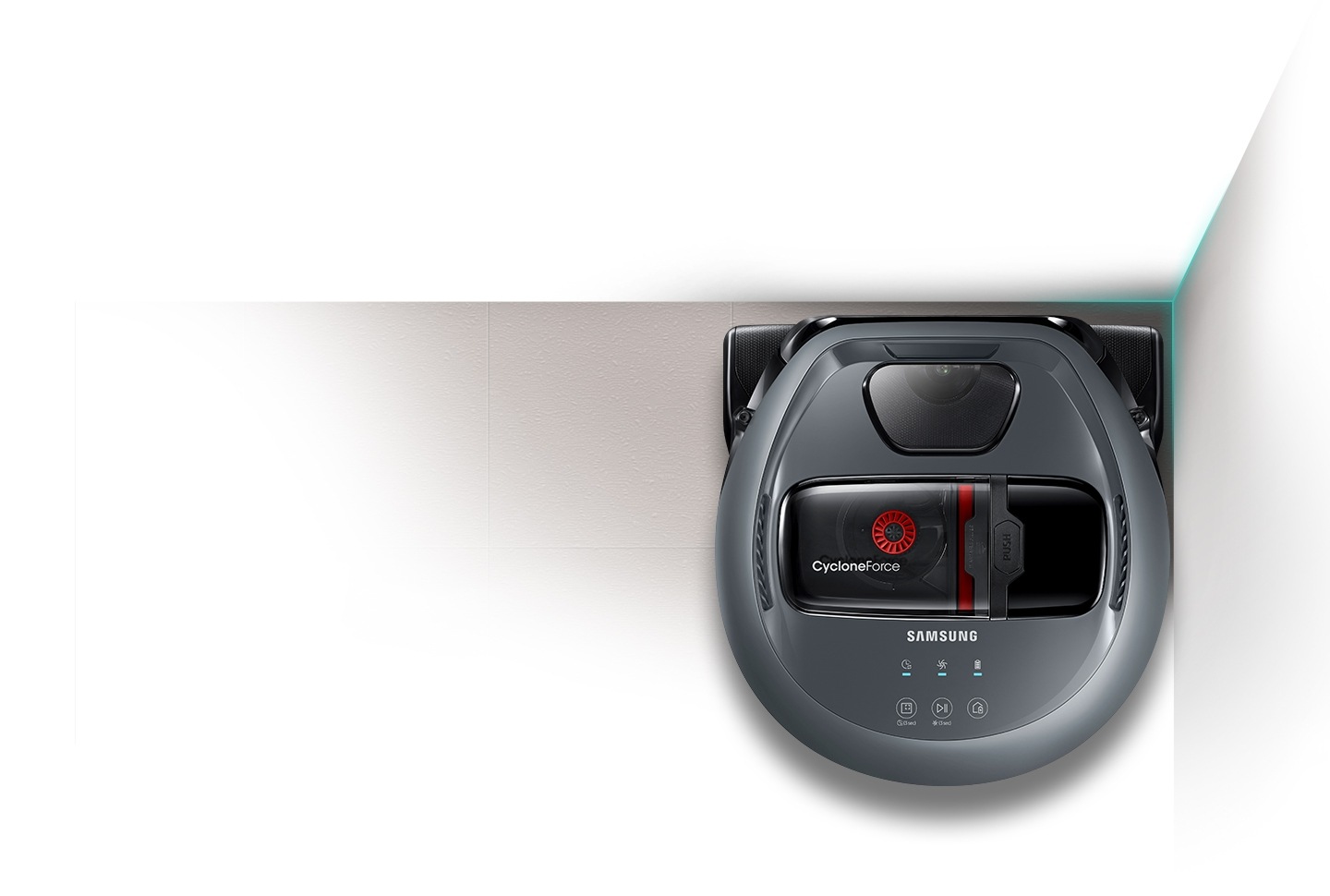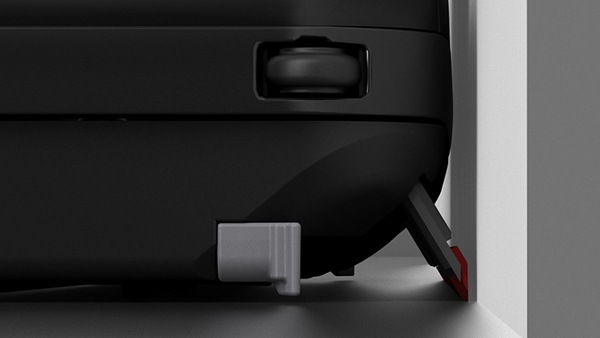 Optimum power on different surfaces
Intelligent Power Control
Different floor types require different suction power to ensure they are cleaned thoroughly. This Samsung POWERbot has an Intelligent Power Control that detects the type of surface, whether it's carpet or hard floor, and generates the the most effective suction power. When the POWERbot goes onto carpets or rugs from hard floors it automatically generates more suction power to suck up any dust that is embedded deep within their fibers.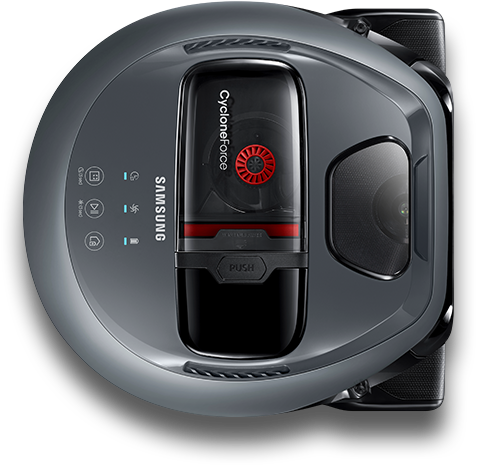 Captures dust & stops the filter clogging
CycloneForce
This Samsung POWERbot robot vacuum cleaner's CycloneForce technology ensures extreme suction power for a long time*. It generates a strong centrifugal force that circulates dust particles through the inner chamber. Dirt and debris is then separated from the air and sieved into the outer chamber. As a result, it keeps the filter clean for longer and helps prevent clogging, so it maintains the optimum suction and cleaning performance.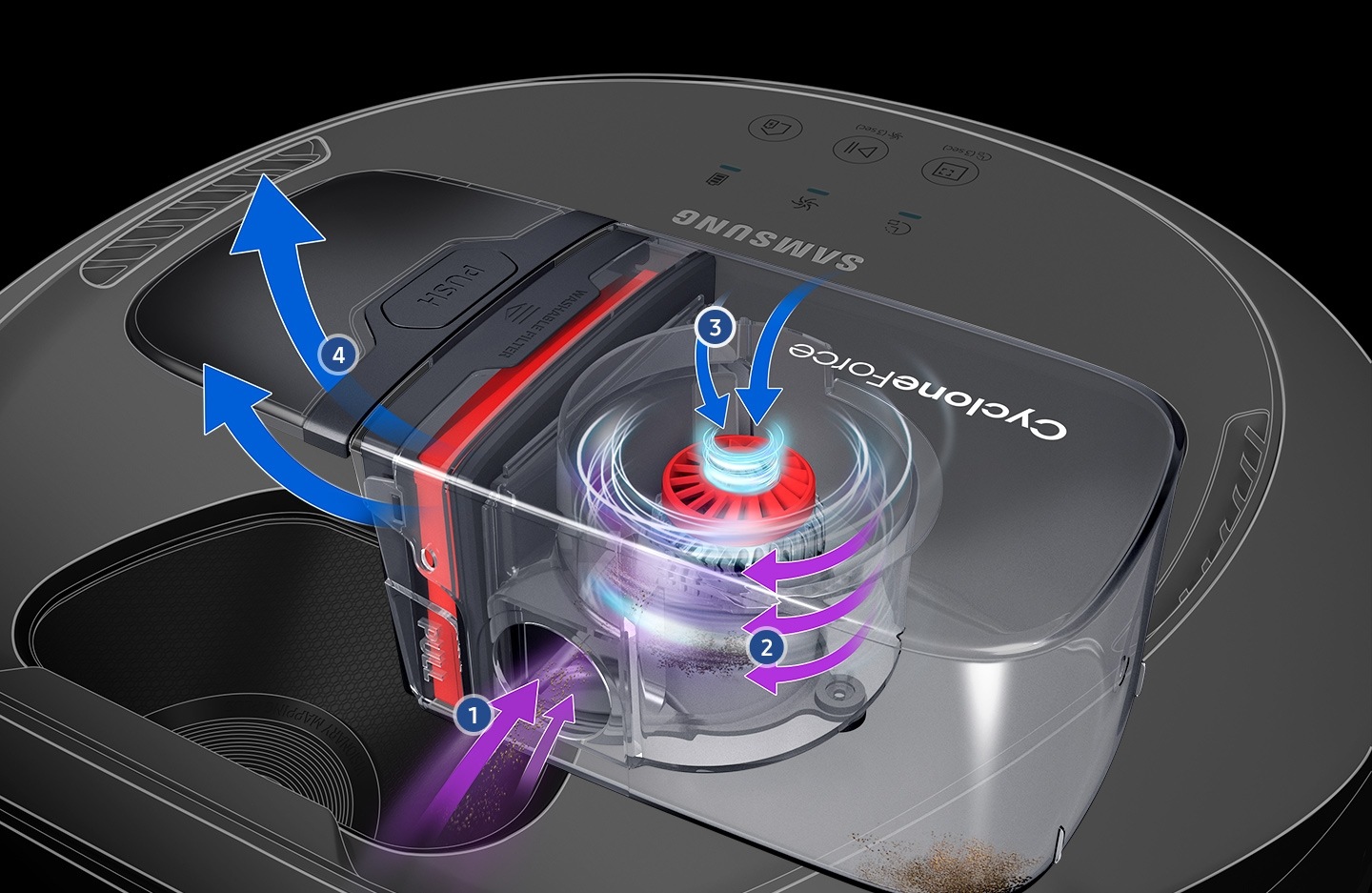 * Tested internally on Samsung POWERbot VR7000 and Samsung conventional VR10F71UCAC.
Cleans a wider area fast and efficiently
Wide Brush
This Samsung POWERbot robot vacuum cleaner has a wide brush, which means it can clean larger areas faster and more efficiently. It has a width of 290mm, which is over 42% larger than conventional 204mm brushes, so it speeds up the cleaning process by covering a greater area with less movement in less time.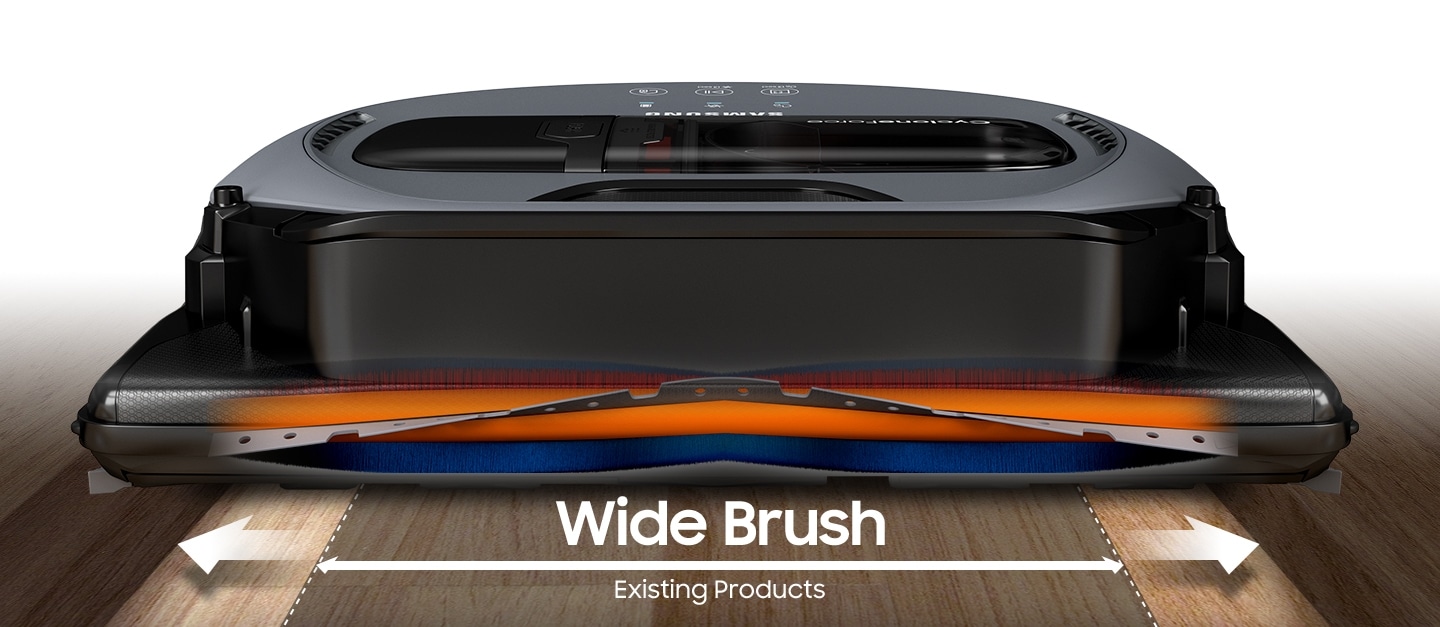 Compared with Samsung conventional VR10F71UCAC.
Maps & finds the best cleaning path
Visionary Mapping™ +
A Visionary Mapping™ Plus System finds and leads it around the optimal route for fast-track cleaning. Using high performance sensors and a digital camera it maps your house and calculates the most efficient path.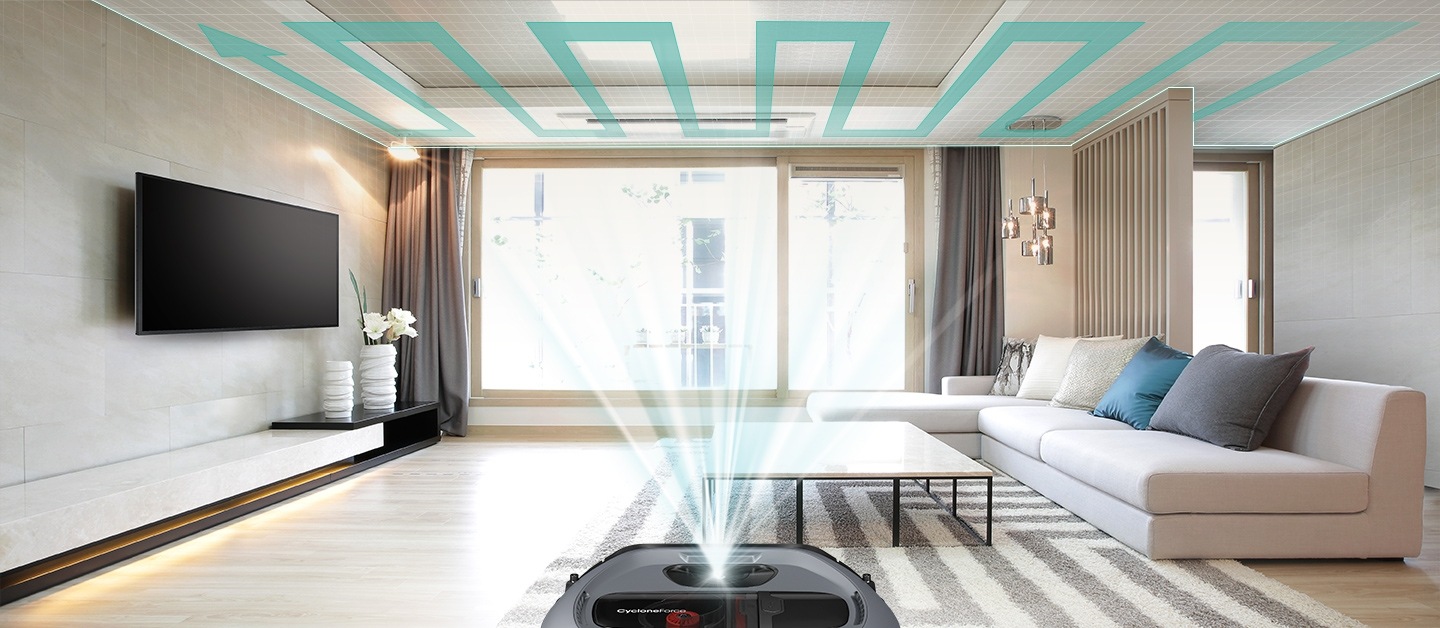 * Based on internal testing compared with conventional Samsung VR10BTATBB.
Easy Pass™
This Samsung POWERbot robot vacuum cleaner includes Easy Pass™ wheels that help it move smoothly and steadily around your home. They easily overcome most obstacles that may be in the way, like wires, rugs or door frames, so it will keep working while you're not there. Its wheels have a large 105 mm diameter, and the height of its body from the floor has also been raised up to 15 mm, so it's much less likely to get caught on anything.

Various Cleaning Modes
This Samsung POWERbot robot vacuum cleaner has various cleaning modes, so you can choose the best way to clean in different situations. In particular, it has 2 styles of cleaning mode, including Auto Mode & Spot Mode, 2 types of suction control, and manual scheduling mode that can be preset to vacuum up to seven times a week

Automatic Charge
The Samsung POWERbot VR7000 robot vacuum cleaner has an Automatic Charge function, so you don't need to worry about it running out of power and stopping. As soon as the battery runs low it automatically moves to the docking station to recharge itself. And once it's fully recharged it goes back to its last location and resumes cleaning, so it finishes everything in the minimum possible time.

80 W

Max Consumption Power

0.3 ℓ

Dust Capacity

4.0 kg

Set Weight

Cyclone Force

Type
User manual & Downloads
Live Chat
How It Stacks Up
CycloneForce™

Full View™

Point Cleaning

Max Consumption Power

80 W
2-in-1 Vacuum and Mop Cleaning System

Smart Sensing System

Max Consumption Power

55 W

Dust Capacity

0.2 ℓ
* Key feature may different from Key Spec