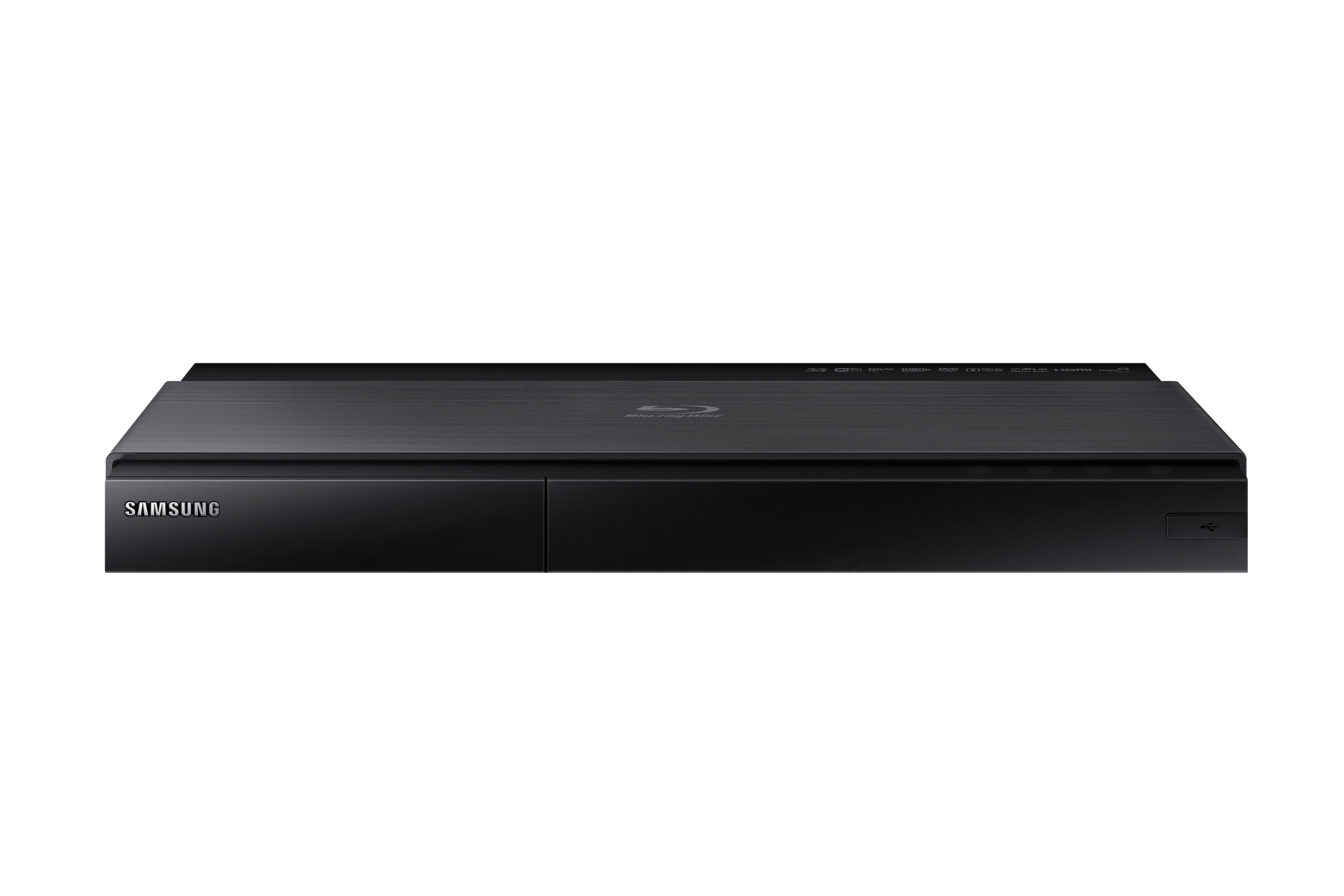 Sorry! This product is no longer available
7.1Ch
Dolby Decoding Channel
Quick Start Mode (0.5 Sec)
Quick Start Mode (0.5 Sec)
Stylish two tone colour combination
The Samsung Blu-ray Disc Player comes with the perfect modern design to complement your Samsung Smart TV. The two tone combination of a sleek and stylish black minimalistic body and dark titanium metallic finish will suit any environment, making it the ultimate video player for your home.
Watch life-like images like never before
Watch your favourite videos and films in ultra HD with the Samsung Blu-ray Disc Player. With life-like details that will make the images seem realistic, this player brings life right into your living room. Upscaled from full HD to ultra HD, it comes with four times the resolution of Full HD, giving perfect and crystal-clear picture. See detailed picture all day, every day.
*Upscaled image quality will vary depending on the source resolution
A BDP that brings you Smart TV capabilities
Now you have access to even more great content through Smart Hub. The Samsung Blu-ray Disc Player lets you access all the great content of a Smart TV without actually owning one. Explore and enjoy hundreds of apps, including popular apps like Facebook, YouTube and Netflix. Smart Hub provides a world of entertainment, information, social networks and more. It's never been easier to stay entertained and connected from the comfort of your living room.
*Content and TV app availability may vary by region and are subject to change at any time.
Wirelessly access your devices and the internet
Connecting to the internet is easier to do with the Samsung Blu-ray Disc Player. With wireless LAN built in, you can use the internet and access apps without the inconvenience of adding more external devices. Samsung BDPs come with DLNA content sharing capabilities that make streamlining connections between your home entertainment devices easier than ever before. The J7 series BDP even comes with Dual Band Wi-Fi for even faster network speed and more stable performance. Enjoy more of your time with faster access and less reliance on wires.
* Internet connection required
* Internet connection required
7.1Ch

Dolby Decoding Channel

3D Blu-ray

3D Blu-ray

2

HDMI Out

Quick Start Mode (0.5 Sec)

Quick Start Mode (0.5 Sec)
User manual & Downloads
Live Chat
How It Stacks Up
Features and specifications are subject to change without prior notification.
Each of the following remarks is only applicable to the corresponding product features or specifications which are related to such remark on this page.

-Images are for reference only, please subject to the actual product. In the case of disputes arise, the decision of Samsung Electronics H.K. Co., Ltd. shall be final.
-Certain Samsung Smart TV features may not be available without express consent to the collection and use of personal information.
-Mirroring function is optimized for use with the latest Samsung smart phones and tablets. Compatibility may be limited by model, version and support of mirroring functions such as AllShare Cast or Screen Mirroring; please contact a Samsung service representative for assistance regarding compability at the time of purchase.