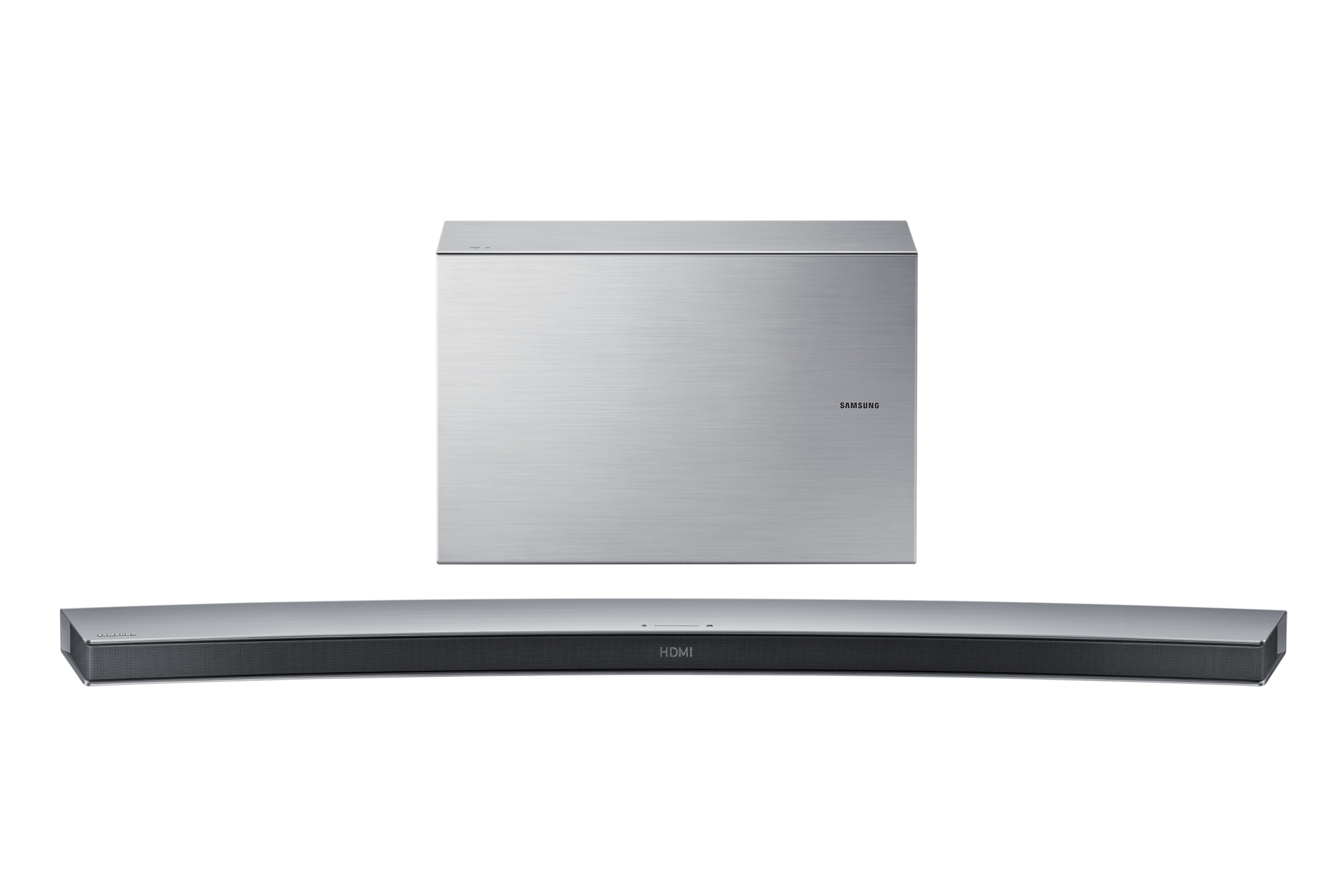 320W 8.1Ch Soundbar HW-J7501
HW-J7501/ZK
Sorry! This product is no longer available
不適用
HD Audio (High Resolution Audio)
The perfect complement for your curved TV
Delivering outstandingly immersive sound, the Curved Soundbar is the perfect audio companion for your Samsung Curved TV. It also boasts a premium design with an elegant aluminum metal finish that enhances the curved appeal of the Curved TVs. Drilling into walls is a thing of the past as the Curved Soundbar now mounts directly onto your TV thanks to a new mounting solution, providing a seamlessly integrated look for a beautiful union of devices.*

* HW-J7501 is compatible with JS9900/JS9800/JU7800/JU6800 Series 65" Curved TVs, and JS9800 Series 55" Curved TVs only.
Experience powerful sound
Great TVs require great sound. The Curved Soundbar gives your curved TV an even more powerful sound experience with 320 watts of amazing 8.1Ch surround sound. Speakers on both sides enhance the surround sound effect, and with the addition of a center speaker with clearer sound delivery, you're provided with an even more layered and immersive listening experience.
Hear it all in high definition with HD sound
Complete your entertainment experience with stunningly realistic HD audio. It reproduces the quality and richness of the original sound much more accurately and vividly, bringing you closer to the sound of live audio. To give you a better idea of how much better HD audio is, CDs are only 44.1 kHz/16-bit while HD audio is 192 kHz/24-bit, meaning you get that much more digital detail. You will hear the difference immediately.
Enhanced surround sound from a wider range of listening positions
With Surround Sound Expansion, your Samsung audio expands the optimal listening area and elevates the height of the sound to the level of the TV screen, so that the surround sound seems like it is coming straight out of your TV. Now you can enjoy a realistic, lifelike sound experience with truly immersive surround effects.
8.1 Ch

Number of Channel

不適用

HD Audio (High Resolution Audio)

有

Bluetooth Power On

320W

Total Power
How It Stacks Up
Number of Channel

8.1 Ch

HD Audio (High Resolution Audio)

不適用

Bluetooth Power On

有

Total Power

320W
New
Total power

330W

Number of Channel

3.1.2

Number of Speaker

8

Dolby

ATMOS
Features and specifications are subject to change without prior notification.

Each of the following remarks is only applicable to the corresponding product features or specifications which are related to such remark on this page.



- Certain Samsung Smart TV features may not be available without express consent to the collection and use of personal information.

- Images are for reference only.