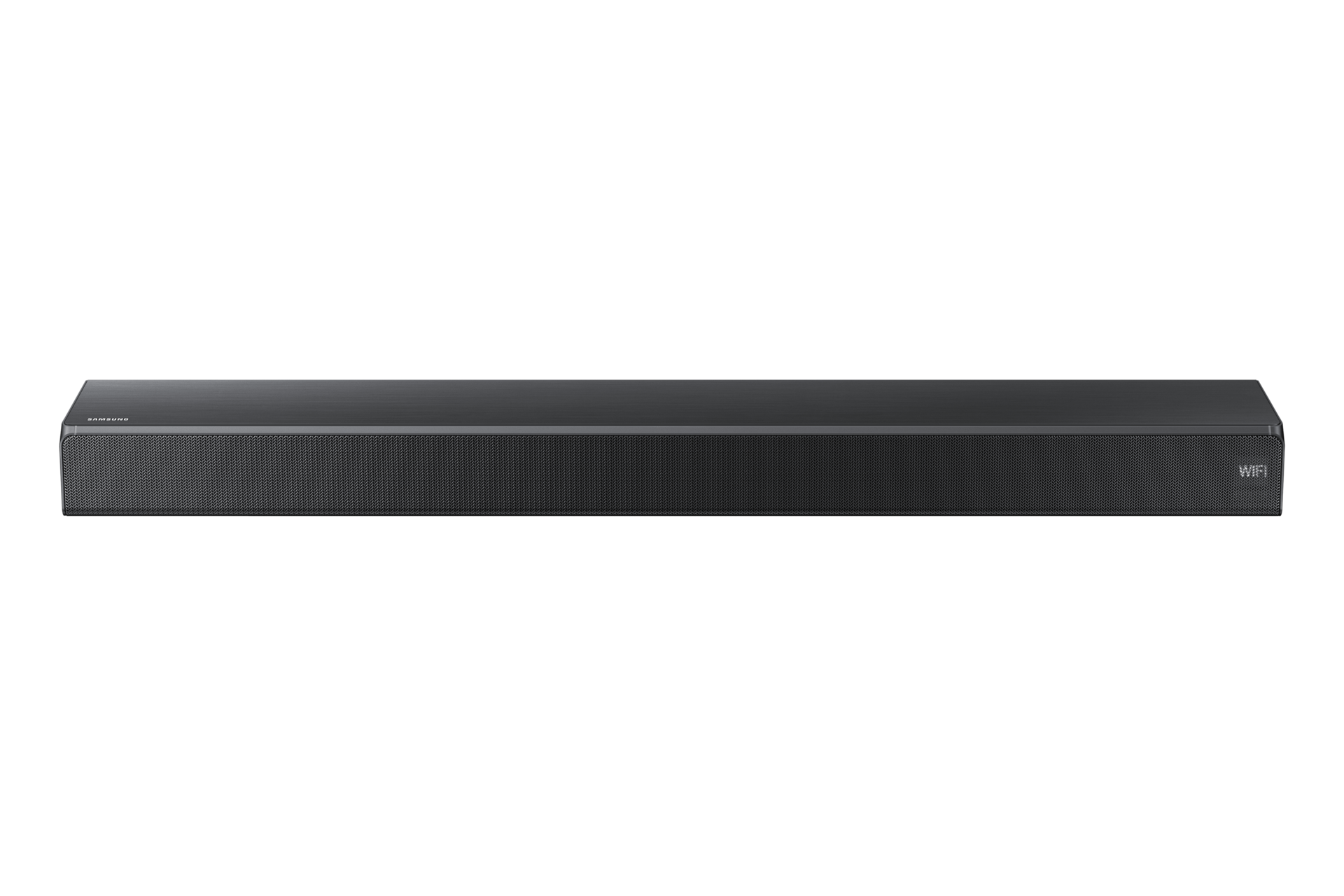 450W 2.0Ch Soundbar HW-MS550
HW-MS550/ZK
Sorry! This product is no longer available
Available
Distortion Cancelling
Available
Bluetooth Power On
Surround Sound Expansion
Surround Mode
Wireless surround sound ready
The Wireless Surround Kit* lets you expand your surround sound system easily without the mess of wires**. Together with your Soundbar, you can create a multi-channel system for a true surround sound experience.
* Samsung Wireless Rear Speaker Kit is available for separate purchase (Accessory model: SWA-9000S).
** The wireless module requires a power cable. Rear speakers are connected to the module by cable.
Sweet spot anywhere you sit
Every spot is the sweet spot. Get consistently amazing sound everywhere in the room with the state-of-the-art Wide-range tweeter.
Get real, with HD Audio
Feel the sound and get into the action with stunningly realistic HD Audio. It preserves the quality and richness of the original sound through 96kHz/24 bit without down sampling.
Multi-speaker control
Get the ultimate sound experience. Powered by exclusive Samsung technology, multi-array speakers move simultaneously for more powerful bass.
Wireless connection with TV
Connect your soundbar to your Samsung TV* with ease and without the clutter of wires via Bluetooth or Wi-Fi. You'll be able to enjoy all your content instantly with clearer, more impactful sound.
* Compatible with selected Samsung TVs. Please check in-store for more details.
Gain control with one
You don't need several remotes. For power, volume, and even for the sound effects, you can control key Soundbar functions with a Samsung TV remote through TV UI.
*Compatible with selected Samsung TVs. Please check in-store for more details.
*Compatible with selected Samsung TVs. Please check in-store for more details.
Smart sound mode
Select a sound mode, or let the Soundbar choose for you. It automatically analyzes the sound and gives you the best sounds optimized for your content.
Music streaming service
Whatever songs get your heart beating, Soundbar Sound+ can stream them from your phone or tablet. Simply use Bluetooth or connect to Wi-Fi to play your music.
Samsung Multiroom App
With the Samsung Multiroom App you'll be playing your favorites in a new way, quickly and seamlessly.
2.0 Ch

Number of Channel

Available

Distortion Cancelling

Available

Bluetooth Power On

Surround Sound Expansion

Surround Mode
Features and specifications are subject to change without prior notification.

Each of the following remarks is only applicable to the corresponding product features or specifications which are related to such remark on this page.



- Certain Samsung Smart TV features may not be available without express consent to the collection and use of personal information.

- Images are for reference only.