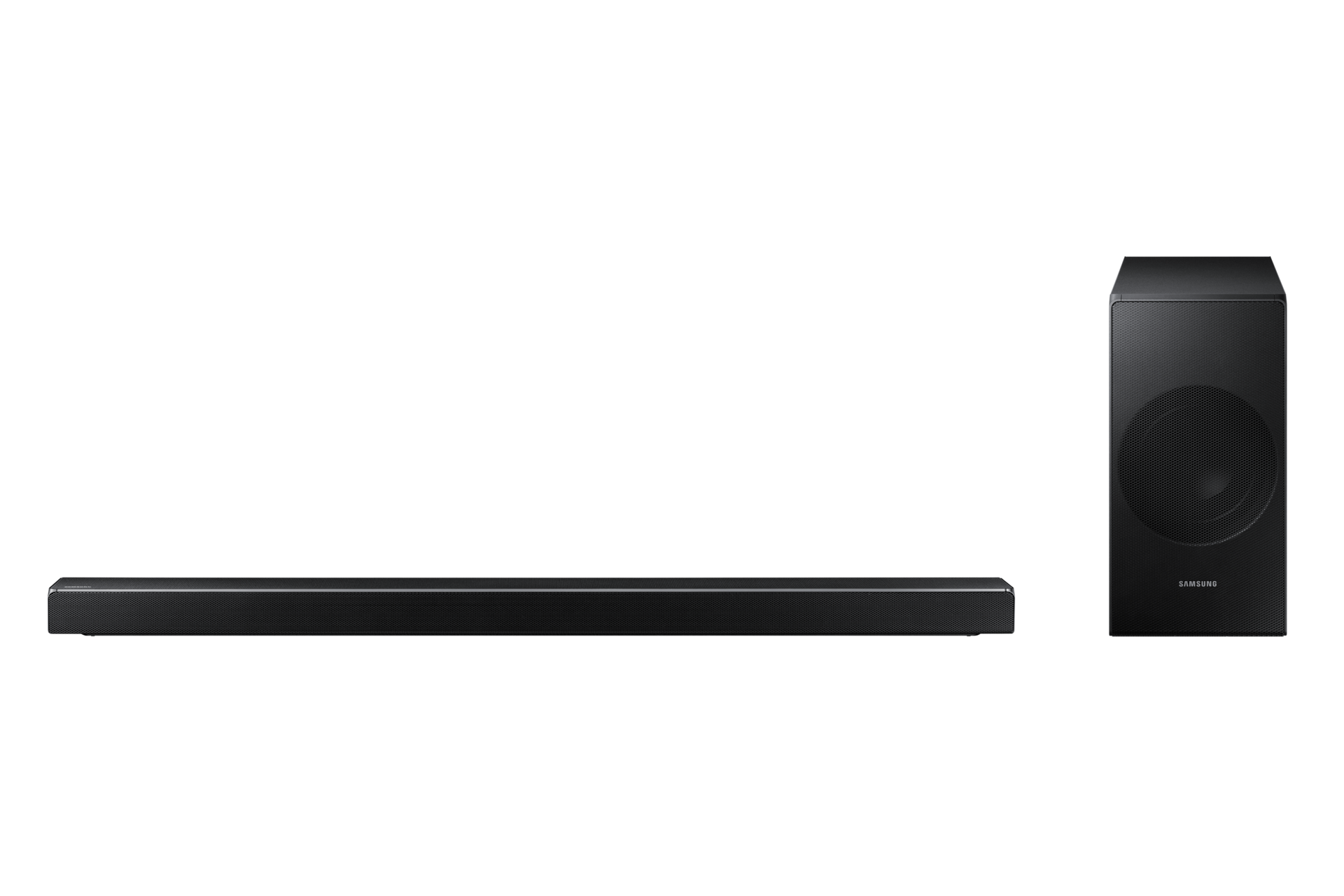 360W 5.1Ch Soundbar
HW-N650
HW-N650/ZK
Sorry! This product is no longer available
Surround Sound Expansion
Surround Mode
Available
Bluetooth Power On
The science of sound
Tested and tuned at the California Audio Lab, where our audio engineers apply the most advanced acoustic technologies and cutting-edge computer modeling to give you perfectly balanced, room-filling sound.
Get into the action with panoramic sound
Make your entertainment come alive. The Soundbar fills every corner of your room with a dynamic and rich sound that truly transforms your home.
Sound that moves. Samsung Acoustic Beam
Don't let your audio stand still. Samsung Acoustic Beam technology mixes and delivers the sound so it appears to come precisely where the action is happening on screen. Perfect for movie and gaming, this sound will really move you.
A truly seamless 4K experience
Your UHD content, UHD Blu-ray Disk Player, and Soundbar are the perfect combination for incredible entertainment. With 4K Pass-Through, your 4K content plays seamlessly with additional dynamic surround sound. Don't miss out on amazing content quality.
Optimized gaming sound. Now on tap
Plug in your console and get the amazing audio you expect, right away. The Soundbar's auto settings optimize your sound to the game you're playing. Isn't that easy? Play on!
* This feature is supported only when the game console is connected to select 2018 Samsung TVs via HDMI (all QLED TVs, NU7400 series, and above). Game consoles supported include PlayStation 4 and Xbox. Compatible TVs and game consoles may change.
Center channel for clear dialogue
Experience crystal clear dialogue with a dedicated center channel. It provides balanced sound from one end to the other and beautifully completes your home entertainment experience.
Powerful Bass
Don't let wires get in the way of your bass. Set the wireless subwoofer anywhere in your space and surround yourself with powerful, deeper bass.
Surround sound expansion
Surround sound expansion expands the listening area both sideways and up to emanate sound. Now you can enjoy great sound with truly immersive surround effects.
Wireless connection with TV
Connect the Soundbar to your Samsung TV* with ease and without the clutter of wires via Bluetooth. You†ll be able to enjoy all your content instantly with clearer, more impactful sound.
* Compatible with select Samsung TVs. Please check in store for more details.
Music streaming via Bluetooth
The Soundbar uses Bluetooth for easy wireless connections to other devices.Enjoy music from your mobile in top audio quality anywhere, no strings attached.
Control with one remote
You don't need more than one remote. For power, volume, and even for sound effects, you can control key Soundbar functions with the Samsung One Remote Control.
* Compatible with select Samsung TVs. Please check in store for more details.
* Compatible with select Samsung TVs. Please check in store for more details.
Wireless surround sound ready
The Wireless Surround Kit* lets you expand your Soundbar to a surround sound system easily without the mess of wires**. Together with your Soundbar, you can create a channel system for a true surround sound experience.
* Samsung Wireless Rear Speaker Kit is available for separate purchase (Accessory model: SWA-8500S).** The wireless module requires a power cable. Rear speakers are connected to the module by cable.
Samsung Audio Remote app
Control your Soundbar with the Samsung Audio Remote app on your smartphone or tablet running on Android™. Simply connect using Bluetooth™ to control all your key Soundbar functions and play your favorite song lists on your mobile device through one single app.
*Android is a registered trademark of Google Inc.Bluetooth is a registered trademark of Bluetooth SIG Inc.
*Android is a registered trademark of Google Inc.Bluetooth is a registered trademark of Bluetooth SIG Inc.
5.1 Ch

Number of Channel

Surround Sound Expansion

Surround Mode

Available

Bluetooth Power On

360W

Total Power
How It Stacks Up
Number of Channel

5.1 Ch

Surround Mode

Surround Sound Expansion

Bluetooth Power On

Available

Total Power

360W
New
Total power

330W

Number of Channel

3.1.2

Number of Speaker

8

Dolby

ATMOS
Features and specifications are subject to change without prior notification.

Each of the following remarks is only applicable to the corresponding product features or specifications which are related to such remark on this page.



- Certain Samsung Smart TV features may not be available without express consent to the collection and use of personal information.

- Images are for reference only.