Product News
Samsung Announces the Launch of Next-Generation Smart Monitor Unprecedented, 'do-it-all' screen for entertainment and work – without the need for a PC
Jan 08. 2021
Equipped with Tizen platform, Wi-Fi and remote PC capabilities
Work, web surfing and video streaming effortlessly on one screen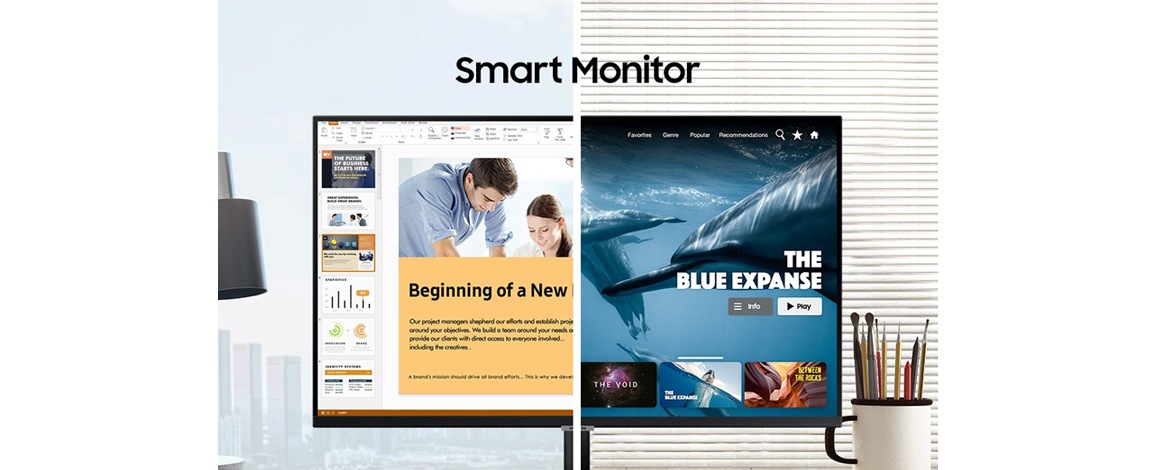 Hong Kong – January 8, 2021 – Samsung Electronics H.K. Co. Ltd. has always been committed to seeking innovations and breakthroughs, today announced the launch of Samsung next-generation Smart Monitor series. Thanks to embedded Wi-Fi, Smart Monitor allowing users to view, edit and save documents in the cloud directly from the monitor. Remote Access also allows users wirelessly and remotely access files from a PC or view content from a laptop whether it is situated elsewhere in the house or at the office. It offers flexibility for work, learning and entertainment at home amid under the new norm. The next-generation Smart Monitor is equipped with a built-in Tizen platform and a dedicated app store, along with Wi-Fi, Bluetooth, Web browser and remote PC features, delivers users a one-stop "do-it-all" solution for work and entertainment, making it far surpassed the conventional monitors. Available in M5 (27-inch and 32 inch) and M7 (32 inch), Samsung next-generation Smart Monitor meets the needs of different users.



"With consumers spending more time at home under the new norm, they are actively looking for technological products which offer greater flexibility in order to meet their needs of working, learning and consuming entertainment at home," said Ellen Fu, Vice President, CE & Enterprise Business, Samsung Electronics H.K. Co., Ltd.. "Therefore, Samsung has launched the first monitor that is powered by Tizen, which enables users to enjoy OTT services for entertainment, and access to paperwork through Cloud, without connecting to any external devices. It greatly enhanced user experience by providing flexibly for users to create their own private space for work and entertainment"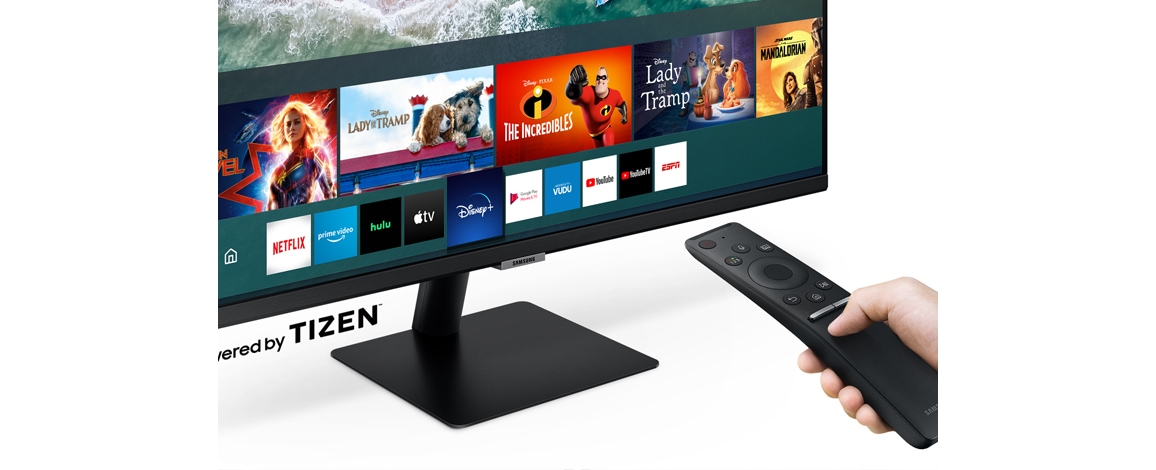 Turn on Smart TV platform with just one click, switching between work and entertainment seamlessly

The unconventional, next-generation Smart Monitor redefines what monitor can be - which is no longer just a simple output device. In addition to built-in Tizen platform and Wi-Fi, the Smart Monitor is also equipped with remote controller and built-in two channel speaker, allowing users access to the entertainment interface seamlessly with just a click, transforming the monitor into a Smart TV. Users only have to download their favorite apps, such as Netflix, YouTube, AppleTV, ViuTV, Apple Music and Now Soccer, to enjoy different shows and movies, music and football match effortlessly. Bluetooth allows for additional connection versatility, users are able to connect additional devices, such as wireless earphones, Soundbar, wireless mouse and keyboard. Under the new norm, the next-generation Smart Monitor enables consumers to create their private space for work and entertainment effortlessly in a single display.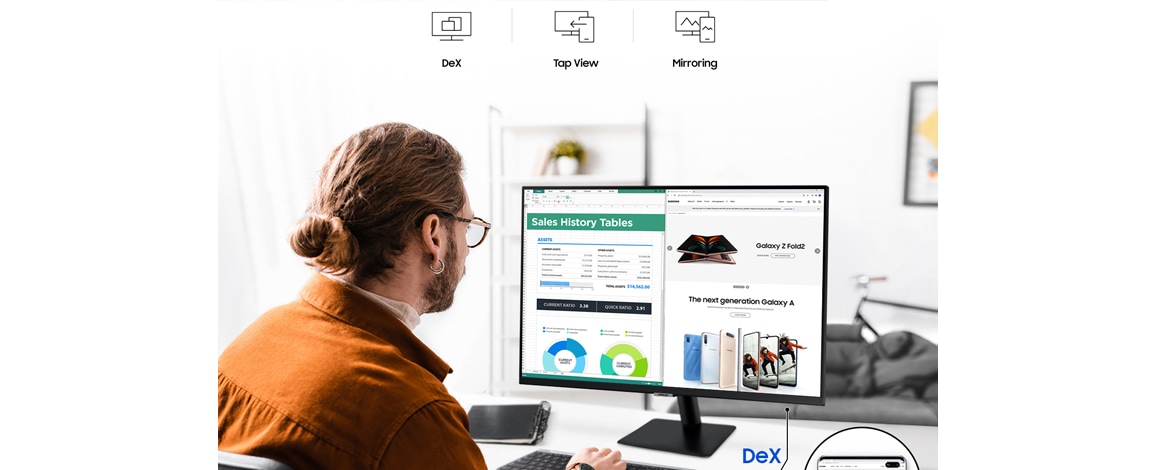 Working from home without a PC

Working from home has become a new trend. Users can connect their mouse and keyboard to the Smart Monitor, and continue to work on the unfinished tasks remotely on their office desktop with the remote PC feature, making working from home more efficient. Smart Monitor also supports Office 365 and Web browser, which allows users to view and edit documents, and conveniently save them all on the cloud.



In addition, users can wirelessly connect their designated Samsung's smartphones to the Smart Monitor. Wireless DeX lets users to view mobile device on the monitor like a desktop, turning your home into a mobile office.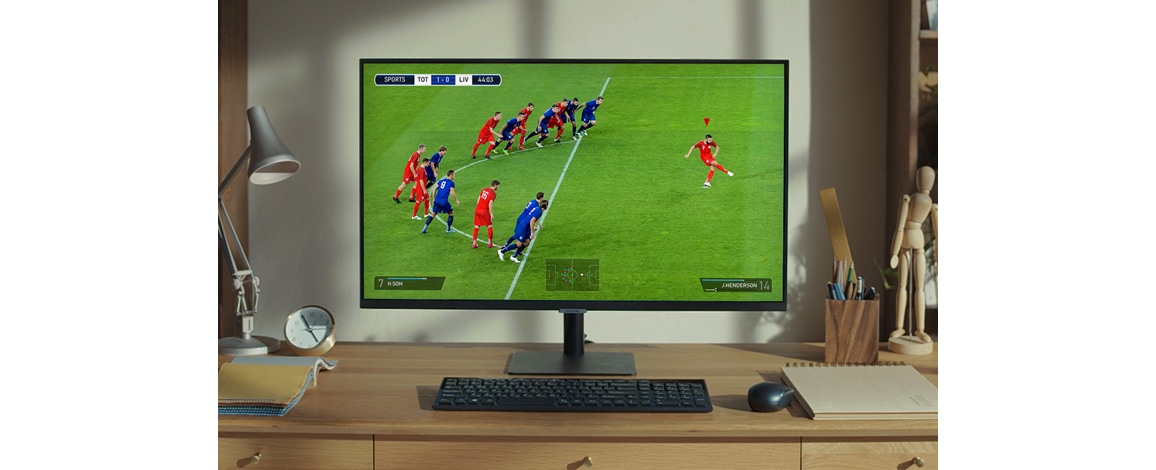 Fully engaged in the entertainment world with the exquisite picture quality

When it comes to images, M5 features Full HD display, while M7 features UHD 4k resolution. Both models support HDR10, deliver an exquisite picture quality and presents vivid image perfectly. The next-generation Smart Monitor enables users to receive excellent true colors no matter what work they are handling. Users can experience unparalleled realism when watching their favorite shows and movies to fully engage in the entertainment world.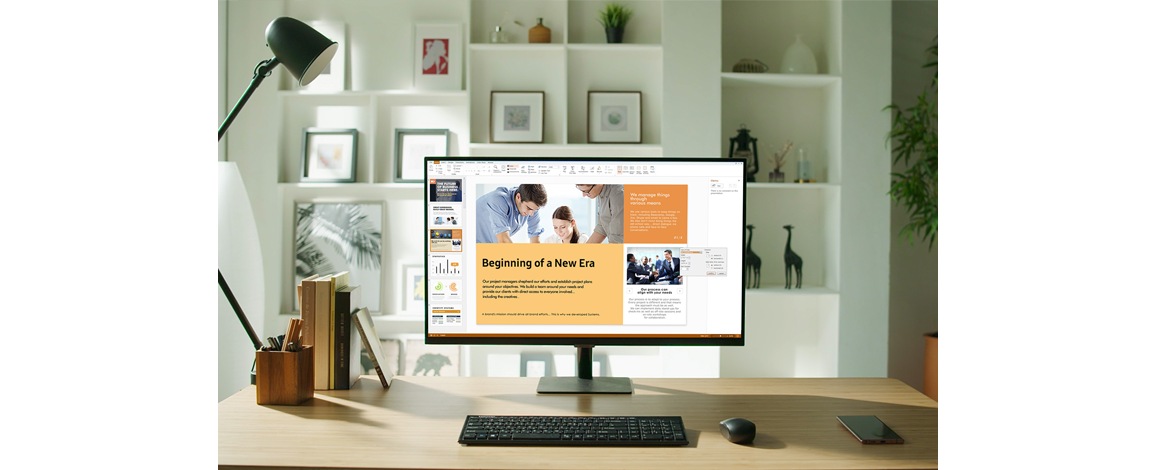 Support numerous connectivity options, enjoy the big screen and increase efficiency at work



The next-generation Smart Monitor provides numerous connectivity options, including Tap View, Mirroring and Apple AirPlay 2, and others. Users can view mobile contents on the big screen by tapping their phone anywhere near the display border, enabling them to handle paperwork with ease while enjoying a bigger screen, which improves work efficiency as well as entertainment.



Smart Monitor is also equipped with USB Hub and Type-C[1], enabling users to connect the device and mirror the content on the display, while charging the device at the same time. Meanwhile, the users can access and use the devices that are connected to the monitor, such as wireless keyboard, helps to reduce cable clutters, keeping the area around the monitor clean and beautiful.



Eye-saver to reduce blue light, ultimate viewing comfort to reduce eye strain in ultra-thin design



Comes with Flicker Free, and built-in blue light protection validated by TUV Rheinland, the worldwide recognized certification institute in Germany, the screen can reduce eye strain even after extended use. Smart Monitor also optimizes brightness for any ambience, day or night. Surrounding light is detected by a sensor to adjust brightness automatically with Adaptive Picture. Even in broad daylight, watch dark, gritty dramas without squinting and straining your eyes to see the picture. Accompanied with a sleek, three-side bezel-less design, Smart Monitor is with a mere 7.9mm-thickness and a 2.5mm ultra-thin base, even the space around the monitor stand can be utilized, and workspace on the desk is greatly increased.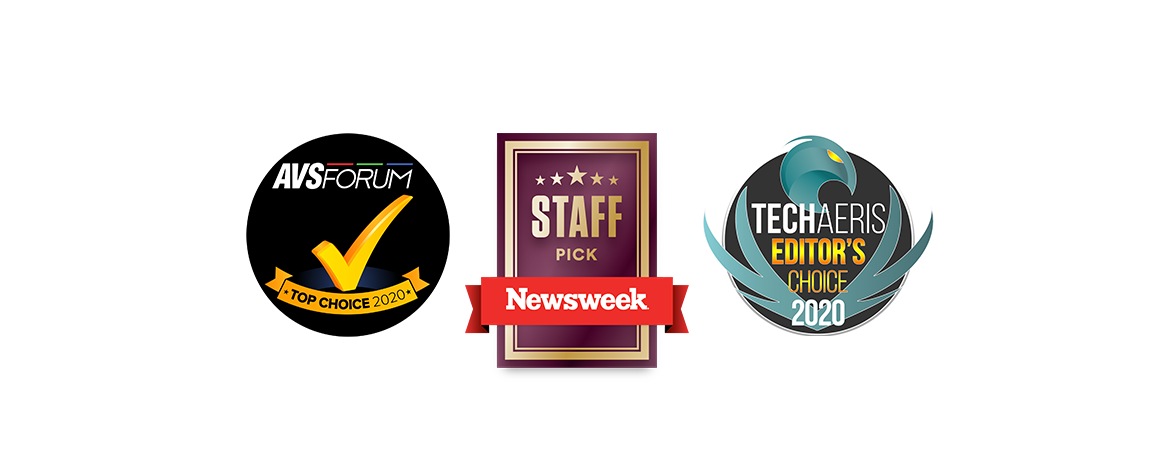 Scored with awards

Samsung next-generation Smart Monitor transformed conventional models into revolutionary, unprecedented one-stop work and entertainment "do-it-all" screen to users. It is recognized by the market and has won international awards including AVS Forum Top Choice 2020, Newsweek Staff Pick Award and TechAeris Editor's Choice.



- "Samsung has essentially created a new product category with the M7 smart monitor, also a useful, affordable, adaptable PC smart monitor that's adapted to the needs to today's multi-device lifestyle." – AVS Forum

- "The Samsung Smart Monitor M7 is the perfect monitor for anyone with limited space and a love for multi-use devices. It's essentially a Smart TV with built-in apps like Netflix and more." – Newsweek

- "The Samsung Smart Monitor M7 wraps multiple devices into one, making it the know-it and do-it-all of desktop monitors." – TechAeris



[1]Only available on Smart Monitor M7



Availability and Suggested Retail Price

Samsung next-generation Smart Monitor series will be available at the following dates and suggested retail prices:
Model

Size

Available Date

Suggested Retail Price

Samsung next-generation Smart Monitor M7

32M70A

32"

End of January

HK$3,680

Samsung next-generation Smart Monitor M5

32M50A

32"

Available Now

HK$2,780

27M50A

27"

Available Now

HK$2,380
For more information on Samsung Home Appliances, please visit: http://www.samsung.com/hk_en , or contact Samsung customer hotline at (+852) 3698-4698.



About Samsung Electronics Co., Ltd.

Samsung Electronics Co., Ltd. inspires the world and shapes the future with transformative ideas and technologies. The company is redefining the worlds of TVs, smartphones, wearable devices, tablets, digital appliances, network systems, and memory, system LSI and LED solutions. For the latest news, please visit Samsung Newsroom at http://news.samsung.com.