Product News
Samsung Galaxy Watch3 and Galaxy Watch Active2 Smartwatches Enable New Features in Hong Kong to Monitor Blood Pressure and ECG To Help Consumers Manage Mental and Physical Wellness with Ease
Apr 15. 2021
Set exercise target and healthy living habits with various in-app features amid the new normal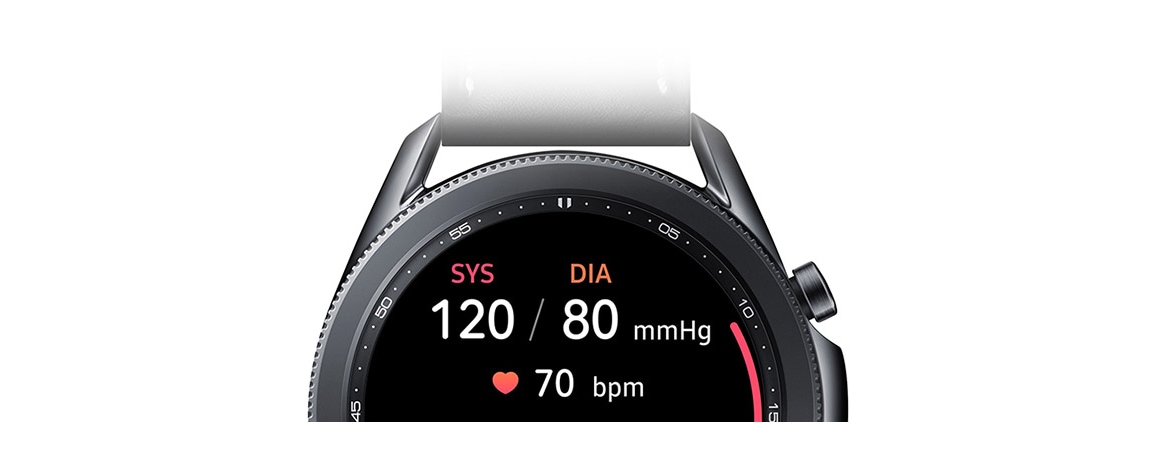 Hong Kong – April 15, 2021 - Samsung Electronics H.K. Company, Limited today announced that the Galaxy Watch3 and Galaxy Watch Active2 smartwatches will gradually introduce two leading features in Hong Kong from Apr 16[1], including 1) monitoring and tracking blood pressure[2]; and 2) tracking heart rhythm through ECG readings, to help users understand their health data. In addition, with the SpO2 monitoring and fall detection, the smartwatch is a great companion to track daily health conditions and to stay informed. Users can download the Samsung Health Monitor app in the paired smartphone to utilize the new features on the Galaxy Watch3 and Galaxy Watch Active2.

Amid the new normal with anti-pandemic measures, people are increasingly paying more attention to their health conditions. Through leading technologies, Samsung aims to help consumers develop healthy living habits with smartwatches, assisting them to manage mental and physical wellness at any time. In addition to checking health data in the Samsung Health Monitor app, users can also utilize VO2 max readings, running analysis and over 120 video workouts on the smartwatches to view exercise information and records[3], as well as achieving exercise goals. The Galaxy smartwatches can also help users to establish healthy living habits through its sleeping score and hand wash reminder[3], developing regular and hygienic life.

Monitor Health Conditions Constantly

According to the Population Health Survey (PHS) 2014/15 conducted by Hong Kong's Department of Health, the total prevalence of hypertension was 27.7% among persons aged 15-84, with nearly half of them being undiagnosed before the PHS[4]. Hypertension is when the force of the blood pressure is excessive. It is one of the risk factors for chronic diseases such as coronary heart disease and stroke[5], and must not be ignored.

- Brand New Blood Pressure Measurement

Samsung understands people's healthy living attitude, and brings the CE-marking blood pressure measurement feature to the Galaxy Watch3 and Galaxy Watch Active2. Users are able to measure blood pressure via the Samsung Health Monitor app without needing a cuff, so that they can track their health conditions conveniently at any time. Before your first use, simply calibrate the smartwatch with a cuff, then smart sensors can measure users' blood pressure through pulse wave analysis while wearing it. The program then analyzes the relationship between the calibration value and the blood pressure change to determine the blood pressure and monitor health conditions. Users can view the report on their phone[6].

- FDA-Cleared and CE-Marking ECG Monitoring

In addition, Samsung introduces the ECG monitoring feature that is FDA-cleared and CE-marking[3][7] to the Galaxy Watch3 and Galaxy Watch Active2. The ECG function works by analyzing the heart's electrical activity via a sensor built in the watch. Users can simply open the Samsung Health Monitor app to track ECG readings once seated comfortably, and ensure the watch is fitted firmly to the wrist. Users only need to rest their forearm on a flat surface and lightly place a fingertip from the opposite hand on the top button on the smartwatch for 30 seconds. The app will then measure users' heart rate and rhythm, which will be classified as either a regular Sinus Rhythm or AFib[3][7]. See results over time from the phone, get the report, and share for more insights.

- SpO2[8] Monitoring

The Blood Oxygen feature[9] uses red LED and infrared rays to estimate users' SpO2 levels, or the amount of oxygen in the bloodstream. Oxygen saturation is directly linked to physical performance. It indicates whether the blood is effectively transporting oxygen to the whole body and shows whether the user is breathing effectively, so as to improve their living habits.

- Fall Detection Feature

The Galaxy Watch3 comes with the fall detection feature, which identifies a potential fall and can send an SOS notification to the chosen contacts[10], so that users can receive prompt help in case they accidentally fall[3][11].

Improve Exercise Efficiency

- Real-Time Running Analysis Feature

Samsung Galaxy Watch3 and Galaxy Watch Active2 have a running analysis feature, which will be able to offer real-time feedback during their runs, as well as six-factor post-workout reports that help improve running form, boost performance, and reduce injury.

- VO2 Max Readings

The VO2 max readings[12] can offer insight into the oxygen uptake, which is often used to assess physical condition and performance during exercise and track the cardio progress.

- Video Workouts

Users have access to a full-service fitness studio with Samsung Health, which features a library of more than 120 different video workouts. Simply select a workout routine on a Galaxy smartphone, cast it onto the Samsung Smart TV[13], and the smartwatch will take care of the rest and automatically track the workout.

Form Good Habits

- Sleep Score

Samsung Galaxy Watch3 and Galaxy Watch Active2 offer a sleep score and insights feature to help users get better rest. The smartwatch records users' REM cycles, deep sleep, and total sleep time to score and help improve the quality of their rest. There are also educational content and sleep tips right on the device, to help users understand and improve their sleep

- Hand Wash App

It is the time when personal hygiene is more important than ever, especially washing hands. Samsung brings the Hand Wash app to the Galaxy Watch3 and Galaxy Watch Active2. Simple and practical, it helps people get into the habit of properly washing their hands. Users can set alarms in the app so that they will be notified to wash hands at regular intervals. Once the smartwatch detects hand-washing, the app will count down 25 seconds, which is also recommended by World Health Organization (WHO), including 5 seconds for applying soap and 20 seconds for scrubbing. When the 25-second countdown is over, the smartwatch will vibrate to alert the user. Users can review how many times they have washed their hands so far in a day and if the number meets their target. The change of weekly hand-washing habits is also recorded in the system.

Premium Promotion

From April 17 to May 31, 2021, consumers who purchase one unit of the Galaxy Watch3 or the Galaxy Watch Active2 can receive a free unit of ITFIT portable fascial massager (valued at HKD598) [14].

Availability and Suggested Retail Price

Samsung Galaxy Watch3 and Galaxy Watch Active2 are available at Samsung Online Shop, Samsung Experience Store, authorized resellers and distributors' physical and online stores, with the suggested retail price:

| | | |
| --- | --- | --- |
| Model | Color | Suggested Retail Price |
| Galaxy Watch3 Stainless 45mm (LTE) | Mystic Black, Mystic Silver | HKD3,898 |
| Galaxy Watch3 Stainless 45mm (Bluetooth) | Mystic Black, Mystic Silver | HKD3,498 |
| Galaxy Watch3 Stainless 41mm (Bluetooth) | Mystic Black, Mystic Silver | HKD3,298 |
| Galaxy Watch3 Titanium 45mm (Bluetooth) | Mystic Black | HKD5,398 |
| Galaxy Watch Active2 Aluminum 44mm (Bluetooth) | Cloud Silver, Aqua Black | HKD2,498 |
| Galaxy Watch Active2 Aluminum 40mm (Bluetooth) | Aqua Black, Pink Gold, Rose Gold | HKD2,298 |
** All functionality, features, specifications and other product information provided in this document including, but not limited to, the benefits, design, pricing, components, performance, availability, and capabilities of the product are subject to change without notice or obligation.

For more product information, please visit www.samsung.com or contact the Samsung customer service hotline at (+852) 3698-4698.

[1] New features will be available on Apr 29 for the Galaxy Watch Active2 (Bluetooth).
[2] To ensure accuracy, users should calibrate their device at least once every four weeks with a cuff. Users should measure their blood pressure when at rest, as they would do with a traditional cuff, and refrain from measuring when they are working out, smoking, or drinking.
[3] The device and app are OTC services only. It is not meant to replace traditional methods of diagnosis or treatment by a qualified healthcare professional.
[4] Report of Population Health Survey 2014/15 https://www.chp.gov.hk/en/static/51256.html
[5] World Health Organization (2017) https://www.who.int/topics/hypertension/en/
[6] Requires Galaxy smartphone, running Android 7.0 OS or above, and Galaxy Watch Active2, Galaxy Watch3 or upcoming Galaxy Watch device(s) to be paired.
[7] The ECG recording or Samsung Health Monitor app is not intended to diagnose or detect a heart attack.
[8] SpO2 is defined as saturation of percutaneous oxygen. Normal levels in humans are measured at approximately 95-100%. Factors like vigorous exercise, the amount of oxygen in the air, your elevation, and various health conditions can all result in lower readings. SpO2 is only available on Galaxy Watch3 or later model of smartwatch.
[9] SpO2 monitoring feature may require a software update.
[10] Fall detection recognizes falls when engaged in dynamic motion, not when still. GPS accuracy may be affected by obstructions to satellite signal such as buildings. Requires network connection and pair-up with a smartphone to notify emergency contact.
[11] The device cannot detect all falls.
[12] VO2 max feature may require a software update.
[13] Availability may vary on previous Samsung Smart TV models, 2019 or newer.
[14] Promotion is subject to terms and conditions.

About Samsung Electronics Co., Ltd.

Samsung inspires the world and shapes the future with transformative ideas and technologies. The company is redefining the worlds of TVs, smartphones, wearable devices, tablets, digital appliances, network systems, and memory, system LSI, foundry and LED solutions. For the latest news, please visit the Samsung Newsroom at http://news.samsung.com.