Android OS 9.0 Pie FAQ (Hong-Kong version)
Last Update date :
Sep 28. 2020
When I Enter Power Saving mode, Music Stops after a Short Time. Why?
Concept has been changed according to the Pie OS concept. If the music application is set to the app sleep mode or the app's background activity is restricted, it will stop after 1 minute after switching to the background. This concept applies equally to 'Voice recorder' and 'FM radio'. There are 2 ways to remove the restriction of background activity.
Method 1
1
Launch [ Settings] app > [ Apps]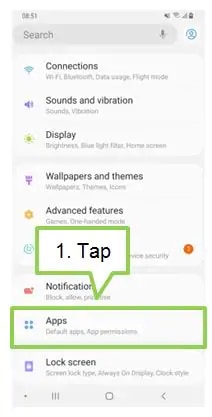 2
Select application what you want to remove restriction
3
Tap [Battery]
4
Tap [Allow background activity]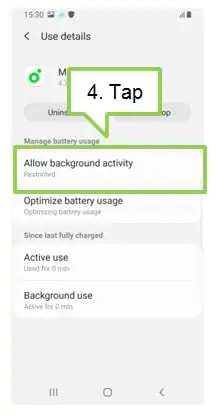 5
Tap [Remove]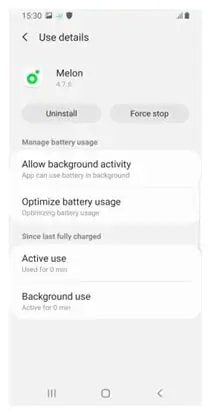 Method 2
1
Launch Device care app and tap [Battery]
2
Tap [Settings]
3
Tap [Sleeping apps]
4
Tap [ Remove]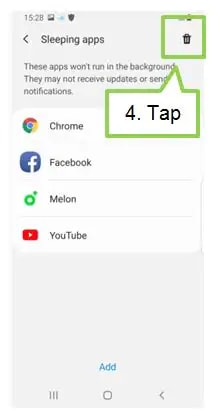 5
Select app and tap [ Remove]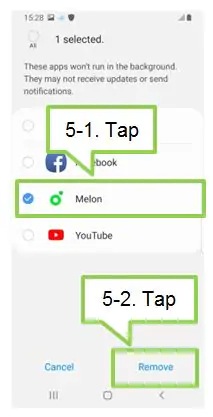 When I Set or Changed Screen Lock, Agreement Popup is Shown regarding Remote Unlock. Why?
Agreement Popup


Google new security policy on P OS does not allow unlocking remotely via Find My Mobile without PIN, Pattern, or Password information registered by the user, this information should be securely stored by Samsung under your agreement.

By using "Remote unlock" in Find My Mobile feature, you can control your phone remotely in secure lock state or if you forget how to unlock screen. To use this function, you should agree to store your encrypted PIN, Pattern, or Password information in the Find My Mobile server. So we are displaying this information popup when you set or change screen lock type.

You can enable "Remote Unlock" feature in following path:
2
Biometrics and security
When I use Samsung Pay after P OS upgrade, Secure Keypad is Not Loaded or app is Crashed. What should I do?
Samsung is aware of this symptom which may appear on some P OS devices. If you use the Samsung Pay without updating it, the keypad may not be loaded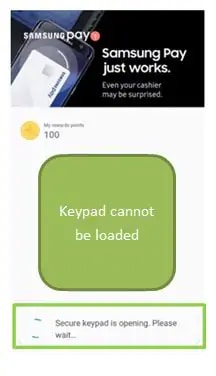 This issue has already been resolved with an application update.

Please update Samsung Pay application from app's own update menu
1
Tap [ Update]
2
Tap [ Update]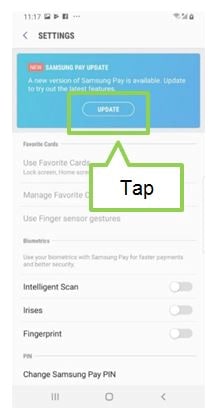 Or update Samsung Pay application on Galaxy Store
2
Tap [ My apps]
3
Tap [ Update]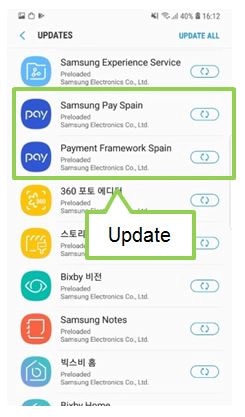 Please refer to the table below for the app version for Hong Kong.
| Location | App version | Framework version |
| --- | --- | --- |
| Hong Kong | 3.7.19 or later | 2.9.82 or later |
Samsung encourages users to keep software and apps updated to latest version, please check and update regularly.
Samsung Electronics H.K. Co., Ltd. is not obligatory for charges, losses and/or changes due to application update and/or firmware update of Samsung devices, including but not limited to additional mobile data and/or charges, loss of application log/history and/or operational changes of Samsung devices after installing the update.
After P OS upgrade, I Cannot Record Video using Pro mode on Camera app. Why?
Based on new P OS concept, video recording is not supported on Pro, Panorama and Food modes.

Previous OS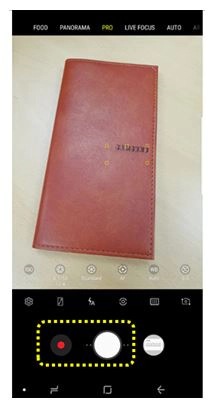 All images are for reference only.
Service availability may vary by country or region.
The above product description was updated in February 2019 and for reference only.
All other products and services mentioned may belong to their respective trademark owners.
FAQ is an abbreviation of frequently asked questions.
All functionality, features, specifications and other product information provided in this document including, but not limited to, the benefits, design, pricing, components, performance, availability, and capabilities of the product are subject to change without notice or obligation. Samsung reserves the right to make changes to this document and the product described herein, at anytime, without obligation on Samsung to provide notification of such change.
Please answer all questions.