Galaxy A5/A3 2017 (Hong-Kong version): Why does Touchscreen Not Respond Properly?
Last Update date :
Sep 25. 2020
Please check the window vinyl protecting the window screen, which is attached on Galaxy A5/A3 2017 device.
The In-box window vinyl attached to Galaxy A5/A3 2017 device at the time of purchase may cause the touchscreen to malfunction and accordingly touchscreen may not function properly. In this case, we recommend using the devices after detaching it.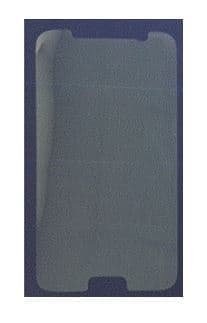 Window vinyl
If you have experienced your device touchscreen responding slowly or improperly, please check the following items.
• Do not allow the touchscreen to come into contact with other electrical devices. Electrostatic discharges can cause the touchscreen to malfunction.
• If you attach a screen protector or optional accessories to the touchscreen, the touchscreen may not function properly.
• If you are wearing gloves, if your hands are not clean while touching the touchscreen, or if you tap the screen with sharp objects or your fingertips, the touchscreen may malfunction.
• The touchscreen may malfunction in humid conditions or when exposed to water.
• Restart your device to clear any temporary software bugs.
• Ensure that your device software is updated to the latest version.
• If the touchscreen is scratched or damaged, visit a Samsung Service Centre.
Images are for reference only. The above product description is only applicable to Samsung Galaxy A 2017. The above product description was updated in May 2017 and for reference only. All functionality, features, specifications and other product information provided on this website including, but not limited to, the benefits, design, pricing, components, performance, availability, and capabilities of the product are subject to change without notice or obligation. Samsung reserves the right to make changes to this website and the product described herein, at any time, without obligation on Samsung to provide notification of such change.
Please answer all questions.