How do I set up Safety assistance on my Samsung Galaxy Gear2?
Last Update date :
Nov 24. 2020
The Safety assistance feature sends a message to your emergency message contacts, alerting them of your current location and visual/auditory surroundings. Before you set this up your Gear 2 must be paired with your smartphone and your smartphone must have the Gear manager app installed
If your Gear 2 is not yet paired with your smartphone or your smartphone does not have the Gear manager set up yoiu can read the bottom section first on how to set up your devices.
Setting up Safety assistance on your Galaxy Gear 2
1. In the Gear Manager app on your smartphone tap Settings.
2. Tap Send help message.
3. Drag the Safety assistance switch to the right.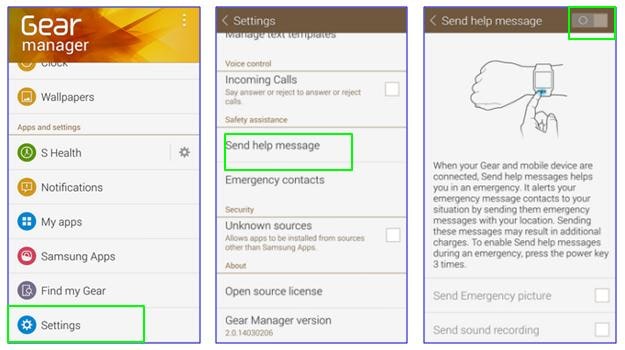 4. Tap the tick box and then tap OK to agree to the terms and conditions.
5. Tap OK on the pop-up message.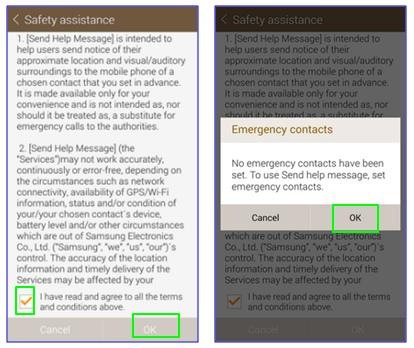 6. Tap on the + icon to add a contact.
7. A pop-up message will appear asking you to choose between creating a new contact or selecting an existing contacts. In this example we will create a new contact.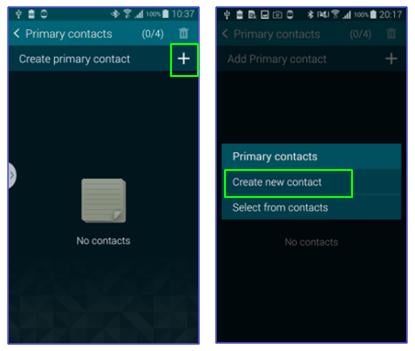 8. Add the name and telephone number of of your emergency contact, tap Done and then tap Save.
Connecting your Gear 2 to your smartphone
This section of the guide covers connecting your Gear 2 with your smartphone and installing the Gear manager app.
Turn on your Gear 2
1. Press and hold the Power button on your Gear 2 for a few seconds to turn the Gear 2 on.
Connect your Galaxy Gear 2 to the internet
Note: the steps below concern connecting your Gear 2 to a Wi-Fi network. A 3G or 4G connection will also suffice, but please be aware that your mobile network may charge you for use of 3G or 4G if such use is not already covered by your monthly fee.
2. On your smartphone's Home screen touch Apps.
3. Touch Settings.
4. Touch Wi-Fi.
5. Touch the slider in the top-right of the screen if it isn't in the on position.
6. Touch the name of your Wi-Fi network in the list to connect to it (if you're not already connected).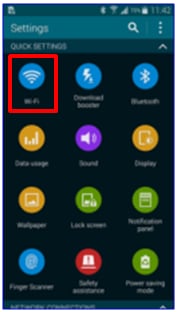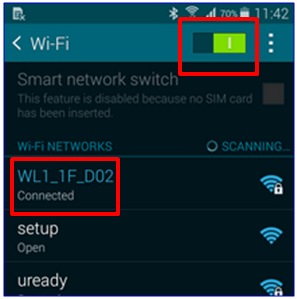 Install the Samsung Gear Manager
7. From the Home screen of your smartphone touch Apps.
8. Touch Samsung Apps (you may need to swipe left or right first to locate it).
9. Search for "Samsung Gear Manager" and touch Samsung Gear Manager in the results.
10. Touch Download and then open the app once it has downloaded.
Pair your Gear 2 with your smartphone through the Gear Manager app
11. If a disclaimer message appears on opening Gear Manager scroll to the bottom and then touch Accept.
12. Gear Manager will begin searching for Bluetooth devices. Check your Gear 2 for its name and then touch that name in the list of available devices in the Gear Manager app.
13. Touch OK in the Bluetooth pairing request message box.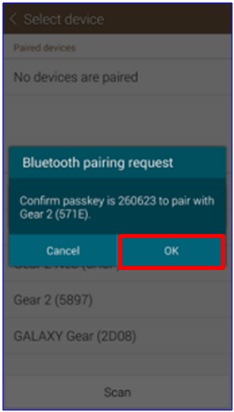 14. Touch Accept on your Gear 2.
15. Touch all the check boxes in the End User Licence Agreement to mark them with ticks and then touch Finish. (You do not need to check the 'Yes' radio button, but doing so will enable the app to send Samsung error log data and, by extension, help Samsung improve your Gear 2 and everyone else's).
Confirm the pairing was successful
16. Scroll down in Gear Manager and touch Find my Gear.
17. Touch Start.
18. Your Gear 2 will ring. Touch Stop in Gear Manager to cease your device's search for your Gear 2.
Please answer all questions.