How do I take images by Wide Selfie mode using front camera on Galaxy S6/S6 edge?
Last Update date :
Sep 25. 2020
Using Wide Selfie mode, you can take wide-angle selfie shots to fit more people into your pictures.
1
On the preview screen, Tap the icon to change to the front camera.
2
To change mode, tap MODE icon.
3
Select the Wide selfie mode.
4
Tap the sensor on the back of the device to take a photo of yourself. You can also tap the screen to take a photo.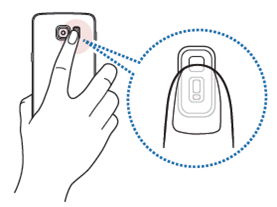 4-2. Alternatively, to take a photo using your palm, tap  Settings icon and tap the Gesture control switch to activate it. 
Show your palm to the front camera.  After recognizing your palm, the device will take a photo after two seconds.
5
Slowly swivel the device left and then right or vice versa to take a wide self-portrait. The device will take additional photos when the white frame moves to each end of the viewfinder window.
Note :
• Make sure to keep the white frame inside the viewfinder window.
• The subjects should remain still while taking wide self-portraits.
• The resolution of a photo may be affected by lighting conditions.
• The top and bottom parts of the image displayed on the preview screen may be cut out of the photo depending on the shooting conditions.
6
If processing is completed, image will be saved automatically and taken image have wide angle.
Please answer all questions.